October 5th, 2020 by Jason Coleman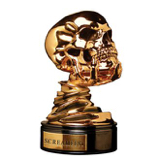 With this year being such a hard one, some cinematic escape is more than welcome and thankfully for horror film fans in Los Angeles there is a little Halloween treat in store.  The genre loving geniuses over at Screamfest are proud to present the upcoming SCREAMFEST HORROR FILM FESTIVAL 2020 (go to www.screamfestla.com for more details!) taking place October 6th – 15th – DRIVE IN EDITION!  That's right fright fans you can get your scream on right from the comfort and safety of your own car this year as the 20th Annual version of this iconic fest will be taking place this year at the Regency Theatres – The Plant Drive In (7876 Van Nuys Blvd, Van Nuys CA 91402) – and concessions and restrooms will be fully available alongside the big screen carnage.  (Opening Night will be held at Calamigos Ranch – Screamfest Pop-up Drive-in at 327 Latigo Canyon Road Malibu, CA 90265)  And as always the programmers of the fest do not disappoint with a lineup including 15 features and 73 shorts all ranging from cool classics to original insidious indies making their premieres.  And as always I will be covering the fest for WhySoBlu.com to keep you informed of the gems and duds as they unspool.  But first up a sneak peek – from love stories involving unusual couples – one alive, one dead – to a return to slasher teen horror and even film appearances by some iconic boogeymen, here is a look at what's in store for fans for Screamfest 2020 – its …'What To See'!
FEATURES
Opening Night
"Books Of Blood" – For Clive Barker fans itching to get their dark story on, this anthology of three terror tales is right up your dark alley.
Coolest Premise
"A Ghost Waits" – A builder named Jack, whose job is to fix up houses, and a ghost named Muriel, whose job is to haunt them, find themselves falling for each other – love does work mysterious ways.
Demented Description That Sells
"Anonymous Animals" – Description: The balance of power between man and animal is reversed.  Nuff said.
Creepiest Chiller
"Caveat" – A drifter is left alone inside a house with a psychologically troubled woman and a game of cat and mouse ensues – this could fill The Collector vibe void nicely.
Tastiest Throwback
"Initiation" – This little ditty that harks back to the slice and dice flicks of old (who will be left?!) all the while adding in contemporary issues like assault allegations and the dark side of social media could be a great mix of subtext and slasher.
Freebie Screening (TV Show)
"Mr. Mercedes" – Running low on funds but still want to head out for a night of fun?  Check out this sans moola screening of one hour of the TV show about a retired detective tormented by a serial killer and based on a trilogy by scribe Stephen King – nothing like free fright time at the movies!
Best Classic Screenings
With the inclusion of such classics as the original 1978 "Halloween", it's sequel "Halloween II", "Halloween 4: The Return of Michael Myers", "Halloween 5: The Return of Michael Myers" and especially "Friday the 13th Part V: A New Beginning" (for it's 35th Anniversary no less!) this fest firmly carves out the boo in boogeyman for all hardcore fans.
Best Poster
"Sanzaru" – With its neon colors and twisted human imagery, this poster for the trippy looking Sanzaru has me curious as to what dark delicacies wait inside such a sinister structure.
SHORTS TO SEE
"F@cking Ghosts" – Didn't even read the description on this one – not needed.  (Sold!)
"Guest" – The unsettling pic here clinches this short as the creepiest of the bunch – and that's without having seen it yet!
"Kalley's Last Review" – I don't know which is more notable – that fact that this one goes tasty and topical bu following a vlogger during a chemical peel gone wrong or that it's directed, produced, written and stars quadruple threat Julia Bailey Johnson.  (Either way I'm excited and in!)
That's the initial sneak peek kiddies!  But don't forget to go to www.screamfestla.com for the info on all the films big and small this year and get the car all gassed up for some safe fright fun – see you there!