October 5th, 2020 by Aaron Neuwirth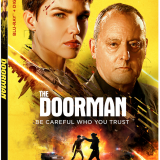 I guess I am a sucker for the Die Hard formula. Sure, there are many duds when it comes to matching that sort of film in spirit, but it's a tight concept that can allow for a level of tension, some eccentric bad guys, and a tough lead performance. The Doorman isn't the best at replicating this concept, but it's far from the worse. It's entirely acceptable, with enough fun moments to work as a decent time waster. That may not sound like the best sort of praise, but honestly, sometimes you just want to turn on a straightforward action flick to watch, and this Ruby Rose action-vehicle does the job.
–
Film:
Rose stars as a former Marine who takes a job as a doorman at a hotel, following an explosive incident leaving people she was in charge of protecting dead. We see this in an extended and action-packed cold open to establish just how capable Rose's Ali is. As a doorman, the job is simple enough but comes with complications, such as her ex-husband Jon (Rupert Evans), who stays in the hotel with their children. Even more complicated is the sudden arrival of mercenaries led by Jean Reno's Victor. They intend to find precious artwork hidden in the walls of the hotel, but Ali isn't about to let these ruthless killers get away with their plan.
We've seen this story plenty of times, but one of the things that had my attention was director Ryuhei Kitamura of Godzilla: Final Wars and Versus fame (and Midnight Meat Train). Kitamura knows how to put together action on film, so, even as a lower budget effort from Lionsgate (with 26! producers), I was hoping to get something that worked well in delivering on fights and gunplay. Fortunately, I was mostly right in those hopes. While limited in scope and reliant on some flashy camera moves to hide stunt folks and set limitations, there is a fair amount of action that does the job for a film like this.
The other key element is clearly the cast. Ruby Rose hasn't had the chance to lead many projects outside of CW's Batwoman, but she does a good enough job in a cliched role about a person who's at their lowest finding the strength to fight back. Even better, however, are the set of character actors chewing up the scenery around them. Sure, there's fun to be had in watching Rose take on bad guys, watching some elaborate choreography and whatnot, but Reno (clearly slumming) still has fun hamming it up with his French variation on Hans Gruber. The same can be said for Aksel Hennie as the other primary villain, who has more depth than one may expect.
Holding this film back is a problem similar to Dwayne Johnson's Die Hard riff, Skyscraper. For all the spectacle on display, it's hard to care when there are only some many characters and not enough of a world to feel involved in. The Doorman actually does one better than Skyscraper by having fun villains, but it has chosen to be set in an empty hotel closed for renovations. This means we have almost no characters to deal with, aside from those who directly matter for the plot. That's not me saying this film needs to be cluttered, but it takes away from the amount of "character" a movie could have in terms of atmosphere.
Regardless of these issues, and some of the shallow characters we interact with, The Doorman plays well enough into its silly title to work as a throwaway action film with just enough beats to play as an easy watch. Rose does a capable job, the actors around her add more flavor, and the action is about as good as you'd expect for a film of this nature. It's no John Wick, but there's entertainment to be had.
Video:
Encoding: MPEG-4 AVC
Resolution: 1080p
Aspect Ratio: 2.39:1
Clarity/Detail: While shot on a relatively small budget, this digitally shot film comes across well enough. There's some softness to be found in scenes supposedly set outdoors (there's some green screening taking place). Additionally, given the upscale hotel setting, there's a good amount of clarity to be found in the uniforms and various rooms, before relying on dirty basements and other areas for action. Details come through well when it comes to environments and costumes, overall.
Depth: Depth of field is captured well here, with a level of dimensionality that comes across effectively.
Black Levels: Shadow and black levels are terrific throughout. When the film heads indoors or takes on its many nighttime sequences, we get a chance to see how strong these areas of the film are thanks to a lack of crush.
Color Reproduction: Colors look great. Costumes, in particular, are given a chance to pop with color. Some well-lit rooms have a chance to show off the balance.
Flesh Tones: Character detail is strong enough.
Noise/Artifacts: Clean.
Audio:
Audio Format(s): English 5.1 Dolby TrueHD
Subtitles: English SDH, Spanish, French
Dynamics: The lossless track presented here does plenty to highlight all of the specific choices that keep us with the characters, tracking the rapid-fire action, and more. Score and other elements are important, but it's all handled quite appropriately for the film we are watching, which is reflected well in this audio track.
Low-Frequency Extension: There are plenty of good moments to bring life to the LFE channel. Guns, explosions, and more give the sub-woofer enough to do.
Surround Sound Presentation: The film is front and center-focused, but you have plenty to go on as far as the surrounding atmosphere. The balance is excellent, as you are never at a loss for what's taking place.
Dialogue Reproduction: Everyone is heard loud and clear.
Extras:
It seems like every cast member is from a different country, and in a time like now, perhaps making a commentary work could have been difficult. That said, I wouldn't expect too many extras from a film like this, but they would have been welcome.
Features Include:
In Service of Others: Reflections of the Cast (HD, 12:37) – A standard EPK that has the cast and crew putting emphasis on how much they appreciated this film for having real characters to go along with the action. Good for them, I say!
Digital HD Copy of the Film
Summary:
You get what you'd expect from a film like The Doorman. Honestly, it's been humorous to me, leading up to release, to know a movie with this title was coming our way. That said, for what it is, there's a decent action film to enjoy, and the Blu-ray does the job in delivering from a technical presentation level. Ruby Rose has made action movies her thing, so those looking for more of that, let along Jean Reno hamming it up as a villain, The Doorman delivers.
Order Your Copy Here: