October 2nd, 2020 by Brandon Peters
Here's a fun addition to the Warner Archive Collection as a sort of primer in the month before the big The Flinstones complete set comes out.  Before Space Ghost was an intergalactic talk show host on Adult Swim via Space Ghost: Coast to Coast, he was policing the galaxy in Space Ghost and Dino Boy. Yes, everything with it is stone faced serious as a fun Saturday morning toon for 1960s children, but it retroactively plays almost funny as the intentionally comedied Adult Swim follow up. Its a half hour progame with 2 short Space Ghost adventures and 1 featureing a character called Dino Boy that I personally don't remember much at all of. This 2-disc set includes every episode from the series' run and a feature length documentary about the life and career of Alex Toth, the artist who crafted the character of Space Ghost as well as many comic book and Hanna Barbara characters over the years. It arrives on October 13th, but you can pre-order via the paid Amazon Associates link below.

Series
Intergalactic policeman Space Ghost navigates the cosmos in his tricked-out spaceship, The Phantom Cruiser, battling intergalactic villains like Brak and Zorak in his legendary suit and powerful wristbands. Then, Dino Boy teams with caveman Ugh and dinosaur Bronty to go primeval on the ancient menaces of their primitive home. And finally, Space Ghost flies again with more extraterrestrial adventures and thrilling takedowns. This dynamite compilation also features the dynamic six-part Space Ghost episode The Council of Doom. It is cosmic entertainment for all!
Space Ghost and Dino Boy proves from goofy vintage Saturday morning cartoon fun. The animation and look of Space Ghost is hard not to catch ones' eye. He's an iconic looking figure from animation past, even if people were to struggle to remember his adventures, team or exactly what it was all about. As a matter of fact, that team including Jace and Jan featured the vocal talents of a young Tim Matheson, who would go on to some fame in front of the camera.
Dino Boy has even less known adventures. I don't even remember its pairing with Space Ghost. Nonetheless, its a good flip as a team with the galactic policeman. If one is fantastic with interstellar attractions, Dino Boy is more primal, grounded and fantasy in its adventure. Its a decent shift, sandwiched between two shorts, but still nothing to write home about. It still gives that retroactively silliness to it that Space Ghost has that almost feels parody at times, but its straight laced.
The character of Space Ghost has had a shifting legacy, more fitting for the Adult Swim memory than it is for the actual origins for he, Brak, Zorak and others. In fact, he is the absolute genesis point for all things Adult Swim. If New Line was "the house that Freddy built", then Adult Swim was "the house that Space Ghost built". Space Ghost: Coast to Coast was a game changer and from the show, many of the shows that would give Adult Swim its popularity and recognition arose; Aqua Teen Hunger Force, Harvey Birdman, Attorney at Law, The Brak Show and Sealab 2021 would not have been a thing has Space Ghost: Coast to Coast not taken off.
Episodes
This release contains all episode from the entire series run of Space Ghost and Dino Boy.
Video
Encoding: MPEG-4 AVC
Resolution: 1080p
Aspect Ratio: 1.33:1
Layers: BD-50
Clarity/Detail: Space Ghost and Dino Boy is a nice, old hand drawn animation. The image from Warner Archive Collection is as crisp and razor sharp as you could ask for. You can see the strokes from drawing or coloring as well as a the nice details, shades and textures where it is not just a flat color.
Depth:  Yes, this is flat 2D animation, but with its motions and fluidity, it make for a nice clean appearance despite not offering much in the distance and third dimension department.
Black Levels: Blacks are deep and quite strong with good shading and strong outlines to the characters. When possible, there are textures and such in darker areas, but its mostly using blacks for shading and dimensions on the actual characters and planet surfaces. No crushing witnessed.
Color Reproduction: Colors are pretty flat, with a more primary display in its palette. However, they are quite thick and bold with a full appearance.
Flesh Tones: N/A
Noise/Artifacts: Clean.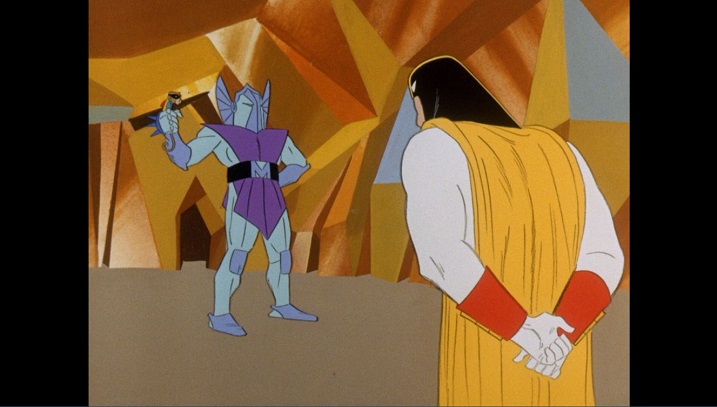 Audio
Audio Format(s): English 2.0 Mono DTS-HD MA
Subtitles: English SDH
Dynamics: Space Ghost and Dino Boy features a solid mono track, accurate to its feeling watching on the 'ol tube, but now with much more space to breath and clarity. Effects now have a nice depth and there is good layering creating the environments. Vocals, effects and music all balance and work in tandem quite well. This is pretty much the best you could ask for in terms of the sound quality for the original mono track of the series.
Height: N/A
Low Frequency Extension: N/A
Surround Sound Presentation: N/A
Dialogue Reproduction: Vocals are clear and have good attention and clarity to the actors' dictions and vocal inflections.
Extras
Space Ghosts and Dino Boy: The Complete Series is a 2-Disc set.
Disc 2
Simplicity: The Life and Art of Alex Toth (SD, 1:18:57) – A little documentary tribute to the artist of not only Space Ghost, but a load of the Hanna Barbara art and animations. Includes contributions from his children and other artists and the like to celebrate his life and career.
Summary
Revisiting Space Ghost and Dino Boy is a nice little nostalgic throwback. Granted, I wasn't a kid in the 60s, I did watch a lot of old Hanna Barbara cartoons growing up. Its quite charming and unintentionally silly which brings some joy. Warner Archive Collection brings it to Blu-ray with a very fine video transfer and great audio. Having a feature length documentary on Space Ghost's creator ported over here is a nice touch that seals this package up nicely.
This is a paid Amazon Associates link