February 28th, 2023 by Brandon Peters
Like a Scream sequel, Puss In Boots laid in hibernation for 11 years before returning to theaters with another adventure. Puss In Boots: The Last Wish came at the Holiday time in December and fare well against the mighty Avatar: The Way Of Water. The movie looked like something of an afterthought and then surprised and wowed audiences and critics alike. Now its coming home for hopefully more people to jump on board The Last Wish train. Released on February 28th, the movie will include an Atmos track and a slew of extras (including a new short) to keep the party going after the credits roll. You can order yourself a copy of Puss In Boots: The Last Wish by using the paid Amazon Associates link that follows the review at the bottom of the page.

Film
Everyone's favorite leche-loving, swashbuckling, fear-defying feline, Puss in Boots, returns in a new adventure from the Shrek universe as the daring outlaw discovers that his passion for adventure and heroic missions have taken their toll. Puss has burned through eight of his nine lives, though he lost count along the way. Getting those lives back will send Puss in Boots into the Black Forest to find the mythical Wishing Star on his grandest quest yet. With only one life left, Puss is forced to humble himself and ask for help from his former partner and nemesis: Kitty Softpaws. They are joined in their journey by a chatty and cheerful mutt named Perrito. Together, our trio of heroes will need to stay one step ahead of the fairy tale realm's craftiest crooks including Goldilocks and the Three Bears.
Puss In Boots: The Last Wish is a gust of fresh air and marvel that akins to something like Spider-Man: Into The Spider-Verse. The film features a myriad of different animation techniques put together to craft a style all its own. Right from the opening number, it is showing off both its look, its action, the vibe of the film and the powerhouse performance from its returning lead in Antonio Banderas. Had the credits rolled after the opening, I would have stood up and clapped and felt satisfied. Lucky for us, it is a feature film, and it keeps going, building and becoming a fantastic film all to itself. All that from a Puss In Boots sequel of all things.
Beyond the animation or the script, one of the big factors in keeping the film rollicking is the cast. I'm not saying other animated films have star performers not bringing it, but director Joel Crawford gets something else here out of people. Not only are Banderas and Salma Hayek in peak form at the top of their game, the supporting players are quite the scene stealers themselves. Primarily, the villain might have given us the best performance by John Mulaney in TV or film. He's astounding and fully gets what it takes to be a voice actor and not just a famous person voicing a character in an animated film. Mulaney has fully embraced the absurdity of the character and feeds off of it and his costars. Ditto for Florence Pugh who you may not even realize is playing Goldilocks. There are too many others to mention, but this film features some of the best ensemble cast animated voice work in quite some time for a project of this stature.
Puss In Boots' second outing can easily fight for the top spot as the best animated film of 2022, but it also shouldn't stop there in being just one of the best films period of that year. It features not only some of the best animation and visuals, but delivers on both comedy and action spectacle as well. This is a film I feel many may still overlook, but once they check it out are easily swayed and on board with how great The Last Wish is.
Video
Disclaimer: Screen captures used in the review are provided courtesy of Universal Home Entertainment, not the 4K UHD Blu-ray disc.
Encoding: HEVC / H.265
Resolution: 4K (2160p)
Aspect Ratio: 2.39:1
Layers: BD-100
Clarity/Detail:  Puss In Boots: The Last Wish arrives on 4K Ultra-HD Blu-ray with an absolutely beautiful transfer. The animation looks clean, crisp and sharp with lots of details and blistering color. The image has some wonderful motion that really accentuates the animation to a very high degree.
Depth: Depth of field is strong and wildly three dimensional. Scale is pretty outstanding here, making the film look and feel quite grand and big in any given area. Movements and smooth, natural and wildly fluid with no issues with distortions from blur or jitter during rapid action sequences.
Black Levels: Blacks are deep and natural. They perform really do well in shadowing and bringing added depth and contrast to the frame. No crushing witnessed.
Color Reproduction: Colors are absolutely astonishing here and well saturated with good burst and pop. The HDR here is pretty radiant with lots of glow from magical powers and different animation crafts on display.
Flesh Tones: N/A
Noise/Artifacts: Clean.
Audio
Audio Format(s): English Dolby Atmos, French 5.1 Dolby Digital, Spanish 7.1 Dolby Digital Plus,
Subtitles: English SDH, French, Spanish
Dynamics: Puss In Boots: The Last Wish comes equipped with a pretty dynamite Dolby Atmos track. This thing is plenty loud and nuanced and really gives you a rush in action moments. Its well mixed and balanced with its foley effects carrying some nice layering and strong depth throughout the film.
Height: From above you get plenty of action, debris falling, characters swinging around, things being thrown and more.
Low Frequency Extension: The subwoofer rumbles and bumps with good power from explosions, glass shatters, bursts of magic, large things rolling and stomping, punching and more.
Surround Sound Presentation: The sound mix really rolls around the room with good power. Ambiance is built up quite well, making every interior or exterior feel lifelike and lived in. There is also an expert level of tracking things across the screen and off the screen.
Dialogue Reproduction: Vocals are clear and crisp.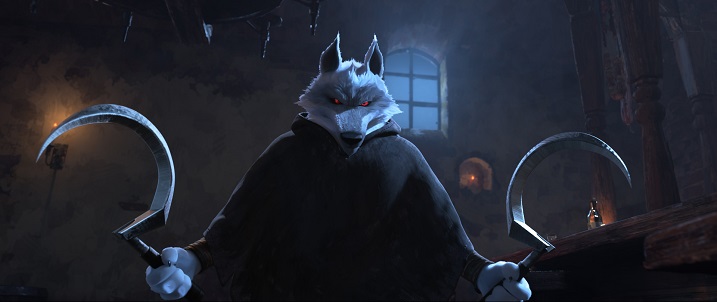 Extras
Puss In Boots: The Last Wish comes with the standard Blu-ray edition and a redeemable digital code.
Audio Commentary
with Director Joel Crawford, Co-Director Januel Mercado, Producer Mark Swift, Editor James Ryan and Head of Story Heidi Jo Gilbert
The Trident (4K, 4:01) – A new short film featuring Puss In Boots, presented with 5.1 Dolby Digital audio.
Deleted Scenes (4K, 7:57) – Featuring an introduction by Director Joel Crawford and Co-Director Januel P Mercado.
A Cast Of Characters (4K, 13:24) – This is a piece where director Joel Crawford, producer Mark Swift and Co-Director Januel P. Mercado go over character by character in the film and actor by actor. We get interviews from the cast about their characters as well as video of them recording their parts.
In The Beginning (4K, 9:12) – This one talks about reintroducing an audience to Puss In Boots and the world of Shrek again along with the weight of pressure to get it right. It also goes through some real intricate technical details on the animation, visuals and editing as well as storytelling.
Jack Horner's Line-O-Rama (4K, 1:44) – Pretty much just some extra John Mulaney doing line reads split screen with him and the animation.
"Fearless Hero" Lyric Video (4K, 3:01)
How To Draw The Purrfect Pawtrait (4K, 11:53) – Instructional videos on how to draw Puss In Boots, Kitty Softpaws and Perrito from Joel Crawford and Januel P. Mercado.
How To Make A Paper Perrito (4K, 7:14) – Pretty much what the title of this says.
Kitty Cam (4K, 14:28) – Its seriously cats playing around for almost 15 minutes.
Summary
Puss In Boots: The Last Wish is easily one of 2022's biggest surprises as I'm not sure anybody expected the revelation that it was. It comes to 4K Ultra-HD Blu-ray with a pretty astonishing picture presentation and Atmos track. There are a load of surprising well done and interesting extras paired with some good kid friendly activities. This latest Dreamworks animated release puts a lot of Disney's latest animated movies and their respective 4K Ultra-HD Blu-ray releases to shame. A definite pickup!
This is a paid Amazon Associates link