July 21st, 2020 by Brandon Peters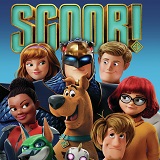 Scooby-Doo has long been one of the most popular children's cartoons in the Amercian pop culture lexicon. Since its creation 40 years ago, the toon has constantly been refurbished, re-run, re-invented and re-introduced to brand new generations. Like many a Mickey Mouse or Teenage Mutant Ninja Turtle, once Scooby-Doo arrived on the scene, he never left. The latest iteration, SCOOB!, was one of the famed movies that were prepared for a theatrical released, but as a result of the (continuing in the US) pandemic, altered its distribution to be a direct to VOD title. Probably influenced by the success of Trolls: World Tour, SCOOB! just up and gave it a go. As a father of two, I took the bait, seeing as we would have seen it in theaters anyway at the same cost. Now, happily, its arriving on physical media AND on the glorious 4K Ultra-HD Blu-ray format. So, all you dastardly Why So Blu readers go forth, read the review and order yourself your own copy of SCOOB!

Film
With hundreds of cases solved and adventures shared, Scooby and the gang face their biggest, most challenging mystery ever — a plot to unleash the ghost dog Cerberus upon the world. As they race to stop this global dog-pocalypse, the gang discovers that Scooby has a secret legacy and an epic destiny greater than anyone could have imagined.
Call me a heartless jerk, but SCOOB! really wasn't connecting for me. Its certainly a strictly for kids film, with some adult references/humor to grab my attention once in a while, but it meanders and plays around off topic far too much. While opening up the Hanna Barbara universe is neat, it both is a strength and weakness to the film. It almost feels the film is trying to do far too much at times and I sit yearning for a simple Scooby-Doo ghost hunting adventure. Nonetheless, screw me, my kids really loved this movie and have been watching it regularly since I bought it digitally. When this 4K Ultra-HD Blu-ray review copy arrived, they were super excited once again. So, in the end, the film did its job with the target audience.
SCOOB! is a mere 90 minutes but feels so much longer. There are a lot of introductions before the film gets started, much playing around and plenty of characters, mythology and more crammed in. I've seen the film twice now and it really drags despite it energy and non-stop jokes to go around. The film also has this awkward thing where it lives in a world that the only pop culture in existence are Warner Bros owned media properties. Referential humor or just in passing feels pretty stilted, strange and forced once that tone is set and you recognize that is all they are doing.
With all my poo poo'ing here, the film does include some pretty fun and at times impressive visuals in the mix. Much of the science fiction and horror stuff really works on just a sheer visual level. Oddly though, as strict to Warner Bros referencing as I mentioned, there is a scene in Captain Caveman's arena that looks EXACTLY like the Geonosis gladiator-style sequence in Attack of the Clones. On top of the visuals, and as I harped on cramming too much in, it IS fun to see these ancillary Hanna Barbara cartoon characters get a chance on a stage as big as your typical Scooby-Doo or Flintstones do. I'm not sure that a "cinematic universe" is necessary, but giving these characters a shot on their own wouldn't be a bad idea at all.
SCOOB! leans more kid friendly than the "in the middle" type of thing Pixar/Dreamworks films aim for. Not that this isn't going to tickle hardcore Scooby-Doo fans' fancy at all. Its not a terrible film by any means, not even close. There are parts to enjoy, but ultimately it felt long in the tooth even at 90 minutes. As mentioned above though, it played fantastic for my kids, who have been watching this on repeat since it came out. That's who its for, that's where it succeeds in doing what it sets out to do!
Video
Disclaimer: Screen captures used in the review are taken from the standard Blu-ray disc, not the 4K UHD Blu-ray disc.
Encoding: HEVC / H.265
Resolution: 2160p
Aspect Ratio: 2.35:1
Layers: BD-66
Clarity/Detail:  SCOOB! come to 4K Ultra-HD Blu-ray and at this time I couldn't find information regarding if is a native 4K title or not, but I'm going to wager its an upscale. However, it looks terrific and a step above the standard Blu-ray counterpart with improved crispness, black levels, color saturation and even some more standout detail. Its plentiful in its bursting colors as well as its three dimensional appealing depth. Overall, a pretty gorgeous look for the film.
Depth:  I believe this film was planned for a 3D release. To go along with being computer animated, its all set for wonderful spacing and depth of field. The push back from foreground to background environment is top tier.  Motions are smooth, natural and feature no jitter or blurring issues.
Black Levels:  Blacks are deep and natural, going toe to toe with your matte bars. They help define the image and provide wonderful shadow and shading in the animation. No crushing witnessed.
Color Reproduction:  Colors are quite striking, vibrant and beautiful here. They are well refined with no bleeding issues. Greens, purples and blues are MVPs of this palette. HDR comes in hand with weird green ghost stuff as well as fire and many space beam things.
Flesh Tones: N/A
Noise/Artifacts: Clean.
Audio
Format(s): English 5.1 DTS-HD MA, English Descriptive Audio, Spanish 5.1 Dolby Digital
Subtitles: English SDH, French, Spanish
Dynamics: Surprisingly, SCOOB! does not contain a Dolby Atmos or even a 7.1 surround track. We are back with an old school 5.1 track for its physical media debut. Regardless, this is a top flight 5.1 track, that is very loud and plenty engaging. It comes crashing in with big science fiction effects as well as some sweeping moments in the score that command your viewing area. The track has great balance and precision, coming across as clear and focused in any given scene.
Height: N/A
Low-Frequency Extension:  The film booms and stomps with good power. Your subwoofer effectively drops the deep ones on crashes, explosions, laser blasts, music beats and even bird fecal matter dropping to the ground in Captain Caveman's habitat.
Surround Sound Presentation: No speaker goes left unturned in this mix. While plenty of action hits up front, the mix cleverly has the score accompanying from the rear in a complimentary sense. Sound travel is ferocious and accurate to onscreen action.
Dialogue Reproduction:  Vocals are clear and crisp with good detail on the actor diction. Voices are audible no matter the loudness of the action.
Extras
SCOOB! comes with the standard Blu-ray edition and a Movies Anywhere digital code. The bonus features are found on the standard Blu-ray disc.
Bloopers (HD, 3:58)
Deleted Scenes (HD, 19:48) – 10 scenes with introduction from the director Tony Cervone. Presented in early pre-vis animatics or motion storyboards.
How To Draw Scooby-Doo (HD, 10:16) – Director Tony Cervone shows us how to draw Scooby-Doo.
New Friends, Newer Villains (HD, 6:21) – Director Tony Cervone talks creating a (sigh) "Hanna Barbara cinematic universe", with commentary from both producers about the characters and the actors. Booth recording footage of the actors recording their lines. Focuses on the non-Mystery Machine characters/cast members.
Puppies!! (HD, 1:05) – Literally the cast sitting and holding puppies. Seriously.
Summary
SCOOB! is a very kid friendly movie and in this household, manage to play out in spade with that demographic. Warner Bros brings it to 4K Ultra-HD Blu-ray with some pretty strong results. Both audio and video are terrific, though its surprising the film did not contain a Dolby Atmos track. The extras contain a nice chunk of informative deleted material, but the rest is mostly some fluffy nonsense. Overall, pick this up for your kiddos at a decent price point.
This is a paid Amazon Associates link