October 19th, 2020 by Jason Coleman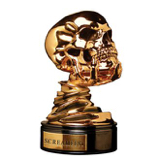 Fright fans – it's awards time!  The amazing SCREAMFEST HORROR DRIVE IN FILM FESTIVAL 2020 has passed, we have done our own comprehensive coverage (six articles in total!) and it's time for a little credit where credit is due time.  In our many 'Best' categories we pay tribute to the brightest that Screamfest had to offer in 2020 and the winners certainly kept us turning in our movie graves.  For your consideration – it's the…

WhySoBlu.com Best of Fest 'Wrap Up'!
Best Film – A Ghost Waits
Best Short – The Last Man On Earth
Best Actor –  Jonathan French in Caveat
Best Actress –  Freja Zeuthen in Axe To The Face
Best Surprise Celeb Cameo –  Brian Krause in Becky
Much thanks to Rachel Belofsky and the entire team of Screamfest 2020 for creating an amazing fest even in such turbulent times – we horror fans appreciate it!  Till next year kiddies, stay scared!