October 17th, 2020 by Jason Coleman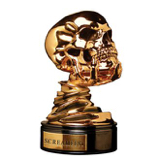 With the latest SCREAMFEST HORROR DRIVE IN FILM FESTIVAL 2020 over it's time to clean up the movie review aisles for this year.  So were giving critical skinny on the last two feature films to give fans a complete picture of the crop of 2020.  So before we end our review coverage, here are two…Final Film Reviews!
FEATURES
"Sweet River" – A dark murder mystery, Sweet River is a thriller that takes its time.  Too much time.  The Australian import about a grieving mother in search of her missing boy has the right style and tone, but unfortunately any revelations and simply overall forward movement here moves at even less than a snail's pace.  So sadly with too much empty atmosphere between major revelations to sustain such an elongated delivery, any effectiveness in this emotional story is far from sweet.
"Thirst" – An out there guts and gore comedy with a way too dark tone, Thirst is a cinematic mess at it's most outrageous.  Filled with colorful characters (the lead vampire looks like a skeletal version of Otis Firefly!), gross out gore (this fanged wonder has a taste for biting and eating male genitalia!) and a story that's all over the place, it's hard to even call this Icelandic genre outing a movie.  Proudly adopting the 'everything AND the kitchen sink' philosophy, horror hounds may appreciate some of the bold blood here, but it certainly won't quench a five-star thirst.
Check back Monday for our Best of Fest 'Wrap Up' where we bestow upon some special films and unique performances our coveted awards for best work.  See you then!