October 10th, 2020 by Jason Coleman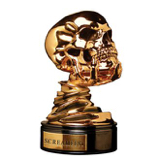 It's underway fright film fans and the tricks and treats are flowing link blood from an open wound!  That's right kiddies the yearly genre spectacle that is the SCREAMFEST HORROR DRIVE IN FILM FESTIVAL 2020 (go to www.screamfestla.com for more details!) is currently taking place October 6th – 15th right from the safety and comfort of your own car at the Regency Theatres – The Plant Drive In (7876 Van Nuys Blvd, Van Nuys CA 91402) and thus far it's been a notable slew of flicks.  We're keeping our own comprehensive coverage via WhySoBlu.com going by taking a reviews gander at some of the films that have unspooled thus far for those looking for some critical skinny.  Anthologies, slashers and get-togethers turned deadly – below are the encapsulated opinions on three new features for your consideration.  Check out thoughts on features Books Of Blood, Initiation and An Ideal Host via our…First Film Reviews!
FEATURES
BOOKS OF BLOOD
(Hulu)
A welcome addition to the anthology genre, this telling of tales via Clive Barker's Books of Blood manages to utilize the best of both worlds by having a standalone stories format but all the while making strange unseen connections throughout – the sign of a killer compilation outing.  Story one involves a gal with sensory problems who finds herself in a odd B&B with secrets, the second a channeler of dead souls tries to convince an academic dedicated to debunking such things that her late son has things to say and finally a pair of conscience free killers head out in search of the infamous Books of Blood.  All three have their highlights (the first has some chilling reveals that will stick with you!) but what is most notable here is how morality takes center stage in these tales and gets rightfully blended back into the fright fold – bad behavior gets its comeuppance here.  Eerie, creepy and clever as hell, the stories within make Books of Blood a worthy cinematic page-turner.
INITIATION
(Saban Films)
In what can only be described as an effective outing that tackles topical issues like sexual assault and social media abuses and mixes them with a high body count, Initiation is a far cry from the fluff slice and dice flicks of the 80's.  Of course there is carnage and story twists fans won't see coming, but helmer John Berardo treats his material like a deep drama with a tone not usually found in a horror outing.  Pulling out more emotional impact than expected, Initiation is a slasher for the next generation.
AN IDEAL HOST
What begins as a spirited and at times uncomfortable gathering of friends for a "perfect" dinner party turns otherworldly when some uninvited guests crash.  No spoilers but needless to say the crème brûlée isn't the only thing going into the guests mouths at this shindig.  An Ideal Host does take the time to set up the personalities of all involved early, though the action does take some to get going and the tone throughout does feel a little jumbled.  But thankfully once the blood flows there are plenty of gross out moments to keep the carnage crowd amused.  Cute and quirky, this Australian import serves a decent meal of mayhem.
Check out more coverage tomorrow with our Sunday Shorts Reviews!  And as always don't forget to go to www.screamfestla.com for the info on all the films playing at this year's drive in fest – don't forget to honk!