October 11th, 2020 by Jason Coleman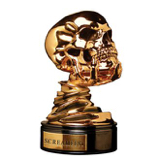 It's the last day of the weekend fright fans and you know what that means – it's Sunday Shorts Review Day!  That's right genre fans we're taking all the shorts that have been seen thus far via the SCREAMFEST HORROR DRIVE IN FILM FESTIVAL 2020 (go to www.screamfestla.com for more details!) currently taking place October 6th – 15th right from the safety and comfort of your own car at the Regency Theatres – The Plant Drive In (7876 Van Nuys Blvd, Van Nuys CA 91402) and putting them on the skinny review (matching their equally short running time!) chopping block for your carnal convenience.  And there are a whopping thirty-one below – so let's get started. Time for…Sunday Shorts – 31 Reviews!
SHORTS
"The Last Man on Earth" – British writer/director April Phillips created this thoughtful, provoking and engaging (in every way!) short tells the tale of a woman who must make choices in the aftermath of a global pandemic and it's clear from frame one that this is the work of a gifted and skilled filmmaker whose future works I predict will also be five star.
"F@cking Ghosts" – Rated R for Pervasive Ghost Sex and Graphic Language this mock trailer about a brothel that burnt to the ground during an orgy boasts "what do you do when ghosts play dirty", complains "we eat breakfast there!" and even calls in a sexorcist.  Make this movie…NOW!
"Human Trash" – Fascinatingly staged and shot short about a man thrown away in the trash trying to discover his origins – this one has feature written all over it.  (Hats off Almuedo Brothers!)
"Circle of Stone" – A tasty tale of future meets past as a group of rural cops find themselves deep in the woods fighting supernatural swordsman.  (From the director of Brave – and should be a darn feature!)
"Sins of a Werewolf" – Think An American Werewolf In London meets Father Ted in a salacious and satisfying tale about a parish priest who gets bitten by a banshee.
"Axe To The Face" – A simple tale of revenge is given extra shots of nuance via a sizzling score by musician Marcus Bagala and savory performance by female lead Freja Zeuthen – and the title here is not metaphorical here gore fans.
"Guest" – Totally confusing short about a woman seeing an ever-present strange guest – also utterly engrossing.  (Finn Callan is one to watch!)
"Into The Uncanny Valley" – An ignored and unappreciated housewife takes a new pill that enhances assertiveness while blocking empathy to some hilarious and grim results – husbands beware.
"Facelift" – Gnarly and naughty Tales From The Crypt style episode about a gal trying to regain the fountain of youth.  (Careful what you wish for kiddies!)
"Woodland Cemetery" – Scary and unsettling tale of a photographer who takes the photo of someone or something she shouldn't have.  (Feature version film please!)
"Hellevate" – Options where to spend eternal damnation are presented to a gent stuck in an elevator or Hellevator they may call it!  (Top floor please!)
"Hostile" – Pitch perfect payback when a predatory room renter with a fascination with ancient tribes and their rites gets more than he bargained for when a mysterious tough Asian gal comes knocking.
"Good Head" – Effective but much too short little ditty about life sans a body.
"Regret" – A sort of metaphorical nightmare about being chased by regret that's a bit one note this apt short gets right to the point.
"Mime" – Short tale for all those who need a lesson in treating our silent theatrical friends the right way – don't f@ck with a mime.
"Mind Over Matter" – Hard to critique a short that skewers the very institution of criticism, but made its point in a bloody good way.
"Murder For Dummies" – Two low rent strippers try their hand at body murder and body disposal in this goofy but spirited gore short.
"My Victims of True Crime" – The thrill of revenge proves fleeting in this quick but poignant short.
"Clean" – Creepy and effective thriller all about a shut in gent with a zit from hell.  (The lancing scene made me sick – good job!)
"Psycho Therapy" – Fun little skit involving a highly dysfunctional therapy group and the deadly secrets they're keeping.
"Day 14" – Entertaining tale from icon Tiffany Shepis-Tretta and her family as they make a short during quarantine at home about life and learning – all with a pinch of zombie bite!  (Good show Tretta family!)
"The Little One" – Fun little short spending the morning with a young boy eating, texting and playing music – all the while a zombie attack is happening all around.  Cute.
"A Night at Camp Heebie Jeebie" – Think the old Monty Python skit where everyone tried to outdo each other with stories, but make them killer camp tales and animated.  Fun.
"Zwart" – Fascinating look at the way cyberspace can manipulate and take over things, but this one requires more content for feature film length.
"You And Me" – A tale about an evil twin who switches places feels like the first piece in a puzzle – a good start.
"Klaus Eats Butterflies" – Super short and super sick so-so tale about a head that uses his large tongue to catch flies and becomes a woman's plaything.
"Hansel" – Focusing on tone rather than the tale itself, this one about a boy trapped inside a candy house with his mom in tow is more style than substance.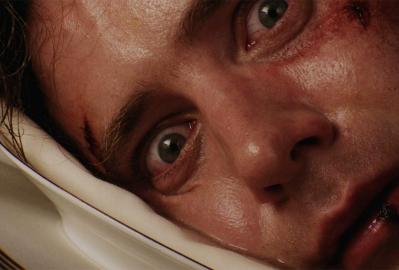 "The Appointment" – A tale involving a man desperate to solve a mystery about his appointment that begins interesting and quirky, but disappointingly goes off the rails into obtuse vaudevillian territory.
"Sclera Absentia" – So-So story about a gullible couple that allows a strange boy into their house – and his face is not the only thing this terror tot is covering up.
"A Temporary Void of Reason" – A way too long and agonizingly drawn out tale of a girl who commits suicide due to bullying and her mother's inability to cope – painful.
"Rainy Season" – Leave it to the one short based on a Stephen King short story about raining frogs to be the worst of the bunch – even a horror master can make a misstep.
Stay tuned all next week for even more coverage of Screamfest 2020 (go to www.screamfestla.com for the info) which goes until Thursday next week! Until then try to stay scared!