May 26th, 2023 by Brandon Peters
A personal favorite comic book superhero film of mine from the last 15 years is that of David F. Sandberg's Shazam! It hit a lot of sweet spots for me and was an all around delightful affair. With that movie doing some lighter business, I was grateful we got a sequel. It took some time to get here, but Shazam! Fury of the Gods released this past March to some disappointing numbers. But, as I said, I was happy to have just one more adventure with these heroes. Debuting on Max and 4K Ultra-HD Blu-ray on May 23rd, the disc is loaded with bonus features, including a half hour of deleted material and a commentary from Sandberg. You can order yourself a copy by using the paid Amazon Associates link following the review.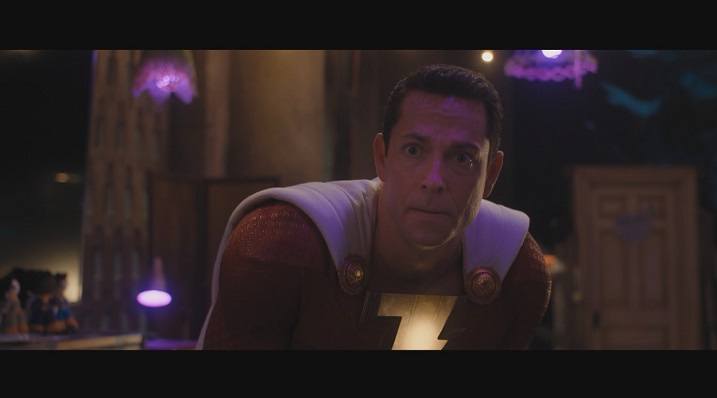 Film
Shazam! Fury of the Gods continues the story of teenage Billy Batson (Asher Angel) who, upon reciting the magic word "SHAZAM!," is transformed into his adult Super Hero alter ego, Shazam. Bestowed with the powers of the gods, Billy Batson and his fellow foster kids are still learning how to juggle teenage life with having adult Super Hero alter-egos. But when the Daughters of Atlas, a vengeful trio of ancient gods, arrive on Earth in search of the magic stolen from them long ago, Billy—aka Shazam (Zachary Levi)—and his family are thrust into a battle for their superpowers, their lives, and the fate of their world.
David F. Sandberg's sequel really has a good grip on what worked the first time out and manages to utilize it in new way, evolve and further it. Rather than just taking a victory lap or doing the same again, he's able to flip some things on their head and really put a challenge to the Shazamily. There are the wonderful details and elements that make the first so effective returning here and taken to even new heights of spooks and laughs.
There's some new blood injected into the film and they really fit like a glove. Our villains power through and make sure our returning cast is up to task here. Helen Mirren instantly claims dominance as she wanders in and Lucy Liu provides us with her skill of playing a menace. Rachel Zegler is quite good as the conflicted one and brings about some nice drama between our villains. While our heroes are having their own learning experience and journey, in a way this sisterhood of villains are having their own as well. Its a smarter movie in that regard, but also doesn't forget that they are villains too.
While the film takes things bigger than last time and the scale of the attack expands, it still is pretty much a Philadelphia story. The stakes are low per se, but they aren't for our prime characters. As really it should be most of the time, Sandberg clearly understands things better than most in that regard. Many of the action scene prove fun enough and the scares are disturbing but merely in a "child feels like they are getting away with something by watching" type thing. There's something he just nails and gets here, which makes myself really prefer what he's doing to most superhero outputs be it DC, Marvel or otherwise. Its a shame it hasn't connected bigger, but that it has, and we've two films of it, is reason enough to celebrate.
Video
Disclaimer: Screen captures used in the review are provided by Universal Pictures Home Entertainment, not the 4K UHD Blu-ray disc.
Encoding: HEVC / H.265
Resolution: 4K (2160p)
Aspect Ratio: 2.39:1
Layers: BD-66
Clarity/Detail:  Shazam! Fury of the Gods has a nice, brighter, colorful image in its debut on 4K Ultra-HD Blu-ray. This vibrant image has great use of contrast and carries loads of crisp detail. The CG effects hold up quite well to the scrutiny and even the murkier sets in the film still look quite good.
Depth: Depth of field is pretty strong and really has a good sense of its area. Movements are smooth and natural with no instances of any distortions like blur or jitter caused by rapid action.
Black Levels: Blacks are deep and natural. Fine details, patterns and textures still radiate even in the darkest of areas on the screen. No crushing witnessed.
Color Reproduction: Colors pop quite well, especially magic bursts. Costumes are bold and pronounced. The glow from the emblems on the costumes as well as the dragon, its fire and sorcerer lightning and beams glow with HDR against the contrasted darkness.
Flesh Tones: Skin tones are natural and consistent from start to finish. Facial features and textures from freckles to bruising is clear as day and distinct.
Noise/Artifacts: Clean.
Audio
Audio Format(s): English Dolby Atmos, English 5.1 Dolby Digital, English Descriptive Audio (US), English Descriptive Audio (UK), French 5.1 Dolby Digital, Spanish 5.1 Dolby Digital
Subtitles: English SDH, French, Spanish, Danish, Finnish, Norwegian, Swedish
Dynamics: Shazam! Fury of the Gods has a pretty nifty Atmos track attached to it. The full room, top to bottom and side to side really feels well utilized and active. The mix is quite layered with good depth for good engagement. A good balance of vocals, music and effects really puts together the optimal package.
Height: From above you get plenty of thrills like a dragon, crumbling debris, magic bursts, heroes flying over and much more.
Low Frequency Extension: Destruction gets a good rumble, as do punches, magic powers, roars with good force from the subwoofer.
Surround Sound Presentation:  This one really uses the room and has some great rolling power to the travel across it. Rear channels pick up things going on offscreen while adding some nice unique contributions.
Dialogue Reproduction:  Vocals are clear and crisp.
Extras
Shazam!: Fury Of The Gods comes with the standard Blu-ray edition and a redeemable digital code.
Audio Commentary
with director David F. Sandberg
SHAZAM! Let's Make a Sequel (HD, 24:49) – 
The Rock of Eternity: Decked Out (HD, 5:42) – This talks about the redesign of the Rock of Eternity once the kids have been living in it for a while.
Shazam! The Zac Effect (HD, 4:20) – This is people talking about the "enthusiasm machine" that is Zachary Levi.
Sisterhood of Villains (HD, 7:54) – Here we go over each of the 3 new villains in the film and what the actors bring to it.
Shazam! Scene Deconstruction (HD, 10:06) – David Sandberg goes over 5 big effects/action sequences/set pieces in the film.
Mythology of Shazam! Fury of the Gods (HD, 4:59) – This one goes over the origins of our villains and monsters in the sequel.
Shazamily Reunion (HD, 5:01) – This goes over the relationship of the cast in the film and how well they get along on and off screen.
Deleted Scenes, Alternate & Extended Scenes (HD, 31:06) – Includes a David Sandberg introduction.
Summary
Shazam! Fury of the Gods might not be quite as good as the first, but it does live up to it, respectfully. The presentation on the disc is pretty terrific. What really impresses is the amount of quality bonus features available here. You really get a pretty nice run thru of making it with good depth. That makes this a pretty outstanding disc if you're a fan and wanting to pick it up!
This is a paid Amazon Associates link