November 15th, 2022 by Brandon Peters
In the 1990s, independent films were on the rise and studios like Miramax were at the forefront of distribution. Many studios created a separate wing to focus on and gather the independent, documentary, art house and international films under a single banner away from the blockbusters and bigger star studded fare. Sony Pictures developed Sony Pictures Classics for this very reason in 1992. And for the 30th Anniversary of the studio's formation, they will be putting out a 4K Ultra-HD box set with 11 films from the course of their history, including 10 that are making their debut on the format. This review will be taking a look back at 1998's rewind to the punk life of the 1980s, SLC Punk! starring Matthew Lillard. You can order yourself a copy of this impressive box set, which would make a fantastic gift for that special cinephile in your life, using the paid Amazon Associates link below.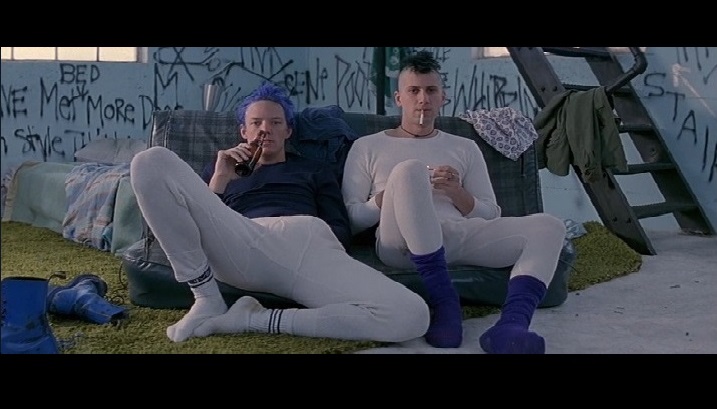 Film
It's 1985 and Stevo is that rare animal: a punk rocker in the Mormon stronghold of Salt Lake City, Utah. He just graduated from college with honors and now his life is a nutty roller coaster ride of rock shows, stealing cars, beating up rednecks and non-stop partying with his buddy, Heroin Bob, and his girlfriend. But with the scene getting lame and Stevo going nowhere fast, he has to put his punk ideals to the test.
The 90s coming of age stories were a bit more rough around the edges than many of the comedies that populated the 80s. These weren't really comedies, though they'd include some funny parts and find a lot of memorable quotes. The teen comedies were the teen comedies but the dramas were really dramas. They sort of separated off. One going for the more widespread, good hearted in the end, mainstream service. Others were found in the indie circuit which lead to a legacy of rental store classics that got passed around or recommended.
SLC Punk! was of that such ilk. Having more in common with KIDS than it did Can't Hardly Wait, the film took on a sect of youth culture that was having a bit of a resurgence moment at the time – the punk scene. However, SLC went back to the 80s to tell the story of when things were in full swing. What's great is that this film pits the reality of it in the midwest in full swing. Rather than be the expected full on dive into the culture, in contrasts with the more conservative and midwestern lifestyle in such a loud and combative way for much more interesting drama. It shows the real struggle of an outsider and the pressure to maintain and find yourself sticking to your convictions.
Narratively, this is a confessional film with our lead character speaking to the camera, flashing back and guiding us along the way. Matthew Lillard is absolutely perfect for this part as he harnesses what makes him stand out among the pack of his youthful contemporaries of the time but realizes it in a whole new way. His dramatic chops are tuned in to his normal zaniness in a way that really brings and honesty and fully realized character to screen here that isn't just another Matthew Lillard character but one that he disappears into and it become really his own thing. Yes, his showboaty youthful performance for the ages is always going to be noted as Scream, but SLC Punk! is probably his finest hour in the 90s as an actor.
James Merendino's look back at the limited punk scene in Utah past its expiration date is a nifty coming of age tale with its own voice and its own flavor. While set in 85, its speaks a lot to the 90s teen scene and rather finds itself in some rather good debates on life between characters. The film goes for interesting choices and isn't afraid to be harsh and "real" at any given turn. Its aged quite well over the years and makes a fine addition to this Sony Pictures Classics set.
Video
Disclaimer: Screen captures used in the review are not from the 4K UHD Blu-ray disc and do not represent its image quality. They are also not of my own capturing. If you feel they are yours and you do not condone their usage, please contact the site and we will have them removed. 
Encoding: HEVC / H.265
Resolution: 4K (2160p)
Aspect Ratio: 2.39:1
Layers: BD-100
Clarity/Detail:  SLC Punk! makes its debut on 4K Ultra-HD Blu-ray with a smashing transfer. Never before released on standard Blu-ray, the film comes looking quite pristine here. You can immediately tell that this was one of those 90s movies that wasn't going to look the best on Blu-ray but gets an immense help with the 4K format. There's a nice layer of grain, solid depth and a wonderful blend of color on display in the image.
Depth: Depth of field is strong and really opens up this movie and give sit a better than you'd think sense of scale. People, objects and camera move very smooth, confident and fluidly without any issues of blur or jitter.
Black Levels: Blacks are natural and get pretty deep. Information remains quite clear and apparent in even the darkest of corners of the screen. No crushing witnessed.
Color Reproduction: Colors are quite rampant and flashy here in the most natural of ways. Graffiti, hair colors, clothing colors and much more really pop in this transfer but have a nice restraint to them. They are well saturated and looks sort of regular with pizazz.
Flesh Tones: Skin tones are natural and consistent from start to finish of the film. Wrinkles, stubble, make-up brush strokes, moles, freckles, blemishes and more are quite clearly visible from any given distance in the frame.
Noise/Artifacts: Clean.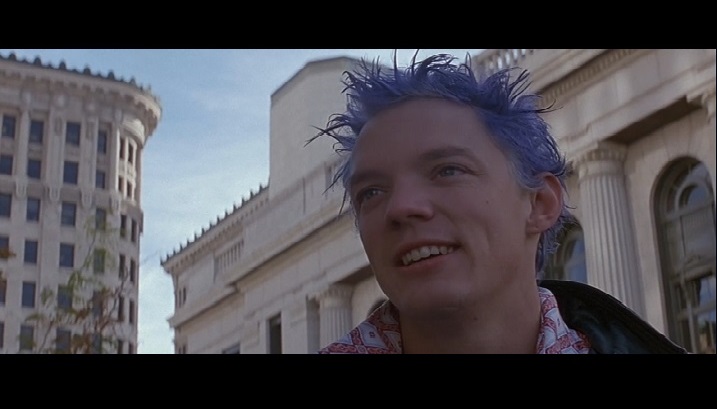 Audio
Audio Format(s): English 5.1 DTS-HD MA, Spanish 2.0 Stereo Dolby Digital
Subtitles: English, English SDH
Dynamics: SLC Punk! has a very adequate and at time impressive 5.1 track. There's a lot of focus up front, but there are some fun moments that blast right through to the back channels. The mix is balanced with good layering and depth on display throughout.
Height: N/A
Low Frequency Extension: The subwoofer gives a nice punch with the bass and drum in the films music. Car engines, crashing, gunshots and more are set to good, impactful and realistic degrees of display.
Surround Sound Presentation: As mentioned up top, this one sits around the front channels. However there are very cool moments that fully realize the 5.1 situations. Two of them happen with gunfire where 1 shoots off to the side and hits a little bit in the back corner and another goes all the way from the front to the back and is felt quite well.
Dialogue Reproduction:  Vocals are clear and crisp.
Extras
SLC Punk! 4K Ultra-HD Blu-ray comes only as a part of the Sony Pictures Classics: 30th Anniversary Collection.
Audio Commentary
with Director James Merendino and Actors Matthew Lillard & Michael Goorjian
'SLC PUNK!' Revisited (HD, 12:14) – A new interview with Director James Merendino. Via a Zoom/Skype type call, he talks about this project spinning out of a project called "Anarachy in NYC" with Spike Lee's involvement that fell out. So he went to something he know more about. He then patrols his memories for good anecdotes on the production and his journey through getting it made. Merendino has a personality that hearing him talk, you just know he's the guy who made this movie and Matthew Lillard was the perfect actor to get what he wanted across.
Comic Book Gallery (4K, 1:01)
Trailers
Red Band Trailer (HD, 2:05)
Theatrical Trailer (HD, 2:00)
TV Spot (HD, :32)
Summary
SLC Punk! is cult classic and one of the more unique coming of age/teen kind of movies that came out of the 90s. It hops over standard Blu-ray and debuts itself on 4K Ultra-HD with a magnificent little transfer and a rock solid 5.1 track to boot. Extras have a new interview, commentary, gallery and trailers that make for a neat little set (Wish they could've got Lillard or Gish for an interview). This film debuting in the Sony Classic Pictures set is a nice touch and adds the right kind of variety to the films included.
This is a paid Amazon Associates link