January 8th, 2021 by Adam Toroni-Byrne
Spell arrived as a VOD release just in time for Halloween.  From the trailer the film appeared to be a bonkers reimagining of Misery with a twist – Hoodoo comes into play rather than an obsession.  Does it live up to its name, casting a spell on viewers? Or is there simply no magic there at all.  Find out more below and order yourself a copy with the "paid" Amazon link at the end!

Film
Marquis (Omari Hardwick) is a wealthy lawyer in LA. He lives a lavish life with his wife and two children (Lorraine Burroughs, Hannah Gonera and Kalifa Burton). When Marquis finds out his father has passed away, the family travels in their private plane to rural Appalachia to sort out the funeral and so Marquis can find closure with his strained relationship.  We see flashbacks of Marquis enduring abuse, seemingly into his young adulthood. We also see his father practicing Hoodoo, using a doll, a "Boogity" that can either make or break a person.
The family lands at an airport to refuel and immediately encounter some strange locals and a sheriff who is immediately suspicious too.  When the plane crashes in a lightning storm, Marquis awakes in a sewing room with Eloise and Earl (Loretta Divine and John Beasley) at his side.  Marquis is injured (his foot has been severely cut and bandaged) and almost immobile. He tries to leave and is stopped by Eloise's strong, mute son.
Things get interesting from there, as Eloise brings a "Boogity" into the room for Marquis.  Knowing what he does about Hoodoo, Marquis doesn't believe the hype and chooses to instead break out and find his family.  He senses that Eloise and Earl do know where his family is, and he goes on a search, in excruciating pain to find them.
What Spell does get right, it gets right with vigor.  The film is stylistically excellent, setting an immediate mood with the help of director Marc Tonderai. Screenwriter Kurt Wimmer, no stranger to horror or thriller films, borrows from other better films, but almost in tribute here.  Loretta Divine shows a huge versatility in her role as Eloise. She starts off sweet but is unable to hide her intense creepiness. Divine truly sinks her teeth into the role, with John Beasley supporting her with something quieter but equally disturbing.  Omari Hardwick continues to show his great acting skills here too, with his character going through some agony several times in the film, making the viewer squirm and shout at the screen.  Filmed entirely in South Africa, the film looks like backwoods dirty south and the production design adds to the creep factor.
I didn't expect much from Spell but I enjoyed how it all unfolded.  In a brisk 90 minutes we see several stages from our main character. At first, Marquis is cold and emotionless, but as the film progresses, we see him struggle, grow and change into an unstoppable force, driven to save himself and his family.  This is also a film surprisingly heavy on the gore factor, which made me at times turn away or groan in horror.  It's a delight for folks who love their horror style a la Evil Dead 2013 or Saw.
Video 
Encoding: MPEG-4 AVC
Resolution: 1080p
Aspect Ratio: 2.39:1
Layers: BD-50
Clarity/Detail: Spell arrives on Blu-ray with an excellent looking image from Paramount.  The clarity here is about as good as a Blu-ray can get with good color saturation and lots of details in every scene.  There is no softness to be seen in the film, even giving way to some embarrassingly bad CGI in a couple of scenes.
Depth:  Excellent looking in the depth department, the film makes good use of foreground and background, bringing out surprising immersion even in darker scenes.
Black Levels:  Crush free blacks bring out the best in the dark scenes, with no details lost and no grey blacks in any scenes.
Color Reproduction: A lot of the film takes place in the dark. The colors of these scenes can range from cold to warm, but there is beautiful tonal balance in every scene.  Day scenes have a golden warm hue, and night scenes lit up carry the same motif.  From a color standpoint, this transfer is outstanding.
Flesh Tones: Natural looking, with facial features coming out in all kinds of good (and intentionally bad ways…). There are no pasty people in this film.
Noise/Artifacts: Clean.

Audio
Audio Format(s): English 5.1 DTS-HD MA, English Audio Description
Subtitles: English, English SDH, Spanish
Dynamics:  Spell comes with a 5.1 DTS-HD MA soundtrack that you'd be hard pressed to say was "merely 5.1". The mix is full and hearty in all aspects with deep punishing bass and excellent surround sound usages too.
Height: N/A
Low Frequency Extension:  Crashes, thunder, fires, and punches, gunshots and more give the soundtrack a nice usage of low end.  Bass is present in almost every scene somehow, sounding exceptional throughout.
Surround Sound Presentation:Rain fall, small crowd noise, and Appalachian nature all show up around you in your surround speakers.  There is a lot of useful atmosphere here despite being "just 5.1".
Dialogue Reproduction:  Nice, clean and perfectly intelligible.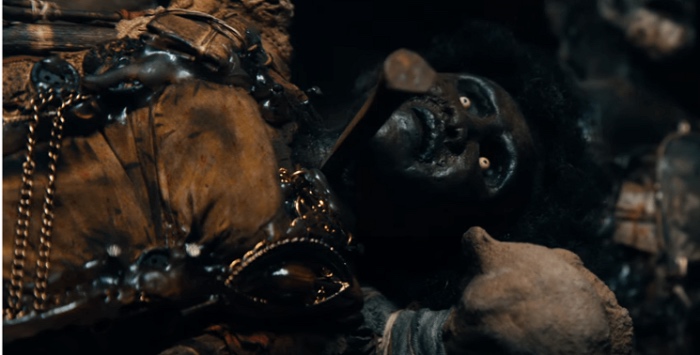 Extras
Spell comes home with a slipcover, digital code and 15 deleted scenes, including an alternate opening and ending. The scenes all show why they were deleted, and mostly for pacing reasons.  They aren't missed in the final product.
Also, theres…
The Art of Hoodoo (HD): A short and sweet feature about the voodoo like hoodoo that features prominently in the film.
Summary
Spell is a solid modern horror thriller. There is no pointless scene within and the pacing is pretty quick. The acting is memorable, the story holds together well even if it feels a tad cobbled together.  The style of the film is what makes it even better, with you genuinely being sucked into the dusty murk of it all.  I recommend this one for horror fans, and for those of you into cultic horror. Technical merits are strong too, so for those who like a pristine picture and solid audio, this is worth checking out too!