January 24th, 2022 by Brandon Peters
Stage Fright marks an exciting time in the catalog of Alfred Hitchcock on Blu-ray. The debut of it on Blu-ray means that realistically, Mr. & Mrs. Smith is the only film remaining to be released on Blu-ray. At the very least, its the last of his American output and the last that Warner has in their vault to transfer over to Blu-ray. A few years ago, it seemed like they were rolling out the remainder of his films they carried distribution rights to, but they stopped shy of Stage Fright and Mr. & Mrs. Smith. Well, half that is taken care of now as Stage Fright will make its Blu-ray debut on January 25th. Included with the films new 4K transfer is a featurette looking at the making of the film and the original theatrical trailer. Surely, an exciting release for any Hitchock fan. You can order yourself a copy by using the paid Amazon Associates link following the review.
.

Film
In Alfred Hitchcock's world, theaters are where danger stalks the wings, characters are not what they seem, and that "final curtain" can drop any second. The droll Stage Fright springs from that entertaining tradition. Jane Wyman plays drama student Eve Gill, who tries to clear a friend (Richard Todd) being framed for murder by becoming the maid of flamboyant stage star Charlotte Inwood (Marlene Dietrich). Filming in his native England, Hitchcock merrily juggles elements of humor and whodunit and puts a game ensemble (Alistair Sim, Sybil Thorndike, Joyce Grenfell, Kay Walsh and daughter Patricia Hitchcock) through its paces. No one turns a theatre into a bastion of dread like Hitchcock, and Stage Fright is proof positive. (Pictured below, Hitchcock in a rare behind-the-scenes photo with stars Marlene Dietrich and Jane Wyman).
Stage Fright is a much overlooked piece in the master, Alfred Hitchcock's, catalog of film. Its the one before gangbusters thriller Strangers on a Train and following one of his more notable duds in Under Capricorn. The film definitely is an improvement over that one, but it still has the director exploring, experimenting and may not coming back 100% successful in his work. But, its through chances like Stage Fright that he gets to have the experience, learn, harness and craft such masterpieces in a run of films that was about to run him through the decade that this film opens up.
Hitchcock's sense of fun and mastery begins very early in the film, with his eagerness to play with camera and post productions tricks about. That going along with some good old fashioned visual storytelling. Our introduction to Marlene Dietrich especially is gangbusters as we follow Richard Todd from a medium shot trailing down to his feet going down stairs to open the door for someone wearing a trench coat, who opens it to reveal a blood splatter to pan up to show us Dietrich for the first time. Its super simple, but an absolute graceful touch of beauty. Later in the same sequence, he showcase Dietrich jumping from one scene to the next as she changes coat as the events behind her transpire from current to flashback. The restoration for that effect makes it much more obvious as you can see the strings, but the admiration and appreciation for the challenge and accomplishment for the time is quite high.
Where Hitchcock has admitted to not being successful, is in the flashback sequence that makes up much of the first act of the film. However, given time and hindsight, you may be surprised to find out that this was a big piece oft he discourse surrounding the film. Hitchcock found that showing a flashback that was a lie really sank the film and was a bit of cheat to critics and audiences. However, later years and many films in history later, we've been trained as audiences the key trait of having an unreliable narrator in stories. From films like The Usual Suspects to shows like Mr. Robot, we aren't afraid to question a story or flashback to be entirely accurate as portrayed in the film as they may have when it came out.
Stage Fright isn't top tier Hitchcock, but even the stuff that falls below, in the middle or frankly even toward the bottom of his filmography is infinitely more interesting than most any other film. And that's just saying something to the power of how incredible a filmmaker the man was. It piggy backs on a little period where he was experimenting with some things technically after finding success in Rope and that seems to be where his mind is moreso than some of the character and story, though he and the actors still pull of the charm and fun swimmingly. More than a curiosity, Stage Fright is one that should be check out and not skipped when studying his films as it foreshadows elements and has the early workings of things to showcase or expand upon in later movies.
Video
Encoding: MPEG-4 AVC
Resolution: 1080p
Aspect Ratio: 1.37:1
Layers: BD-50
Clarity/Detail: Warner Archive Collection's debut of Stage Fright boasts a 4K Scan of the original nitrate camera negative. This is a pretty lovely looking restoration and impressive display, especially if rumors were true that the source materials were in not so great condition. Texture and details seep through pretty finely and showcase lots of information.
Depth:  The film features some really nice spacing and depth of field no matter the exterior or interior setting of the scene. Some of the rear projection camera effects show a bit more cleaner in their separation from one another. Motion is natural and smooth.
Black Levels: Blacks are deep and close to natural levels in this image. The film has some great work with shadow and more darkened scenes. No crushing witnessed.
Color Reproduction: N/A
Flesh Tones: Skin tones feature a white and gray palette that stands strong and consistent throughout the film. Facial detail and texture is apparently in the closer shots, though some decent frames carry more information than you'd expect.
Noise/Artifacts: None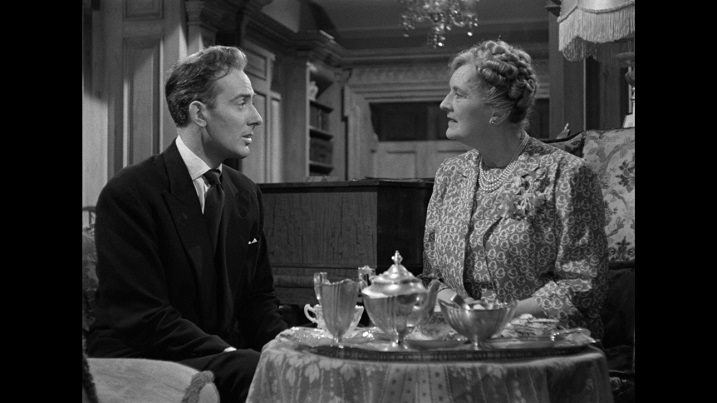 Audio
Audio Format(s): English 2.0 Mono DTS-HD MA
Subtitles: English SDH
Dynamics: Stage Fright has a nice mono track that feels it has been wonderfully restored. There's a good balance of vocals, effects and music set against a light analog hiss as a base. Overall, this is about the presentation you'd expect and like from a film of this age handled with a good restoration.
Height: N/A
Low Frequency Extension: N/A
Surround Sound Presentation: N/A
Dialogue Reproduction: Vocals are clear and crisp.
Extras
Hitchcock and Stage Fright (SD, 19:22)
Theatrical Trailer (HD, 2:52)
Summary
Stage Fright is certainly one of Alfred Hitchcock's more overlooked films in the American portion of his career, though still a gem through and through. Its been a while waiting on it to finally come to Blu-ray, but its arrival from Warner Archive Collection is better late than never. The film looks and sounds quite lovely with its new transfer and lossless audio. There is also a nice featurette on the film as an extras to really make this a nice little release. Every Hitchcock film should be in a collection, so its pretty easy to recommend.
This is a paid Amazon Associates link