October 6th, 2020 by Brandon Peters
The social media world was set ablaze back when it was announced that Patrick Stewart would be reprising his iconic role of Jean Luc Picard of Star Trek: The Next Generation on a new show for the CBS All Access service. Those not even curious on jumping to check out to discover were all of a sudden like "OH I LOVE CBS! HOW WONDERFUL!". Simply titled Picard, the show picks up with him well past retirement and spurned on a new quest revolving around his long gone comrade, Data. The featured some familiar faces and a rogue mission for the aged stalwart and warmed the hearts of many a Trekkie. CBS/Paramount are doing the right thing and give them the chance to collect it in physical form when it comes to Blu-ray on October 6th. There are plenty of bonus features to go around, including the Short Treks episode that leads into the show that was not included on the Short Treks compilation Blu-ray from a few months ago. You can ahead and order yourself a copy from the paid Amazon link below.

Season
14 years after Captain Jean-Luc Picard retired from Starfleet, Patrick Stewart reprises his iconic role. After the destruction of the Planet Romulus, we follow Picard as he tracks down a series of mysteries about his past. Star Trek: Picard sets out on a new adventure against a legion of dangerous foes, with help from a few returning characters – Dat, Riker, Deanna Troi and Seven of Nine – as well as a whole new crew.
Excitement roars out the gate as Jean Luc Picard breathes new life in an honest to Zeus continuation of the Star Trek: The Next Generation crew. What was double the excitement was that Star Trek: Picard was the first time in the Star Trek universe since 2002's feature film Star Trek: Nemesis that the series has actually progressed forward in time. For the last 18 years, every official Star Trek property has been in the past. Whether it be JJ Abrams' Kevlin timelined movies or Star Trek: Discovery, there seemed a desire to not want to move forward in time. Sure, its easier and comes with less history and rules to abide by (Or for showrunners/producers to research), but its kind of a stagnant premise by now. And for television, the timeline hadn't gone forward since Voyager docked in 2001. That's a long time to wait to move forward, which itself is just as exciting as Picard and company's return.
From the start of Picard, it draws you in and gives a fan both what they want and at the same time not giving in to presumed expectations. Its older and a bit more challenging with its grit as time as passed and so has the television landscape. There's a decent mystery at play here throughout the season and does its best to naturally shoehorn in former cast members to say hello to the fans. However, in terms of its overall goal and way it structures to get there, its a bit push and pull and doesn't quite neatly get there. Personally, I didn't find any one single episode bad or boring. I was happy to check it out "day of" every week, but there was a string of sort of uneventfulness in the overall narrative and there was word of different hand being in control behind the scenes. And that could possibly be the reason for the "running in place" feel of the second half of episodes before we get to the finale.
What helps everything along are the actors and characters here being pretty good at what they do and interesting in their past relations or connections to Jean Luc Picard. Its not the same company we're used to and there's a whole lot of learning to be had which paves its way for some good drama. Peyton List provides a good turn as the season's villain. She deliciously chews through the scenery and provides a real cold hearted menace that helps the drive and stakes of the show. Every time she takes the screen, you really aren't sure what's going to happen or if some game changing moment may happen. Returning characters are fun to welcome and none better an episode came when Riker and Troi returned. Its a heartwarming episode that could have fell on its face, but it works like gangbusters and is quite possibly the series highlight as they really did well with it.
Star Trek: Picard finds itself a perfectly decent first season with some pretty grand moments and easy tugs at the heartstrings of longtime fans and followers.  While the show's narrative and some character development does feel the tug and pull of behind the scenes showrunner shifts, each hour on its own is nonetheless a solid bit of space mystery entertainment. If anything, the only improvement it really needs in the second season is consistency and less fan pandering in unnecessary areas (As I once saw on Twitter – No One: ______, Star Trek: Picard: "Earl Grey!"). At the end of the day, I did enjoy the maiden voyage of Picard's elderly journey well enough.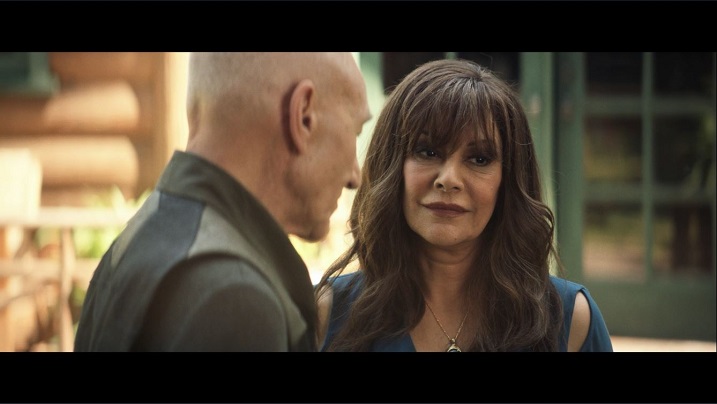 Episodes
Remembrance
Maps and Legends
The End Is The Beginning
Absolute Candor
Stardust City Rag
The Impossible Box
Nepenthe
Broken Pieces
Et in Arcadia Ego, Part 1
Et in Arcadia Ego, Part 2
Video
Encoding: MPEG-4 AVC
Resolution: 1080p
Aspect Ratio: 2.39:1
Layers: BD-50
Clarity/Detail:  Star Trek: Picard carries a similar finish to that of Star Trek: Discovery. It has a vivid transfer that resembles much of what the show looks like on CBS All Access. Its crisp, sharp and detailed, but not without some little faults here and there. Detail is very strong, with good textures visible from really any distance or angle. Overall, its a pretty polished, popping image as is per the usual with the Bad Robot material.
Depth:  Depth of field is plenty strong with good spacing helped out by confident camera dollies and fluid character movements throughout. No real issues from motion distortion are about.
Black Levels: Blacks are pretty deep, flirting with levels of natural darkness. Deep space is pretty lovely and there are good instance of shadowing and shade within darkened corridors. No crushing witnessed.
Color Reproduction: Colors are pretty striking at most corners. Its a honed in, and focused vivid picture. No bleeds or anything, but pretty sharp on its color. Beams, glows, lights, stars and the like give a lot of impressive pop with good frequency.
Flesh Tones: Skin tones are natural and consistent from start to finish. Facial features, textures and make-up design on aliens and creature holds up with the ability to see the intricacies of their design.
Noise/Artifacts: Clean.
Audio
Audio Format(s): English 5.1 DTS-HD MA
Subtitles: English SDH
Dynamics:  Star Trek: Picard has a nice pretty solid and loud 5.1 mix spanning across this galaxy planet to planet. This layering and depth really adds a grand scale. The score sounds lovingly through the channels and the special effects hit with great impact. Its all well balanced here in the mix with every aspect playing its part, getting to shine and not waltzing over one another.
Height: N/A
Low Frequency Extension: The subwoofer provides some good and impacting boom with some of the more chaotic moments while also provided some ranginess when it comes to the more standard fare like doors shutting or heavier things being set down and the like.
Surround Sound Presentation: The action floats around the room quite easily with loud and accurate sound travel. Ambiance is the most impressive strength it offers, allowing you the feel of just sitting in the middle of a Starship.
Dialogue Reproduction: Vocals are clear and crisp with good attention to character inflection and always feeling plenty audible while part of the action no matter the chaos on screen.
Extras
Star Trek: Picard – Season One is a 3-Disc set. Extras can be found under the Special Features menu and under the individual episode listings under Episodes. Each episode features a "Story Log" which is a brief behind the scenes of the episode with little behind the scenes clips and creatives commenting about the episode.
Disc 1
Star Trek: Short Treks: Children of Mars (HD, 8:21) – Features optional audio commentary by Alex Kurtzman, Jenny Lumet and Kirsten Beyer.
Make It So (HD, 10:04) – This little featurette goes over giving the show a unique look and feel, Patrick Stewart's return and how they handled Picard's ark and really just how the show was set up. Features many of the creative team, Patrick Stewart and behind the scenes footage.
Remembrance
Story Log (HD, 3:36) 
Video Commentary by Alex Kurtzman, Akiva Goldsman, Michael Chabon, Hanelle M. Culpepper and Kirsten Beyer
Deleted Scene (HD, 2:43)
Maps and Legends
In The End Is The Beginning
Disc 2
Absolute Candor
Stardust City Rag
The Impossible Box
Nepenthe
Disc 3
Aliens Alive: The xBs (HD, 12:34) – This one goes over the Borg work for the ex-Borg material seen in the film and having to work on these prosthetics and such while the narrative is still being hammered out.
Picard Props (HD, 13:20) – A featurette that goes over a whole slew of things, from weaponry to random items seen in places or on tables and whathaveyou.
Set Me Up (HD, 14:30) – As we come off of learning about the props, now we move on to exploring the sets seen in the show.
The Motley Crew (HD, 19:10) – A look at the cast and new characters that inhabit the world of Picard.
Gag Reel (HD, 7:56)
Broken Pieces
Story Log (HD, 5:06) 
Deleted Scenes (HD, 1:02)
Et In Arcadia Ego, Part 1
Story Log (HD, 4:06)
Deleted Scenes (HD, 1:08)
Et In Arcadia Ego, Part 2
Story Log (HD, 7:26)
Deleted Scenes (HD, :37)
Summary
Star Trek: Picard shot into space with a pretty solid first journey, really trying to catch up with things of the past and embrace them, while attempting to weave it in to a season long mystery. Highs and lows about, its a perfectly enjoyable season. CBS/Paramount brings it to Blu-ray with a terrific Blu-ray presentation and a nice little wealth of extras to give decent insight into the show's behind the scenes creativity. Its a solid pickup and obviously a must for the Star Trek collector.
This is a paid Amazon Associates link