August 5th, 2020 by Brandon Peters
Scream Factory continues its digging through the Paramount catalog vault this month and uncovers 1990s film version of the television anthology horror series Tales From The Darkside. Slapped with a Collector's Edition label, its coming to Blu-ray for the very first item and is accompanied by a brand new impressive six-part retrospective documentary.  The film boasts a load of talent, including the likes of Julianne Moore, Christian Slater, Debbie Harry, Steve Buscemi and James Remar while crafting stories from Stephen King, George A. Romero, Arthur Conan Doyle with effects from KNB. That's kind of a star studded roster all around. This edition comes with some really impressive new key art and other archival material as well. You can put a pre-order in now at Shout! Factory's website or by using the paid Amazon link that follows the review. Tales From The Darkside: The Movie arrives in stores and online August 25th.

Film
To keep from being eaten by a modern-day witch (Deborah Harry, Videodrome), a young paperboy weaves three twisted stories to distract her. In "Lot 249," a vengeful college student (Steve Buscemi, Fargo) resuscitates an evil mummy to teach unsuspecting student bodies (Julianne Moore, Kingsman: The Golden Circle, Christian Slater, Mr. Robot) a lesson in terror. Then, "The Cat From Hell" is a furry black feline who cannot be killed … he may have nine lives, but those who cross his path are not so lucky. Finally, in "Lover's Vow," a stone gargoyle comes to life … to commit murder. In this classic cult favorite, fear comes in threes.
Tales From The Darkside: The Movie is a fun anthology horror film, akin to the spirit of the television show while also being the closest thing to achieving that Creepshow-level greatness from its era. Which makes sense, considering the show which the movie has spun off of was created pretty much as Creepshow: The Series. George A. Romero wanted a TV show version after that film, but since Warner Bros owned the rights to Creepshow and the show was being done as a Paramount venture, the moniker of Tales From The Darkside was crafted. So while there was a "Creepshow 3" made in 2006 and a new Creepshow series is running on Shudder, Tales From The Darkside could be argued as the true successor or third Creepshow film.
The film version of the Tales From The Darkside TV show is a load of ghoulish horror fun, with lots of familiar faces in front of and behind the camera to go with tales of the macabre, dark humor and delicious gore. This cast features early turns from Julianne Moore and Steve Buscemi while also boasting Christian Slater and Debbie Harry among other recognizable faces (Including Kyra Sedgwick's brother who I thought was a young David Harbour). Grabbing inspiration from stories from Stephen King, Arthur Conan Doyle and George A. Romero, the base is pretty set. And to have their grisly details brought to reality by the KNB team, you have AT WORST an average but fun movie to watch. Fortunately, this film is a bit above that.
Understandably, the creepy opening sequence from the show is not present, but we do open with its super scary theme music in a bit of a new form. Like many anthologies, this one features a wrap around with Debbie Harry at the center of it, with her deadpan and deviousness something fun to return to between stories. Each story features a different vibe and different kind of agenda, though we do receive 2 really solid creatures. All the stories manage to balance well, the ideas of being a romp, darkly comedic, actually comedic, spooky, gross and dramatic. The third story finds itself the most serious and the others definitely find their different forms of comedy bits to intersperse naturally in their story.
It feels like Tales From The Darkside: The Movie hasn't been given its proper appreciation and is ripe for a discovery and re-analysis. Creepshow is rightfully the high bar for the anthology horror film and this one doesn't quite achieve that, but it gets close and at least hangs out in the same circles of that movie. This film has a lot to offer in terms of script, talent, scares, laughs and horror practical effects. Seeing the film has me really interested in finally biting on the Complete Series DVD set and revisiting the show!
Video
Encoding: MPEG-4 AVC
Resolution: 1080p
Aspect Ratio: 1.85:1
Layers: BD-50
Clarity/Detail:  Tale From The Darkside: The Movie doesn't provide any details regarding the transfer on its debut for the Blu-ray format. Whatever was done, the results are pretty terrific. Spacing, depth and color saturation are all quite good here. The image is crisp and features a lot of information with patterns and texture showcases the impressive practical effects work throughout the film. Fans of the film should be plenty happy with the picture.
Depth:  There is some solid depth of field action going on in the film. Characters are loose and free to move about without any sort of distortion. The image has a solid pushback and three dimensional feel to it with foreground and background relations. Some of the model work fares quite well in feeling quite free, clean and clear even though it has been super imposed.
Black Levels:  Blacks are deep and slightly above a natural level, but trying its best to achieve that higher standard. Shadows and darkness prevail without devouring and detail information on shirts, surfaces, hair and the like. No crushing witnessed.
Color Reproduction:  Colors find themselves natural, but bolster a bold strength when called upon to do more. The second story with the cat especially gets lovely with heavy blue lighting that really glows on the screen. Fabrics, neon lights and upholstery with more extravagant or brighter colors all give a nice pop in the image.
Flesh Tones:  Skin tones are natural and consistent from start to finish of the film. Yes, some of the stories feature different color timing, but within their confines they maintain that consistency. Facial features, textures, make-up and details of practical monsters all come through with impressive distinction from any reasonable distance.
Noise/Artifacts: Clean.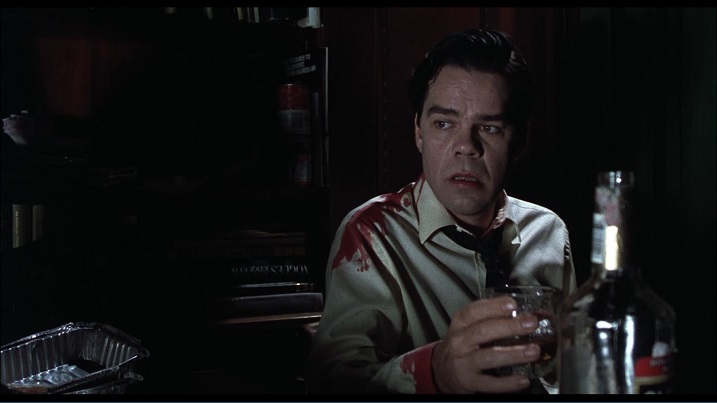 Audio
Format(s): English 5.1 DTS-HD MA, English 2.0 Stereo DTS-HD MA
Subtitles: English SDH
Dynamics: Tales From The Darkside: The Movie comes with a fun 5.1 track that engages well enough and is a rock solid component of the success of viewing the film. It features a good balance of vocals, effects and score. However, it has fun and knows when to pump up the effects and score to great effect and without going overboard. This is a really complimentary and enjoyable experience to the terrific video transfer.
Height: N/A
Low-Frequency Extension:  The subwoofer is adequately utilized in the film, emphasizing score and also adding to jumps, crashing, and natural sound effects that need a low boost.
Surround Sound Presentation: The full surround experience carries plenty of accenting ambiance for every location as well as bringing the score together in concert. It has some very nice moments of unique sounds and directional effects by picking unique speakers to surprise and to help sound to travel from one area of the room to another.
Dialogue Reproduction: Vocals are clear and crisp, with plenty of audibility no matter how loud and intense the film gets.
Extras
Tales From The Darkside: The Movie – Collector's Edition comes with a reversible cover featuring the original poster design.
Audio Commentary
With Co-Producer David R. Kappes
With Director John Harrison and Co-Screenwriter George A. Romero
Tales Behind the Darkside: The Making of Four Ghoulish Fables (HD,) – A six-chapter, feature-length documentary featuring director John Harrison, producer Mitchell Galin, director of photography Robert Draper, production designer Ruth Ammon, special make-up & creature effects artists Robert Kurtzman, Greg Nicotero, and Howard Berger, creature performer Michael Deak, actors James Remar and Rae Dawn Chong and editor Harry B. Miller.
This is an incredibly intricate look back at the film, from the genesis of the television show all the way through its legacy. Everybody here is game and completely honest. One of my favorite moments is someone saying they told Christian Slater on set that he reminder them of Jack Nicholson and he got upset and stormed off. I also particularly loved the segment where they discussed how they wound up with the order of the stories in post and after test screenings and the challenges that came with the re-arrangement. Everybody is fun, game and pretty honest regarding motivations, effects work and personalities. Top notch work by Red Shirt once again.
Chapter One: From Small Screens To Big Screams (HD, 16:20) 
Chapter Two: Rising Stars And The Walking Dead (HD, 17:41)
Chapter Three: That Damn Cat! (HD, 16:51) 
Chapter Four: A Vow To Keep (HD, 25:42)
Chapter Five: The Order Of Things (HD, )
Chapter Six: The Test Of Time (HD, 13:11) 
Theatrical Trailer (HD, 1:57)
TV Spots (HD, 1:06) – VHS sourced
Radio Spots (HD, 1:35)
Still Gallery (HD, 3:59)
Behind-The-Scenes Still Gallery (HD, 4:09)
Behind-The-Scenes Footage Compilation (HD, 11:05) – VHS sourced. Workshop testing of the beast (Animatronic head and costuming the body) in the final story and the cat going down the throat from the second story.
Summary
Tales From The Darkside: The Movie is pretty solid blast of an anthology horror film that I admittedly had forgotten about and found it in my blind spot. Scream Factory obviously knew the charms of it, giving it a dynamite Collector's Edition release. The transfer is pretty terrific to go with a complimentary audio track. Most impressively on this release is the six part retrospective documentary that is as much a joy to see as the film. This is a pretty top notch release and horror fans should pick it up.
This is a paid Amazon Associates link