November 14th, 2022 by Brandon Peters
In the 1990s, independent films were on the rise and studios like Miramax were at the forefront of distribution. Many studios created a separate wing to focus on and gather the independent, documentary, art house and international films under a single banner away from the blockbusters and bigger star studded fare. Sony Pictures developed Sony Pictures Classics for this very reason in 1992. And for the 30th Anniversary of the studio's formation, they will be putting out a 4K Ultra-HD box set with 11 films from the course of their history, including 10 that are making their debut on the format. This review will be covering the groundbreaking 1995 documentary The Celluloid Closet, which documented the treatment of the LGBTQ+ community in film and television history. You can order yourself a copy of this impressive box set, which would make a fantastic gift for that special cinephile in your life, using the paid Amazon Associates link below.
Film
This documentary highlights the historical contexts that gays, lesbians, bisexuals and transgenders have occupied in cinema history, and shows the evolution of the entertainment industry's role in shaping perceptions of LGBT figures. The issues addressed include secrecy — which initially defined homosexuality — as well as the demonization of the homosexual community with the advent of AIDS, and finally the shift toward acceptance and positivity in the modern era.
It may be almost 30 years old, but The Celluloid Closet still serves purpose as a necessary educational tool on the input, impact and history of the gay community in cinema. Probably not as shocking or eye opening as it was upon release, it still reveals an untold history in the film industry that many today likely aren't aware of. Presented by familiar big name faces with connections to roles, people or events in the timeline to share their stories, this documentary really shines an honest light where one wasn't once being shown before.
They've lined up some big name starts for this like Tom Hanks, Whoopi Goldberg, Susan Sarandon and others to sort of sell the "These people you like say this is ok, so you should too" idea, but they all are attached to projects and a history of activism to promote the gay community in film in a positive light. What is nifty about the film, is its still quite blunt and honest as it would've been today. There's a part where people praise Philadelphia, but others mention "They support the sad movie about the gay hero who dies, but would they care as much about the gay hero that lives?".
There could probably be an addendum or update to The Celluloid Closet with more revealed or the 27 years since the film came out, but its a testament to the strength of this documentary that we don't truly need it that much. This film certainly enlightens, but also shows the ostracism they've had to go through with the industry and society. This film will shine a light on things you may have never realized or seen in certain films before and give you an idea of how things should be and why we still to this day are falling short in terms of a true LGBTQ+ representation and celebration in mainstream film.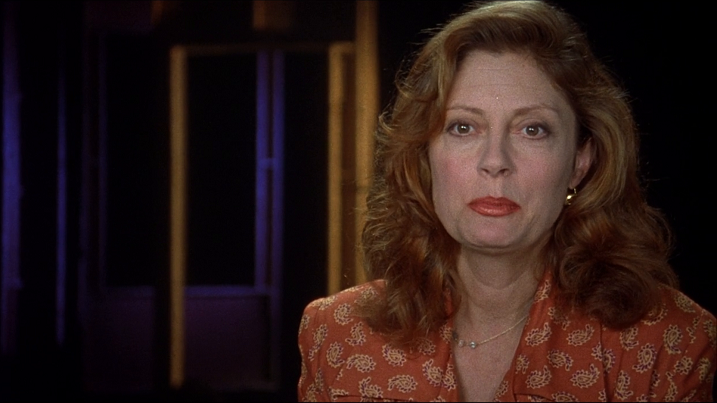 Video
Disclaimer: Screen captures used in the review are not from the 4K UHD Blu-ray disc and do not represent its image quality. They are also not of my own capturing. If you feel they are yours and you do not condone their usage, please contact the site and we will have them removed. 
Encoding: HEVC / H.265
Resolution: 4K (2160p)
Aspect Ratio: 1.85:1
Layers: BD-66
Clarity/Detail:  The Celluloid Closet is a documentary about film history, so there are a bunch of sources and clips used in it from all different eras. All of them clean up quite good and look plenty impressive. The newly filmed interviews definitely fair very good, with a nice layer of grain, good depth and strong detail.
Depth: Depth of field is quite strong and comes through no matter the source. The backdrop behind the interviewees look plenty separated and pushed back. Motion is natural, filmic and smooth no issues with any sort of blur or jitter distortion.
Black Levels: Black levels are natural and quite deep. Patterns, textures and fine details seep through with ease, even in the darkest corners of the frame. No crushing witnessed.
Color Reproduction: Colors are very natural and jump out good with the good contrast provided by the black levels. There's pop in light displays, fire and more that get an added HDR glow.
Flesh Tones: Skin tones are natural and consistent from open to close of the film. Facial features and textures like make-up brush strokes, wrinkles, stubble, moles and freckles come through with ease.
Noise/Artifacts: Clean.
Audio
Audio Format(s): English 2.0 DTS-HD MA
Subtitles: English SDH
Dynamics: While this is a documentary, the film still showcases some scoring, music and sequences from movies in which it handles the effects and music to good degrees of balance. There's a nice spacious feel to it, with good clarity.
Height: N/A
Low Frequency Extension:  N/A
Surround Sound Presentation:  N/A
Dialogue Reproduction:  Vocals are clear and crisp.
Extras
The Celluloid Closet 4K Ultra-HD Blu-ray comes only as a part of the Sony Pictures Classics: 30th Anniversary Collection.
Audio Commentary
with Filmmakers Rob Epstein, Jeffrey Friedman, Lily Tomlin, producer Howard Rosenman, and editor Arnold Glassman
with Author Vito Russo
Interview with Vito Russo (HD, 4:20) – The author of the book gives a short interview which had just recently been uncovered at the time its presented here by Harvey Fierstein.
Rescued From The Closet: Additional Interviews (HD, 55:59) – These are all anlaog/VHS sourced.
Theatrical Trailer (HD, 2:05)
Summary
The Celluloid Closet is one of the more important documentaries on the history of film that still an informative and enlightening tool today as it was in 1995. It arrives on 4K Ultra-HD Blu-ray with a beautiful looking transfer and terrific lossless audio. It carries over all of its DVD special edition bonus features to make for a complete package. You can currently only find this disc as a part of the Sony Pictures Classics: 30th Anniversary Edition box set.
This is a paid Amazon Associates link