January 12th, 2021 by Brandon Peters
Warner Bros has given us our first taste of the Middle Earth saga on 4K Ultra-HD Blu-ray. Luckily, they've decided to start us off with the video and audio. Apparently the extras like the bonus features on the discs as well as sheik packaging will be coming along later this year. Fair enough! I'm not the most gigantic fan of The Lord of the Rings, even though I consider the films great and absolutely admire what Peter Jackson has pulled off, so these early sets probably satisfy my appetite well enough. I reviewed the original trilogy last night and now its onto everybody's favorite – The Hobbit Trilogy! The films currently are out of stock and went quickly right after they came out last month. However, it appears more are on the way and set to arrive on January 19th! So, if you missed out, you'll want to get your order in now and not potentially miss another wave of the fantastic little journey. Paid Amazon Associates link available at the end of the review.
An Unexpected Journey
Bilbo Baggins (Martin Freeman) lives a simple life with his fellow hobbits in the shire, until the wizard Gandalf (Ian McKellen) arrives and convinces him to join a group of dwarves on a quest to reclaim the kingdom of Erebor. The journey takes Bilbo on a path through treacherous lands swarming with orcs, goblins and other dangers, not the least of which is an encounter with Gollum (Andy Serkis) and a simple gold ring that is tied to the fate of Middle Earth in ways Bilbo cannot even fathom.
Over the years, this one has grown on me. When I first saw it upon its theatrical release, I found myself more than disappointed with it. And while I still think taking 45 minutes to leave Bilbo's damn house is too long, my boredom/frustration with it has softened. What comes afterward is a pretty fun adventure with some neat action sequences that shouldn't be taken for granted or overlooked. Then again, Dwarves may or may not be your thing. You may enjoy them or you might find them to be a bunch of little Jar Jar Binks.
I'm not sure whether Peter Jackson was happy or reluctant to return to Middle Earth (Guillermo del Toro was originally to direct), but the ambition of the tale from a technical perspective has me thinking he was enjoying himself. I don't be this in a derogatory fashion, but this really is his Phantom Menace. This is what he can do in this world when he gets to truly do what he wants, while also trying to play around with or pioneer some technologies. And for better or for worse, I'm glad it exists for that.
Desolation of Smaug
Bilbo (Martin Freeman) and his companions continue their journey east and brave many dangers on their way to the Lonely Mountain, culminating in an encounter with the fearsome dragon Smaug.
My personal favorite entry of The Hobbit Trilogy. This one feels as if its the one trying to take advantage of being its own entity and not trying to hint to or artificially relive the glory of the original trilogy. Sure it brings back Orlando Bloom, but Evangeline Lilly's presence in this is a total treat. Ditto Luke Evans. Again, it has some very cool action sequences to boot. To say it moves better and feels more lean might be easy since its the middle chapter and is already set in motion and doesn't have to worry about concluding. But, nonetheless, its what we have here.
Smaug is an impressive CGI creation and wonderfully brought to life by Benedict Cumberbatch. Its fun and kind of THE moment you want to see in this trilogy. And it works out quite excellent. Peter Jackson makes it quite its own adventure while adding scenes around with cool visuals. I've been pretty partial to the Lake Town, as he has crafted a nifty little environment and uses it quite well with his geography and crafting action scenes within it. Yeah, this one is my favorite of the three, but it still doesn't come near the heights of the original trilogy, but a noble effort indeed.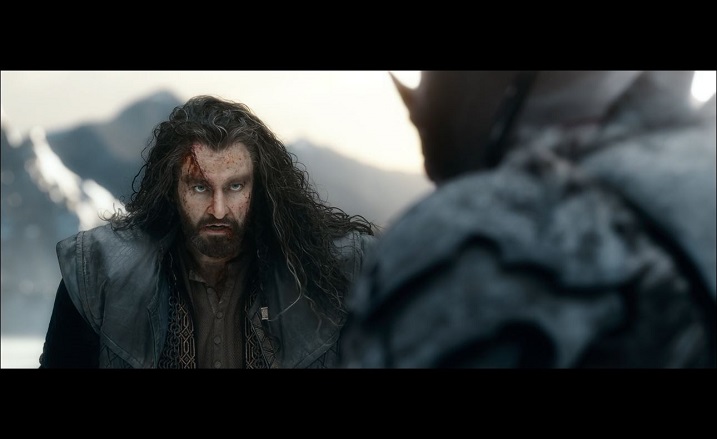 The Battle of the Five Armies
Originally posted on 12/23/24 as part of Naptown Nerd's "The Lord of the Rings Retrospective"
Having reclaimed Erebor and vast treasure from the dragon Smaug, Thorin Oakenshield (Richard Armitage) sacrifices friendship and honor in seeking the Arkenstone, despite Smaug's fiery wrath and desperate attempts by the Hobbit Bilbo (Martin Freeman) to make him see reason. Meanwhile, Sauron sends legions of Orcs in a sneak attack upon the Lonely Mountain. As the fate of Middle Earth hangs in the balance, the races of Men, Elves and Dwarves must decide whether to unite and prevail — or all die.
Battle Of The Five Armies winds up being one of the most brisk and fast paced journeys through Middle-Earth we've yet to see.  It might help that there really wasn't much left of the book to stretch and it could just sit and enjoy the story at hand.  But, it winds up being a fine sendoff for a less than beloved trilogy than the originals.  It feels like it went for broke and gives each character somewhat of a nice closing moment of triumph.
As the title promises, this movie basically is just one big battle.  We open right up with a battle, then take a short break, and then get back to the battling.  This was the first of any Lord of the Rings movie that I felt just really got right into from the start.  Where we left off from Desolation, there really was no choice.  We pick up with the attack on Laketown which is actually quite engaging, even though we have to pick up the pieces and reacquaint with our characters through a panic and utter chaos.
I really enjoyed how the big battle that takes up this whole movie felt like it had nice split sections.  There were general scope fights and just random chaos, but then there were also personal battles, missions and stealth stuff that gave it such a different and unique flavor from the big battles of the original LOTR trilogy.  The most important aspect is that this thing moved and it felt like it went by really fast.  No matter how good or bad any LOTR film is, they always have felt like some grand epic movie and long.  This one was I guess the ADD one and flew by for me.
The film isn't without its excess though.  There were some subplots that easily could have been removed from the film had some unnecessary obstacles in the way of getting to the end credits, but overall it was just fine.  This entire trilogy has been stretched, padded and rung dry, so why not a little more before its out?  There was though, one INCREDIBLY cringe-worthy line of dialogue in the film to set up a character's place and relations in Fellowship that was pretty awful, when I felt for all the faults of The Hobbit trilogy, something like this was never one of them.  It's one of those "I like that name…Robin" type moments.
The Hobbit Trilogy comes to a close in as grand a fashion as it could.  While this film is all about the grand action/battle finale, its a very entertaining watch and manages to leave us in a most satisfying fashion.  I actually found myself actually invested in the fate and well-being of the characters during the final battle.  And one of the villains had an "all-timer" death scene.  It left me with a positive feel about this trilogy overall, which I think is a good success of this film, because the merits and highs/lows of this trilogy will sure be a point of contention for years to come like that of another prequel trilogy.  But, for now, like that one, Middle-Earth was left in a satisfying fashion.
Video
Disclaimer: Screen captures used in the review are taken from the previous standard Blu-ray discs, not the 4K UHD Blu-ray discs in this release.
Encoding: HEVC / H.265
Resolution: 4K (2160p)
Aspect Ratio: 2.39:1
Layers: BD-100
Clarity/Detail:  Without hesitation, with total confidents, The Hobbit films are some of the most magical and incredible looking 4K Ultra-HD Blu-ray titles ever made. In fact, you could quite possibly call them the best. Jackson shot these in 4K at a high frame rate, so they are a natural jump. They have a crystal clear, smooth and heavily detailed look to them. Its a razor sharp picture with wondrous depth and is pretty breathtaking to see. Digital effects stay strong. These look like a fairy tale come to life. Dare I say these have an appearance that looks even better than I remember seeing in the theater?
Depth:  This film was shot at a high frame rate and intended for 3D theatrical screenings. Naturally is quite spacious, huge, and features some stunning instances of scale and pushback on both the exterior and interior domains showcased in the film. Zero issues occur with motion blur or jitter.
Black Levels:  Blacks are deep, rich and natural. Textures, patterns and other details hold strong on any given dark surface and no details find themselves sucked away. No crushing.
Color Reproduction:  Wow, this is just gorgeous. Even the grays and browns look lovely. Greens are quite strong and the skies featured in the film are just aweing. HDR is effects with magical beams and appropriate features that glow.
Flesh Tones: Skin tones are natural and consistent from start to finish of the film. Facial details and textures are clear as day from any given distance, like you're staring at the people through a window.
Noise/Artifacts: Clean.
Audio
Audio Format(s): English Dolby Atmos (English 7.1 Dolby TrueHD core), French 5.1 DTS-HD MA (Desolation & Battle), French 5.1 Dolby Digital (Unexpected), Spanish 5.1 Dolby Digital
Subtitles:
An Unexpected Journey (Extended) – English SDH, French, Spanish
An Unexpected Journey (Theatrical) – English SDH, French, Spanish
Desolation of Smaug (Extended) – English SDH, French, Spanish
Desolation of Smaug (Theatrical) – English SDH, French, Spanish
The Battle of the Five Armies (Extended) – English SDH, French, Spanish
The Battle of the Five Armies (Theatrical) – English SDH, French, Spanish
Dynamics: As spectacular as the video quality is on The Hobbit Trilogy so is the audio. The Atmos track is a thundering and engaging experience. With biggest of layering in battle sequences and the tiniest little nuances of depth in the quieter moments. It stretches all over the room and really pulsates and pushes the experience. Just phenomenal all around from these movies in terms of having a better than ideal viewing.
Height: Things fly overhead, debris falls, wind howls and a lot more as the channel not only adds its own bits, but it contributes to the rolling soundscape.
Low Frequency Extension:  What powerful booming thumping the subwoofer does here with crashing, explosions, horses clip clopping, magical bursts and every kind of striking effect you can imagine hitting perfectly.
Surround Sound Presentation:  The room is fully examined and toyed with in the mix. Up, down, around, all at once – your speakers get put to work. The crisp details and rolling order really bring every scene to life in such an exciting way.
Dialogue Reproduction: Vocals are clear and crisp, fitting and lifelike in every environment. Great attention to inflections and clarity.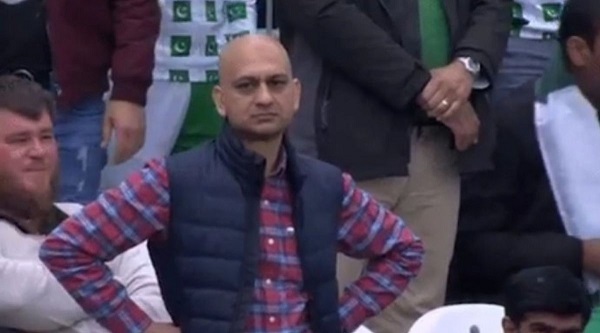 Extras
The Hobbit: The Motion Picture Trilogy is a 9-disc set and comes with a redeemable digital code for each film and each version of the films. All 9 discs are 4K Ultra-HD Blu-ray discs and contain no bonus features. If you redeem your code via iTunes, you will have access to all of the "iTunes Extras" for the Extended Editions of the films. Using other services like Movies Anywhere or VUDU will only offer 3 featurettes for each Extended Edition.
Summary
For me, The Hobbit movies are over all fine, though I dig Desolation of Smaug quite a bit. Regardless of your thoughts on them, there's no denying that they are a landmark release for 4K Ultra-HD Blu-ray. They are absolutely stunning in both audio and video. The best the format can offer. Here's your demo! Its magic to see these for the first time when you pop it in the player. Care was taken and perfection was pretty much nailed. You may want to wait for the better set coming down the road, but you honestly need to see this quality as soon as you're able to.