November 17th, 2021 by Brandon Peters
My Blu-ray Wishlist article is right around the corner, and its fitting that I'm writing on one of my most wanted titles over the years; 1973's The Last of Sheila. The Anthony Perkins and Stephen Sondheim scripted murder mystery at sea is an often overlooked and forgotten little gem in the Agatha Christie vein that I think many would rather enjoy. If you liked something like Rian Johnson's Knives Out in recent years, surely give this a shot. Warner Archive Collection is bringing this beautifully restored transfer to Blu-ray for the first time (Was releases on November 9th) with the trailer and a commentary done by three of the cast members as a bonus feature. Is this a mystery you were able to solve on first watch? Does it hold together? Revisit the film or check it out for the very first time by ordering yourself a copy from the paid Amazon Associates link that follows the review.
.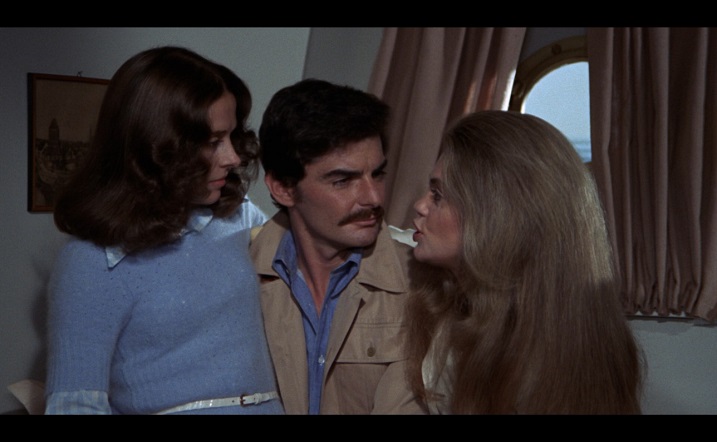 Film
Composer Stephen Sondheim (Sweeney Todd, Into the Woods) and actor Anthony Perkins (Psycho) wrote this witty, complex thriller directed by Herbert Ross (Steel Magnolias, The Goodbye Girl). A movie kingpin (James Coburn), whose wife, Sheila, was killed by a hit-and-run driver a year before, hosts a cruise aboard his sleek yacht. His guests (James Mason, Raquel Welch, Dyan Cannon, Richard Benjamin, Joan Hackett, and Ian McShane) are all friends (and some lovers) who may know more about Sheila's death than they're letting on. An elaborate murder game with Mediterranean ports of call is the itinerary. What unfolds is a mystery so intriguing, so cleverly plotted, even the title is a clue!
The Last of Sheila is a glorious love letter to the works of Agatha Christie as a group of characters take to sea a year following the death of one of their friends. The film features a cast of popping personalities and a group of characters on the pages that offer up nice opportunities for a lot of fun and juicy dramatic turns. This script from Perkins and Sondheim just sings and plays all the way from the start to the finish. A game of games, that proves intriguing and encourages the viewer to play along with the characters as well as try and step beyond and figure out the film itself.
Locales in the film help give the film some extra heft and fanciness to it. A lot of the film takes place aboard a yacht that has many a secluded and tight enclosed space that helps for the secrecy, side chats and uneasiness of two characters alone together. In terms of exteriors, France makes for a bit more exotic, grand and ultimately unfamiliar territory for the largely American characters to wander about in. There is also a spooky cavern to add for a genuinely spooky search in the middle of the film.
Part of the fun of The Last of Sheila, especially nowadays, is discovering the film. And I don't really want to dive too deeply into it. There's a wonderful mystery at the center to watch unfold. If you're any sort of fan of And Then There Were None, its a brilliant companion piece. And a fun twist to it all is it is dealing in the Hollywood, filmmaker types to make up this set 'em up and knock 'em down cast. Its fun to try and figure out the mystery, but its also fun to wonder who may be the next one bumped off or what sort of secret they may have. The Last of Sheila is an easy recommend.
Video
Encoding: MPEG-4 AVC
Resolution: 1080p
Aspect Ratio: 1.85:1
Layers: BD-50
Clarity/Detail: The Last of Sheila arrives from Warner Archive Collection for the first time on Blu-ray with a new 2021 1080p HD master from 4K scan of the original camera negative. This is such a rich and beautiful looking transfer that has a good, filmic look to it. It has plenty of depth, a crispness and terrific color saturation.
Depth:  Depth of field is pretty strong with some really good pushback add a lot to the interiors of the ship and the cavern scenes and the alley sequences in the film. Movement is filmic and smooth with no issues regarding motion distortions like jitter or blur,
Black Levels: Blacks are pretty rich and natural, really lovingly adding to the image quality and giving it quite a genuine feel to it. Textures, patterns and details come through on darker surfaces and in the shadows and fall of night. No crushing witnessed.
Color Reproduction:  Colors have a more natural look to them. They are well saturated and look pretty gorgeous, even in their more normal browns, grays and the like.
Flesh Tones: Skin tones are natural and consistent from start to finish of the film. Facial features and textures are visible in any given and reasonable distance in the frame.
Noise/Artifacts: None
Audio
Audio Format(s): English 2.0 Mono DTS-HD MA
Subtitles: English SDH
Dynamics: The Last of Sheila carries its original mono mix in this lossless presentation. It does a more than admirable job of having a nice balance and carrying this film allowing with some nice layering /depth of the sound effects with a more vocally driven presentation.
Height: N/A
Low Frequency Extension: N/A
Surround Sound Presentation: N/A
Dialogue Reproduction: Vocals are clear and crisp.
Extras
Audio Commentary
By Richard Benjamin, Dyan Cannon, and Raquel Welch
Theatrical Trailer (HD, 3:01)
Summary
The Last of Sheila is an engaging "whodunit" mystery thriller filled with actors giving wonderfully colorful performances to bring an energy to the murder and clue finding. Warner Archive Collection gives this one a beautiful restoration along with a fun commentary track to give you an easy second round with the film. In terms of transfer, this is an easy recommend, but I'll also go as far as to push my confidence to it being a blind buy for those who may be curious or are perhaps mystery collectors or just enjoy forgotten films in general.
This is a paid Amazon Associates link