May 9th, 2022 by Brandon Peters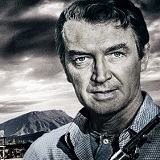 One of the greatest all time Westerns from one of the greatest all time visionaries of the genre, The Man Who Shot Liberty Valance is coming to 4K Ultra-HD Blu-ray.  Not only that, it'll mark the first 4K with the Paramount Presents label (Though, Almost Famous could be argued, it didn't have that packaging). It's a combo pack with a standard Blu-ray disc housing the extras and comes with a brand new Filmmaker Focus featurette that welcome back Leonard Maltin who is a regular on these. The film will hit stores (well, most likely those being just online ones) on May 17th. You can order yourself a copy for your collection by using the paid Amazon Associates link that follows the review.
.

Film
Questions arise when Senator Stoddard (James Stewart) attends the funeral of a local man named Tom Doniphon (John Wayne) in a small Western town. Flashing back, we learn Doniphon saved Stoddard, then a lawyer, when he was roughed up by a crew of outlaws terrorizing the town, led by Liberty Valance (Lee Marvin). As the territory's safety hung in the balance, Doniphon and Stoddard, two of the only people standing up to him, proved to be very important, but different, foes to Valance.
John Ford's old west is historically one of the greatest cinematic landscapes you'd ever find. Known for sweeping epic stories across great pasture, The Man Who Shot Liberty Valance takes a more intimate approach while also questioning and taking a look at the idealized legend of the west as well as making some big political strides as well. The setting may be resort to a smaller town, but the ideas and personalities on display portray the grandest of valleys.
Legends play a big factor in the tales of the old west. And Ford tackles the topic of whether progress and history is better served for the populace based on legends or actual facts. What's the value on it? Is it worth it given certain situations? Its a theme not set alone with this film, later ones would explore it to, like Nolan's The Dark Knight/Dark Knight Rises films and the aftermath of Harvey Dent's arc. In terms of Liberty Valance, its also determined on just who gets to present and decided that. Is it our politicians? Is it the media? The town in which the event transpires? There's certainly a lot to chew on just from this.
Helping make this tale so much more effective is such a game cast for it. In the old west there is no better pairing of yin and yang to debate the issue of the courts versus violence (or "the gun") than James Stewart and John Wayne. Before you even know who they are, and if you just see their physicality on screen, a lot of the background work is already done for you. And to push it and help open up these ideas is a fantastic performance by Vera Miles and an excellent asshole turn by Lee Marvin. They all play this big, but its cinematic and really helps push the idea to a thoughtful level with grand examples to fight in either direction.
The Man Who Shot Liberty Valance is one of the greatest displays of the power of the Western genre and an incredible example of what you can do in playing within the confines of any genre. In fact, its potentially one of the best films with spurs and saddles to recommend to someone who's not into them because of such universal ideas and deeper ideas. A gateway Western, perhaps. And with such a lovely new presentation, its got its best shot to do so.
Video
Disclaimer: Screen captures used in the review are not taken from the 4K UHD Blu-ray disc.
Encoding: HEVC / H.265
Resolution: 4K (2160p)
Aspect Ratio: 1.85:1
Layers: BD-66
Clarity/Detail: The Man Who Shot Liberty Valance debuts on 4K Ultra-HD Blu-ray with a brand new 4K restoration of the film from Paramount Pictures. And boy, does it look like a beauty. Black and white films have faired extremely well with the advent of 4K Ultra-HD and this John Ford classic is no different. It has a crisp picture, with gorgeous color saturation and deep spacing. Details and textures run incredibly strong in any frame.
Depth: Depth of field is strong here and really opens up every set in the film. Even the more intimate ones display some good pushback, free roaming space for characters to wander around. Movements are smooth and filmic.
Black Levels: Blacks are rich and natural and a thing of beauty here. The saturation here makes for a good contrast and display of fine details without losing any pattern or texture. No crushing witnessed.
Color Reproduction: N/A
Flesh Tones: Skin tones are of the typical white/light gray/dark gray look in their tone and consistent from start to finish of the film. Facial features and textures are clear as day from any given distance in the frame.
Noise/Artifacts: None
Audio
Audio Format(s): English 5.1 DTS-HD MA, Restored English Mono 2.0 Dolby Digital, German 2.0 Mono Dolby Digital, Spanish (Spain) 2.0 Mono Dolby Digital,  Spanish (Latin America) 2.0 Mono Dolby Digital, French 2.0 Mono Dolby Digital, Italian 2.0 Mono Dolby Digital, Japanese 2.0 Mono Dolby Digital
Subtitles: English, English SDH, Danish, German, Spanish (Spain), Spanish (Latin America), French, Italian, Japanese, Korean, Dutch, Norwegian, Polish, Simplified Chinese, Finnish, Swedish
Dynamics: The Man Who Shot Liberty Valance's 4K debut ports over the 5. 1 TrueHD mix found on the previous standard Blu-ray release. And its a rock solid track that feels fitting with the film at hand. It doesn't overboard here, but it does feel much in line with the original mix, the times and the source materials. Its not going to lift off or sound like a modern film, but then again it doesn't need to and probably would be distracting if it did.
Height: N/A
Low Frequency Extension: The subwoofer has some adequate impact here. Nothing to punchy, but a nice compliment to the action on screen and fitting with the mix presented.
Surround Sound Presentation: Some nice wind and steady ambiance within every interior really help to fill a room utilizing all 5 channels. Sound travel is accurate and has some decent impact. Horses racing left to right has a decent degree of being "felt" as the clip clop by.
Dialogue Reproduction: Vocals are clear and crisp.
Extras
The Man Who Shot Liberty Valance in first pressing, comes with a slip cover that folds open to reveal the original poster art for the film. It also comes with the standard Blu-ray disc and a redeemable digital copy. All bonus material found on the standard Blu-ray disc.
Audio Commentary
By Filmmaker Peter Bogdanovich Along With His Archival Recordings With John Ford And James Stewart
Filmmaker Focus: Leonard Maltin (HD, 7:37) – Maltin gives a pretty basic rundown on the movie with a little touch of his film criticism side and a little touch of his film historian side with good anecdotes and observations. "Ford prints the legend, and I like that."
Original Theatrical Trailer (HD, 2:45)
Selected Scene Commentary With Intro By Dan Ford Along With His Archival Recordings With John Ford And Lee Marvin
Stagecoach Holdup (HD, 3:10)
Bringing Injured Ransom Back To Town (HD, 2:10)
Showdown At Peter's Place (HD, 7:14)
Town Meeting (HD, 8:17)
Ransom Shoots Liberty (HD, :54)
Who Really Shot Liberty Valance (HD, 1:31)
Leaving Shinbone (HD, 1:18)
The Size Of Legends, The Soul Of Myth – A pretty terrific retrospective featuring many esteemed talking heads reflecting on the film, the genre, the times in an all encompassing look back.
Chapter 1: Changing Of The Guard (HD, 2:54)
Chapter 2: The Irascible Poet (HD, 4:43)
Chapter 3: The Hero Doesn't Win, The Winner Isn't Heroic (HD, 10:41)
Chapter 4: Most Good Things Happen By Accident (HD, 13:55)
Chapter 5: The Great Protector (HD, 5:19)
Chapter 6: Spotlight, Lee Marvin (HD, 8:04)
Chapter 7: Print The Legend (HD, 5:58)
Summary
An incredible film with an incredible 4K Ultra-HD Blu-ray release. Paramount Presents The Man Who Shot Liberty Valance with a magnificent new transfer to go along with the already rock solid TrueHD track. Extras are terrific with Matlin's little piece an extra cherry on the top. This is a must own for any film fan, I don't think I need to be shouting out a recommendation for it. If you're a film buff, you pre-ordered it the moment it went live.
This is a paid Amazon Associates link