November 14th, 2021 by Brandon Peters
Francis Ford Coppola has been busy during quarantine recutting various films of his. Last year saw the new edition of The Godfather, Part III and just a couple months ago we were treated to a new cut of Dementia 13. We even had another version of Apocalypse Now recently. The Outsiders is having its turn in the sun now with Coppola's The Complete Novel hitting theaters and coming to 4K Ultra-HD Blu-ray. This new release features both cuts of the film on 4K (with digital copies) as well as new bonus materials and carrying over the old ones as well. Warner Bros released it on the format on November 9th. You can order yourself a copy of this intriguing new version of the much beloved film by using the paid Amazon Associates link that follows the review.
.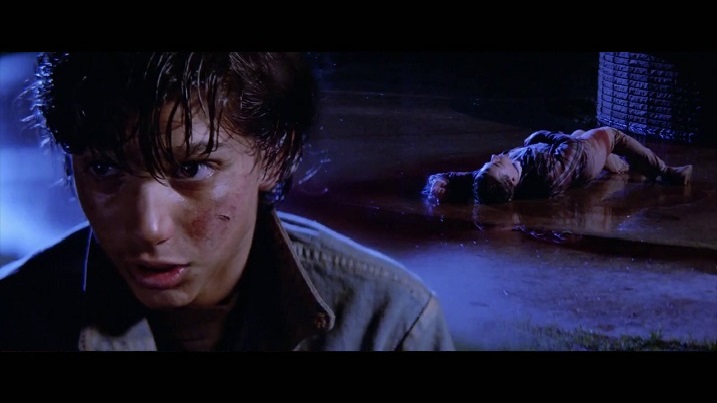 Film
Ta Oklahoma, centering on two rival teen gangs: The "Greasers," a class term that refers to the young men on the East Side, the poor side of town, and the "Socs," short for Socials, who are the "West-side rich kids." Ponyboy (C. Thomas Howell), a tender-hearted and kind teenager's life is changed forever one night when a scuffle with his friend Johnny (Ralph Macchio) inadvertently leads to the death of a rival gang member, and the boys are forced to go into hiding to avoid arrest. Soon Ponyboy and Johnny, along with Dallas (Matt Dillon) and their other Greaser buddies, must contend with the consequences of their violent lives. While some Greasers try to achieve redemption, others meet tragic ends.
The Outsiders: The Complete Novel is another fascinating new edit from Francis Ford Coppola that allows the film to be a bit more of a hang out film than before. With scenes added back in, there's a lot more room for the film to breathe and for characters to get more exchanges and some to have more lines and screentime. Ultimately, the film's new cut serves as a nice victory lap for all of those fans of it out there for so many years and those of the book to see a lot of it brought back to life in a more seamless and professional fashion.
In addition to adding and recutting scenes, Coppola has also played with the music in the film. The Complete Novel now features a bit more in the way of pop songs of the era to compliment the feel. He's also scaled back to the score on it for a less grandiose and overbearing feel that many of the scenes once carried. This is probably the point of most contention for those checking it out after years of being so used to those cues and the feel it can bring. I imagine its going to be either for it or against it with not a lot of room in the middle.
The film is notable for launching the careers of so many young actors as well as Diane Lane. Its quite fun to see their hunger and interplay and how many of them would come to be formed later, growing or harnessing such talents on display in this. Its also important that their performances and representations of these characters have stood tall and defined them for almost 40 years now. The Outsiders has managed to entertain and speak to generation after generation, whether it be the novel or this film. And a lot of that has to do with these actors and their bringing to life of the characters.
When it comes to the catalog of Francis Ford Coppola, his four best films are without question. But after that, you're probably going to find a differing opinion on what his best following that of the The Godfather films, The Conversation and Apocalypse Now. The Outsiders probably makes a good case for many. And its easy to see why and why it may get overlooked. Coppola really strips down and gets back to a more grounded, less grand film in this one (As well as Rumble Fish that same year). But, while the scale and the production aren't grand, the story and characters speak volumes for its legacy.
Video
Disclaimer: Screen captures used in the review are taken from the standard Blu-ray disc, not the 4K UHD Blu-ray disc.
Encoding: HEVC / H.265
Resolution: 4K (2160p)
Aspect Ratio: 2.40:1
Layers: 1 BD-100, 1 BD-66
Clarity/Detail: The Outsiders: The Complete Novel comes to 4K Ultra-HD Blu-ray with a pretty nice looking new transfers. It has a very strong blue look to it overall. Details are quite strong and very fine in this crisp picture that retains a very nice, complimentary layer of grain to it. There's a solid sharp look to it as well.
Depth:  Some rather strong depth of field comes on display here with really good dolly movements to showcase spacing. The exteriors really feel nice and open. Movements are filmic and smooth with no issues regarding any distortions.
Black Levels: Blacks are deep and rich, carrying a little heavier grain in the darker areas. Saturation is quite good as many tones as well as fine information comes through with hair follicles, patterns and textures. No crushing witnessed.
Color Reproduction: As mentioned, the film has an overall blue look to it. But the colors here are quite strong, full and well saturated that help bring out the finer information, textures and patterns on any surface or fabric.
Flesh Tones: Skin tones are natural and consistent from start to finish of the film. Visual texture and details come through in the medium and close up shots with good ease.
Noise/Artifacts: Clean.
Audio
Audio Format(s): English 5.1 DTS-HD MA, French 5.1 Dolby Digital, Spanish 5.1 Dolby Digital
Subtitles: English SDH, French, Spanish
Dynamics: The Outsiders: The Complete Novel has a solid, above average 5. 1 track. Most of the action stands in the front, but its a nice balanced mix that carries decent layering and depth. The score proves a bit to be the strongest player. Vocals are a little of the analog sounding type and feel like they could use a little more low end touch to them. Overall, this is enough to do the trick, but its not the most sweeping of 5.1 track.
Height: N/A
Low Frequency Extension: Most of the effective stuff in the field of the subwoofer comes from the score with the drum, string or horn moments in it. Decent touches come in the way of engines, punches and other natural effects.
Surround Sound Presentation: Rear channels mainly hold up ambiance and help fill in the score, but there are some moments that decently add a unique spot or two. Its front heavy, with good back and forth in the accurate travel from what is happening onscreen.
Dialogue Reproduction: Vocals are clear and crisp.
Extras
The Outsiders: The Complete Novel is a 2-Disc set and comes with a digital code that redeems both versions of the film. One 4K disc is dedicated to the Theatrical Version and one 4K disc is dedicated to The Complete Novel.
The Complete Novel
Audio Commentary
with Francis Ford Coppola
with the Greasers and a Soc: Matt Dillon, Ralph Macchio, C. Thomas Howell, Patrick Swayze, Rob Lowe and Diane Lane
An Introduction to The Outsiders: The Complete Novel with Francis Ford Coppola (4K, 11:48) – Coppola reads the letter that was written to him that inspired him to make it and shares his first impressions upon reading the novel, the casting process, how he put actors in hotels/living situations similar to their characters. He also goes over what went into this new cut and why he made these changes.
Restoring The Outsiders (HD, 19:00) – This is a very in depth account of putting together The Complete Novel as well as the process of scanning and restoring the film for this 4K Ultra-HD presentation. It features interviews with the Zoetrope archivist, cinematographer and colorist. It features comparisons to the original score choices as well as screen comparison between the 2005 restoration, the negative and this 2021 restoration.
Staying Gold: A Look Back at The Outsiders (HD, 26:27)
Outsider Looking In (4K, 7:51) – Coppola takes a look at a few sequences, including the fight scene and fire scene, in some finer detail with good honesty and recollection of how they came together.
Stephen H. Burum on The Outsiders (HD, 12:31) – The cinematographer gives his recollection on the film and work with Coppola over the years.
Old House New Home (4K, 11:04) – S.E. Hinton opens up this featurette, but its focused on the fans of the film, centering on one who bought the original home from the film and turned it into a museum for the film. "I bought the house, but S.E. Hinton and the fans are the ones who built it."
On Location in Tulsa with S.E. Hinton (HD, 7:34)
Screen Tests and Auditions: Fred Roos and the Casting of The Outsiders (HD, 13:58)
Cast Readings (HD, 7:23)
Deleted Scenes (HD, 14:44)
Trailers (HD & 4K, 3:11)
Theatrical
Staying Gold: A Look Back at The Outsiders (HD, 26:27)
Outsider Looking In (4K, 7:51)
Old House New Home (4K, 11:04)
On Location in Tulsa with S.E. Hinton (HD, 7:34)
Screen Tests and Auditions: Fred Roos and the Casting of The Outsiders (HD, 13:58)
Cast Readings (HD, 7:23)
Deleted Scenes (HD, 14:44)
Trailers (HD & 4K, 2:20)
Summary
The Outsiders: The Complete Novel has Francis Ford Coppola asking us to look at another of his films in a fresh new light. And in this one it definitely compliments what came before and lets the film stretch more in mostly good ways. It comes to 4K Ultra-HD with a rather nice looking new transfer and decent audio track. Extras really dig in and its appreciated that the new ones are presented in 4K Ultra-HD. This is as complete a release as a fan of the film could probably ever hope for.
This is a paid Amazon Associates link