May 12th, 2023 by Brandon Peters
Scream Factory continues its upgrades of previous Collector's Edition titles with Wes Craven's The People Under The Stairs. Here's hoping maybe some more Craven is coming somewhere down the pipeline. This updated disc will feature a 4K scan of the original camera negative. Extra from the previous edition are ported over as well as the interviews featured on the 2013 Arrow Video Blu-ray of the film. You can pre-order the release, which comes out at the very end of the month on May 30th, by using the paid Amazon Associates link that follows the end of the review.
.

Film
Wes Craven, the director of A Nightmare On Elm Street and Scream, takes you on a terrifying journey inside the most demented house on the street. Trapped inside a fortified home owned by a mysterious couple, a young boy is suddenly thrust into a nightmare. The boy quickly learns the true nature of the house's homicidal inhabitants and the secret creatures hidden deep within the house.
The People Under The Stairs is a bonkers experience, especially for the uninitiated as they partake this journey for the first time. Wes Craven presents a sadistic sort of funhouse/mystery mansion gone to hell. It goes to places you aren't expecting and takes wild swings. He really produces a flick that might have some trappings that appear familiar, but honestly is a unique experience all unto itself.  Craven's impulses here are both of giddy fun and reflective of the previous (and still going) era of politics in the United States. Like a true gifted filmmaker, he weaves all that together in a movie enjoyable for those who only eat the icing, but the ones who want the cake under it too.
On the surface level, the film produces a lot of fun. There's plenty of blood and suspense. The house featured in the film feels like a fun maze which the viewer and characters discover as we weed through the runtime. There are monsters both scary and sympathetic. You get a thrill, you get cheer moments, you get a movie that at the very least serves as a wicked horror and action hybrid dressed up in some camp. Its a film that hinges on Brandon Adams and A.J. Langer's youthful performances that give you a reason to buy into this world, but also a balance found in the adults hitting common ground like Ving Rhames, Bill Cobbs, Kelly Jo Minter and the owners of the home.
Under the surface, and as you take another look, there's a lot more the film is saying. Wes Craven was truly given full reign and final cut on this film, so it serves as one of his with his complete vision pretty much intact. And beyond his "based on a news story" that he read, he's inserted some political satire to it that still kind of resonates today. The house and its owner really have a link to a commentary on the capitalism and pop conservatism that dominated the 1980s. Everett McGill and Wendy Robie (The Twin Peaks alums are both FANTASTIC in this movie) have been compared to Ronald and Nancy Reagan, but also could be plugged and played for many big conservative politicians or 1%ers in the years since. Sadly every day things change, but basically they stay the same.
Some might be weirded out a little or may have not thought much of The People Under The Stairs back in 1991 or whenever they first viewed it. But when you return to it, or maybe have found some years added onto yourself, you find there's a lot more going on here than what maybe you once thought. You can also appreciate what terrific craft is on display by Craven as well as his performers and crew that put the film together.
Video
Disclaimer: Screen captures used in the review are taken from the standard Blu-ray disc, not the 4K UHD Blu-ray disc.
Encoding: HEVC / H.265
Resolution: 4K (2160p)
Aspect Ratio: 1.85:1
Clarity/Detail:  The People Under The Stairs features a 4K scan of the original camera negative. And oh my is this a pretty picture. This features fantastic depth on display with a nice layer of grain that captures every radiant bit of texture and detail. Its an impressive image from Scream Factory that handles both darkness and bright daylight scenes masterfully. For me, this is one of their best transfers to date.
Depth:  There is a terrific amount of pushback and scale on display in this house. The transfer really showcases the lensing on this one and has a bit of a 3 dimensional touch to watching it. Movements are cinematic and smooth with no issues stemming from motion blur/jitter on rapid action scenes.
Black Levels: Blacks are deep and natural, carrying some nice grain in the darker corners. Patterns, textures and the finest details are well saturated and shine through in this image. No crushing witnessed.
Color Reproduction: Colors are quite natural, bold and extravagant ones feature some nice pop. Light fixtures, fire, displays and some other things really get a good glow from the HDR applied in the image.
Flesh Tones: Skin color is natural and consistent from start to finish. Details like freckles, moles, wrinkles, makeup strokes, bruising, blemishes and cuts all come in clear as day in any given distance in the frame.
Noise/Artifacts: None.
Audio
Audio Format(s): English 5.1 DTS-HD MA, English 2.0 DTS-HD MA
Subtitles: English
Dynamics:  This is a nice above average track that gives a nice lively experience to the crazy happenings at hand.  Sound effects are nice and well-rounded, sounding life like and accurate.  There is a nice balance of the score, effects and vocals, making this 5.1 audio track sound loose and free.
Height: N/A
Low Frequency Extension:  This isn't a busy day at the office for the subwoofer, but you do get some good musical beats, jump scares and the occasional knocking/crashing that brings it some extra life.
Surround Sound Presentation:  Mostly ambiance from the rear speakers.  The front speakers have a fun time chasing all the characters around the house.
Dialogue Reproduction:  Dialogue is loud, clean and clear.
Extras
4K UHD
The interviews featured on this disc are new to Scream Factory, but were previously found on the 2013 Arrow Video Blu-ray.
Audio Commentary
With Wes Craven
With Brandon Adams, AJ Langer, Sean Whalen & Yan Burg
With actor Brandon Adams, moderated by Calum Waddell
Fear, Freud & Class Warfare (HD, 24:38) – an interview with Wes Craven
Behind Closed Doors (HD, 13:38) – an interview with actress A.J. Langer
Silent But Deadly (HD, 14:00) – an interview with actor Sean Whalen
Underneath the Floorboards (HD, 9:05) – filmmaker Jeffrey Reddick recalls the lasting impact of the film
Theatrical Trailer (HD, 1:35)
BLU-RAY
Audio Commentary
With Wes Craven
With Brandon Adams, AJ Langer, Sean Whalen & Yan Burg
With actor Brandon Adams, moderated by Calum Waddell
House Mother (HD, 19:26) – Interview with Wendy Robie.  She discusses not being familiar with horror, being inspired by Anthony Hopkins' Hannibal Lecter and how grateful she is for David Lynch and Wes Craven.
What Lies Beneath: The Effects Of "The People Under The Stairs" (HD, 15:02) – Each member of the KNB crew discusses their beginnings as a company and the work on this film.
House of Horrors (HD, 16:09) – The director of photography, Sandi Sissel talks about her working with Wes Craven and never having done a horror film before.
Settling the Score (HD, 10:13) – Don Peake, the composer, talks how he was brought on last minute to fix the score that Craven was unhappy with.
Behind-The-Scenes-Footage (HD, 6:39) – On set home video footage of the scene where Ving Rhames' character is gutted.
Theatrical Trailer (HD, 1:18)
TV Spots (HD, 1:21) – Featuring the score from Aliens
Vintage Making Of Featurette (HD, 3:43) – Old EPK, features some generic blurbs about the film from Wes Craven.
Original Storyboards (HD, 6:55)
Still Gallery (HD, 4:17)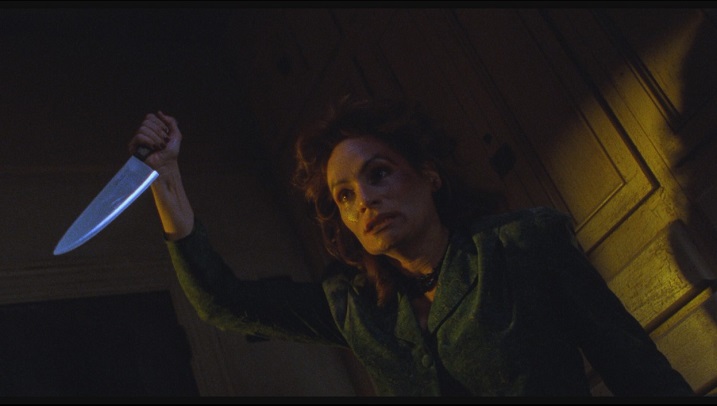 Summary
Wes Craven's The People Under The Stairs is one of his most unique voyages as a director that is quite the experience to partake in. Scream Factory has done a fantastic job in updating their previous release. Not only does it have a pristine new transfer, there includes the interviews from the Arrow release of the film as well. This is an easy upgrade and one to pick up once it becomes available.
This is a paid Amazon Associates link