February 10th, 2020 by Brandon Peters
A few months back (October to be exact), our very own retired/not retired Jason Coleman gave a 5-star review to Gille Klabin's film, The Wave. Coleman also interviewed Klabin on the site and you can find all of that HERE. We also managed to snag a pull quote for the press release materials for the film's home video (Blu-ray and DVD) release. And a thank you to Epic Pictures for the schmoozing as they provided a poster, a postcard, a tye-dyed rag of sorts, a cookie and a mysterious powder. Having seen the movie now, I think I'll stay away from solving the mystery of the powder. Gille Klabin's  mind-bending film stars the likes of Justin Long, Donald Faison, Sheila Vand and Tommy Flanagan. It will be unleashed onto glorious home video to see what Jason Coleman is raving about on February 11th.

Film
Frank is a guy who is pretty straight laced, not the risk-taking type. He's settled down with his wife and lives a ho-hum day to day life at home. When Frank goes out on the town to celebrate an upcoming promotion, his night takes an unexpected and bizarre turn when he is dosed with a hallucinogen that alters his perception and changes his life forever.
What film buff doesn't love a good psychological thriller mind f***. Gille Klabin's little film is here to scratch that itch and give you the full massage. The Wave bends around in turns in ways you might find predictable, but surprisingly reveal themselves as a fresh turn in the genre, with questions, answers, thrills and some laughs. The film really provides a well rounded gamut of approaches, characters, scenarios and situations that have the run time pass by almost as fast as a taking a "wave" in the film.
Klabin's film auditions himself for future greatness. I can't imagine this is an expensive movie at all, but the guy is able to make it look and play like it cost $100 million. He has a true sense of stakes and scale. Gille also pulls off and sees through some visuals that will both haunt and blow you away at the same time. While the film starts with a feeling and a look that feels akin to "Straight to video thriller X", by the time the film even just gets to the first nightclub, you feel you're in for a unique treat. He knows how to shoot his characters and locations to great effect that benefit the scene, the frame and know his performer's strengths.
Said performers are a pretty fun batch. Justin Long puts in his usual solid work and continues to baffle me how this guy isn't in more and bigger films every year. Doesn't matter though, as I'm fine with him taking chances and doing more interesting things like this. Donald Faison is an instantly successful pairing with him. Tommy Flanagan has a bit of cameo but immediately takes over his scene and is quite impressive. Perhaps may favorite was Sheila Vand (LOVED A Girl Walks Home At Night so maybe I'm biased.), whom you just can't look away from and gives such a drawn in performance with what little time she is given. You're constantly wanting her back in the movie, to see more and perhaps Klabin knows that, and perfectly utilizes her.
The Wave should be experienced just going in cold, fresh. Maybe just knowing it as some "trippy thriller" may be a light taste. The trailer doesn't really give away much, but still, not having a clue with this one might make it even trippier and fun. Jason Coleman wasn't wrong in loving this one and I'm glad this site has had the honor of representing it so handsomely last year. Definitely seek out and take the trip of a lifetime with The Wave.
Video
Encoding: MPEG-4 AVC
Resolution: 1080p
Aspect Ratio: 2.39:1
Layers: BD-25
Clarity/Detail: The Wave crashes onto Blu-ray, being on utilized on a BD-25 disc. However, it looks pretty good. Its got a very "shot on digital" presence when there aren't any wild visuals going on (Or the laying on the blanket gazing at the stars sequences). Everything that is supposed to lift off the screen does and there are some very, very pretty visuals in this (The grimmer ones even look "pretty"). The image is pretty sharp and full of easily defined and visible details.
Depth: Some decent depth of field, with a nice pushback in the background and some good three dimensional stuff going on in some of the psychadelic visions in the film. Motion is natural and smooth with no distortion issues.
Black Levels: Blacks are a bit on the lighter gray side, likely from the digital sourcing of the film. There are some nice nighttime sequences with good shadows about. No crushing witnessed.
Color Reproduction:  While the film has a bit of a bleached palette, colors do poke out very well, especially in many of the trippy sequences with good color pops that almost hint at some HDR glow.
Flesh Tones: Skin tones are natural and consistent from start to finish, with the exception of intentionally distorted sequences. Facial features and textures are visible and clear in medium and close up shots.
Noise/Artifacts: Clean.
Audio
Audio Format(s): English 5.1 DTS-HD MA, English 2.0 Stereo DTS-HD MA
Subtitles: English SDH, Spanish
Dynamics: The Wave features a pretty nicely down 5.1 mix. Its not extravagant, but just does very well with what it has to work with. It has a nice balanced mix that carries the supernatural effects with good layering and depth while also featuring a healthy balance in cadence with the vocals and the score.
Height: N/A
Low-Frequency Extension: Some solid bump from the subwoofer here. Impactful on music, tripping effects, crashes and out bigger, deeper moments.
Surround Sound Presentation: The mix does a sound job of running around the room and building the chaos every time the drugs tend to kick in. There's a good (intended) discomfort caused with the way the rear speakers are utilized and the sound travel goes around the room.
Dialogue Reproduction: Vocals are clear and crisp, able to warble away in some of the trippier moments with good attention to detail.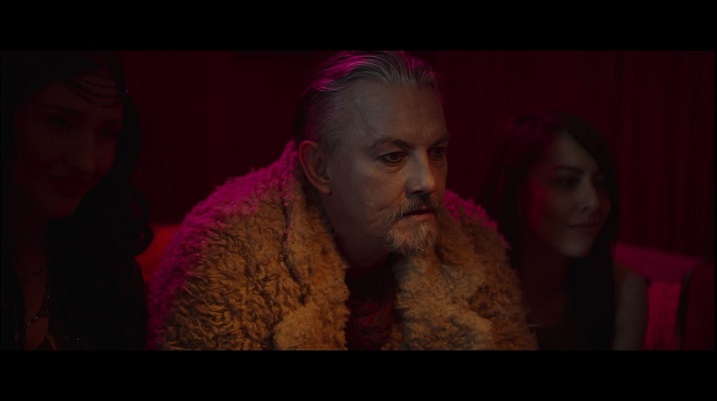 Extras
Audio Commentary
With Director Gille Klabin and Writer Carl W. Lucas
Animatics (HD, 1;16) – A storyboard to finished product comparison with the opening scene of the film.
Gag Reel (HD, 3:57)
VFX Breakdown (HD, :38) – Give you a quick makeover of a shot, filling you in on what equipment was used.
The Car Hit (HD, :40) – A look at a few early previsual effects attempts along with the film's final one.
The Wave Teaster (HD, 1:02)
The Wave Trailer (HD, 1:50)
Summary
The Wave is a nice, trippy surprise. A well-fed psychological thriller that is primed for the revisitation and further analysis down the road. A film that will continue to give. The Blu-ray release features a pretty terrific presentation with some good video that really translates the film's visual effects lovingly and a nice 5.1 mix to back it up. The extras (Sans commentary) are rather quick and brief, but the movie itself sells this release alone.