March 15th, 2023 by Brandon Peters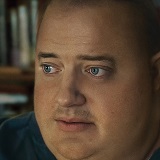 Nominated for three Academy Awards this past Sunday, Darren Aronofsky's film adaptation of Samuel D. Hunter's stage play The Whale is now out on Blu-ray. Releasing on March 14th, the film comes with a digital code and two featurettes. As with most A24 films, its only getting a standard Blu-ray release upon its home video debut. Of those three awards, it took home Best Actor (Brendan Fraser) and Best Hair and Make-up. The only one it didn't snag was Best Supporting Actress (Hong Chau). Fraser's win did help A24 pull off a clean sweep of all the acting awards as a studio at this year's Oscars. If you're wanting to own the film, you can use the paid Amazon Associates link at the bottom of the page, following the review.
.

Film
In a town in Idaho, Charlie, a reclusive and unhealthy English teacher, hides out in his flat and eats his way to death. He is desperate to reconnect with his teenage daughter for a last chance at redemption.
Darren Aronofsky has been away for a while, his last feature film being mother! back in 2017. Five years later we have him hear with another film garnering a divisive reception in The Whale. Depending on where you look or whom you read, you're talking about either a quality film or one of the year's worst. Almost no in-between. Aronofsky and writer Hunter have been trying to bring the play to the big screen for almost 10 years, finding getting the lead cast being the most delicate part. And indeed it was, as the Oscar hardware has shown us.
Brendan Fraser being that guy, this is the crown jewel on his recent "comeback". Like Mickey Rourke before, Aronofsky is being credited as giving the role to do so. However, just as was with Rourke, Fraser has been putting in some solid work the last couple years leading to this if you've been paying attention (Seek out Steven Soderbergh's No Sudden Move from a couple years ago). And I'm sorry, but damn, he IS really good here. Its more than just prosthetics and a suit, he's pulling off some incredible power and communicative skills even with just his eyes. And he's not alone, Hong Chau and he spar off quite well together in a way that you could watch a weekly show about the two of them hanging out. Sadie Sink is very good here too, but she's playing a very Sadie Sink role that we've come accustomed to seeing.
There's a choice to shoot this in 1.33:1 which sort of helps to add in a myriad of ways here. For one, it helps Fraser to fill the screen and look large much easier, but it also helps to trap him in an enclosed space even tighter and bring the intimate and narrow worldview to such a forefront. This low fi approach is also kind of reflective of the television he has in his living room. Its an old CRT and the lighting, color scheme and look is one of being in the past. However, via a news report we can hear at one point, you can deduce that its either 2015 or 2016. But that's also probably part of the decision to have this TV and this look to showcase that this man just sat here and let the world, time, pass him by. His apartment just stuff itself with things like books, notebooks, dishes and trash all the while he was doing the same to his body.
This isn't a perfect film and it is certainly propped up much higher thanks to top tier Oscar caliber performances. But, I still found myself slightly haunted, spooked and uneasy watching this at many points throughout. There's a sense of eternal loneliness and the specter of death over your shoulder that comes across in this thing that chilled me a bit. That's not to mentioned the very American tale of overindulging on junk food through boredom, depression, sadness and anger as well as living for eating and not eating to live. Much of this is very on the nose and not incredibly deep, but its still something to see it played out before you.
Video
Encoding: MPEG4-AVC
Resolution: 1080p
Aspect Ratio: 1.33:1
Layers: BD-50
Clarity/Detail: The Whale was shot and finished with a 4K digital intermediate but as always, A24 gives us the standard Blu-ray via Lionsgate first. This is a weird one to look at because its an intentionally low fi and ugly film in appearance. However, the image is sharp and features plenty of fine details, good use of shading and solid depth.
Depth:  Depth of field actually is rather above average and showcases some impressive looking scale of the apartment. It almost looks bigger than it should be, but the three dimensional appeal at times is nifty. Movement is smooth and natural and not motion distortion issues occur via rapid camera or actors.
Black Levels: Blacks are deep with a slight hint of gray. No real issues occur with hiding any information in darkness that was intended to be murky. No crushing witnessed.
Color Reproduction: No real spark of color to speak of as it goes for a very dull and natural look. Sadie Sink's hair and lips are about the only to pop here as well as some red on a pizza box. Overall, as mentioned, this is an ugly film by design.
Flesh Tones: Skin tones are natural and consistent from start to finish. Facial features and textures are decently visible in close ups and most medium shots.
Noise/Artifacts:  Clean
Audio
Audio Format(s): English 5.1 DTS-HD MA
Subtitles: English SDH, Spanish
Dynamics: The Whale arrives with a rather rock solid and adequate for a film of this nature 5.1 track. The apartment here feels pretty natural in this mix that has a nice focus on the vocals while weaving in the score ominously, topped off with some very naturalistic sound effect level settings. There is some nice depth and layering that bring this one room show to life.
Height: N/A
Low Frequency Extension: The subwoofer mainly helps out the score, but there are some stomps and crashes, door slams and such that thump thump with good pressure.
Surround Sound Presentation: This is a mostly up front mix while the rear channels build up ambiance. However, some of the storm and off screen activity are nicely added and tracked here. There's also a moment where a car outside takes off loudly from the back left channel that is quite effective.
Dialogue Reproduction: Vocals are clear and crisp.
Extras
The Whale comes a redeemable digital code.
People Are Amazing: Making The Whale (HD, 24:33) – This is a pretty full fledged look back at the production. Taking us from the genesis of the original stage script all the way through Aronofsky and each person being added, you get a nice feel for what they were going for. Most of the interviews feel like they were done after shooting and on-set footage is included.
The Sounds Of The Sea: Scoring The Whale (HD, 7:41) – The composer really gives a nice little dissertation on his opus here for the film and the agenda and delivery of it. This is pretty neat to hear him lay it out and then showcase the examples.
Summary
The Whale isn't an easy watch, but its one that I'm pretty glad I did. No, it wouldn't have probably cracked my top 20 or 30 last year, but I still think Aronofsky is interesting even when he's not making a masterpiece and the performers here are all giving top notch performances. Lionsgate brings it to Blu-ray with a terrific presentation and a nice pair of extras. Definitely rent or stream it first, then pick up for a discounted price if you enjoyed and want to own.
This is a paid Amazon Associates link