August 16th, 2016 by Brandon Peters
In 1982 legendary genre filmmaker John Carpenter (Halloween, They Live) unleashed THE THING–a chilling sci-fi thriller that raised the bar on shocking special effects and terrified movie audiences worldwide. On September 20, 2016, the SCREAM FACTORY™ home entertainment brand is proud to present this landmark horror film in a 2-disc Collector's Edition Blu-ray release which includes a brand new 2K scan of the film (supervised by Director of Photography Dean Cundey) and over 5 hours of extras.  Directed by Carpenter, THE THING stars Kurt Russell (Escape from New York, Big Trouble in Little China) and features special visual effects by Albert Whitlock (Dune) and special makeup effects by Rob Bottin (The Howling, Fight Club). This definitive set includes a collectible slipcover featuring newly rendered artwork and a reversible cover wrap featuring original theatrical key art. A must-have for movie collectors, sci-fi horror enthusiasts and loyal fans, THE THING Collector's Edition Blu-ray set is available for pre-order now at ShoutFactory.com and will be made available to other fine retailers.
Film 
In the winter of 1982, a twelve-man research team at a remote Antarctic research station discovers an alien buried in the snow for over 100,000 years. Soon unfrozen, the form-changing alien wreaks havoc, creates terror and takes on the appearance of those it kills.
Its been reassessed in this century, but upon release, John Carpenter's The Thing was not some beloved masterpiece.  It had to resonate over time.  Critics didn't like it and audiences didn't go to theaters to see it.  Roger Ebert even said the original The Thing From Another World was a better movie and there was no need to see this one.  Believe it or not, it opened head to head with Blade Runner.  Crazy enough it also was during the 3rd week of release for ET: The Extra Terrestrial and 4th weeks for both Star Trek II: The Wrath of Khan and Poltergeist.  Yeah, summer of 1982 was nothing shy of amazing.  A lot of legendary classics/masterpieces came out then.
Luckily, the film sat and marinated and built.  Those of the general public that saw it mostly came out having seen something special.  Then with the ever so growing home video market, more checked it out on VHS.  And the legend, appreciation and reanalyzing continued to grow.  If you talk to any random movie fan, there's a likely chance they'll tell you this was John Carpenter's very best film or even one of the greatest film's ever made.  Its effects are heralded as timeless and possibly the best work of practical effects ever achieved.  What happened back in 1982?  Some of that is pondered and discussed quite a bit on the new interviews included on this Blu-ray.  Maybe with critics, they just weren't ready for this yet or they really couldn't get ET out of their heads.
What stands on its own with The Thing is the choice to have a unique villain that has no real appearance or identity of its own.  It just copies the men and then becomes a hodge podge of all the formations its taken on.  It makes for some outstanding mutations and gore throughout the film.  While it seemingly has some sort of rules to its physicality, it clearly doesn't follow along the lines of our own.  This creature's many forms are the things of haunting nightmares and also that of gross outs galore.
But, another important aspect of The Thing, the real conflict here is man's unwillingness to trust one another during this trying time of infiltration.  The monster/alien is only the catalyst to bring front and center, the bigger, bleaker conflict going on in Antarctica and the worldview of Carpenter.  Deep down, no matter how long they've worked together and know one another, nobody trusts a single person outside of themselves.  In a nutshell, the scene in which blood is tested boils it all down.  Its that scene (One of the greatest scenes of suspense and jumpscare payoffs EVERY) that John Carpenter says is the whole movie.  That everything is in the film is built around that particular moments.  Its why he jumped on to do the film.
Kurt Russell and John Carpenter team up for the third time.  As MacReady, Russell once again goes for that sorta Clint Eastwood thing that won people over in Escape From New York.  Except, this time, he's injected much more humanity into it.  Russell gives a terrific paranoid, but commanding performance here.  He's also a big part of what sells the movie so damn good as well.  Iconic here are both that big, bushy beard he's grown and that ridiculous hat he wears early on.  But what most can't forget is the jacket coupled with the badass flamethrower that burns up the alien and does plenty of damage.
I love the ending of this movie.  I think its a big reason why the film still comes up in frequent conversation and has survived as long as it has.  It just up there to your own thoughts and imaginations.  I love something that gets my brain working.  Since John Carpenter is the only one who knows, and hopefully takes that secret to the grave, we all get to just speculate.  By not knowing exactly who is the thing, if its still alive, if its MacReady or Childs…maybe both, we return to every viewing looking for some new hint or a different angle with which we've never seen before.  Theories can come abound that are both healthily interesting to craft and to listen to.  I chalk it up to one of the best Twilight Zone/bleak endings of all time.  Carpenter was a master of that.  He'd have you fearing or thinking long after to the film, because he trusted you to be smart enough to figure it out or craft your own ideals.
Is The Thing the highest point on the peak for John Carpenter's career?  Its hard to look at his roster of films and come up with one that followed The Thing that was better.  The only ones I could see people arguing are They Live and Big Trouble In Little China…but would any of those film's fans truly pick them over The Thing? That's no matter, he still made good, great and underappreciated films following it.  But from Assault On Precinct 13 through The Thing it felt as if he was kept riding upward on the career trajectory.  He wasn't done with this sort of topic either as The Thing starts his own 'Apocalypse Trilogy' that would continue through Prince of Darkness (My pick for his most underrated film) and In The Mouth of Madness (Which many consider his last great film).  Standing tall above though, is The Thing.  A complete masterpiece in every aspect.  A 34 year old film who's effects still wow and create magic, a film who's suspense still has people biting their nails, one that has people still debating its ending and mystery.  This is as close to a perfect film as you can get.  And honestly, I believe it is perfect.
Video 
Encoding: MPEG-4 AVC
Resolution: 1080p
Aspect Ratio: 2.35:1
Clarity/Detail:  This new 2K scan of the interpositive of The Thing was overseen by DP and overall genius Dean Cundey.  This is indeed a complete marked improvement over the previous Blu-ray.  Details are much much more abundant.  Clarity and crispness are greatly improved.  Color timing is better as well as the colors themselves.  The Thing felt much more fresh here and was wonderful to look upon in this new Scream Factory release. 
Depth:  This is one part that stood out for me a lot between the original release and this new one.  Suddenly the thing looks much more 3 dimensional.  Movements are smoother and cinematic.  Spacing between foreground and background with characters and objects is a lot more free.
Black Levels:  Blacks are rich and deep.  Shadows and shading is pretty masterful.  No real problematic detail lost and no crushing.
Color Reproduction:  Whites and blues are pretty impressive here.  There are scenes of blue and red filters throughout that have a nice glow to them.  Colors hang on a natural appearance, but are rich and strong, restraining themselves from bleeding through and being more vibrant than intended.
Flesh Tones:  The looks is naturally a little colder and maintains the appearance consistently from scene to scene.  Facial details are terrific in medium and close up shots, revealing snow bits, frostbite, stubble, wrinkles, make-up and all sorts of really gritty details.
Noise/Artifacts:  There is a little bit of grain and dirt/specs.  
Audio 
Audio Format(s): English 4.1 DTS-HD MA, English 5.1 DTS-HD MA, English 2.0 DTS-HD MA
Subtitles: English SDH
Dynamics:  New for this release is the recently crafted 4.1 mix created from the original 70MM Six Track Dolby Stereo soundtrack.  And it sounds amazing.  Honestly, The Thing feels so fresh and new with this mix, its like you may not have heard it before.  The sound is so clean, crisp and detailed with good layers and balancing.  Forget that extra channel on the 5.1, the 4.1 track is the way to go.  Please note, there has been a sync issue reported in a scene in the film.  I have been told it will be fixed and the film will now release October 11th.
Low Frequency Extension:  There is an impressive amount of boom in the LFE portion of the mix.  The fire, explosions and downright jumpy creature effects all thrust in with a good bump.
Surround Sound Presentation:  Channels accurately depict the place and movement of the actions and characters onscreen.  There is fun to be had and good ambiance in each channel.  
Dialogue Reproduction:  Dialogue is crisp, clear and every piece of diction accounted for.  Its perfectly set and placed in the mix.
Extras 
The Thing – Collector's Edition is a 2-disc set that features reversible cover art displaying the original poster art.
Disc 1
Audio Commentary
With Dean Cundey
With Co-Producer Stuart Cohen
By Director John Carpenter and actor Kurt Russell
Theatrical and Teaser Trailers
Theatrical Trailers (HD, 3:27) – 2 trailers
German Trailer (HD, 1:47) – "DAS DING"!
Teaser Trailer (HD, 1:22)
TV Spots (HD, 1:35) – 3 spots
Radio Spots (HD, 2:27) – A few set to "Superstition" by Stevie Wonder, some of these try to trick people listening in.
Still Galleries
Behind The Scenes (HD, 4:47) 
Lobby Cards and Press Still (HD, 4:18) 
Programs (HD, 1:44) 
Posters (HD, 1:59)
Storyboards (HD, 2:34)
Production Artwork (HD, 1:24)
Disc 2
Interviews
Requiem For A Shape Shifter (HD, 28:39) – An outstanding sit down with John Carpenter and Mick Garris.  The two reminisce about the film's origins to its legacy (And yes, Carpenter discusses the ending. No, he RIGHTLY doesn't reveal it).  Carpenter considers The Thing to be his most challenging production, his strongest film and the one film that actual came out closest to his complete vision.
The Men Of Outpost 31 (HD, 51:14) – Pretty much every living member of the all male cast (Keith David, Thomas Waites, Peter Maloney), sans Kurt Russell return to tell their angle on the film shoot.  A big moment happens where Kurt Russell on a a bus ride that almost went over a cliff, took charge and proved to be just the kind of leader he is in movies.  They also all very much were followers and believers in Carpenter's work and leadership.  Some also discuss how they couldn't get work after the film didn't do well at the box office (One even chose doing this film over ET).
Assembling And Assimilation (HD, 11:09) – Interview with Todd Ramsay.  He says Carpenter was the only director he's worked with that he was in sync with start to finish (Mentions that The Thing and Escape From New York are very close to their original cuts).  He also says John Carpenter shot a scene for an alternate ending "just as a back up" with McReady in the hospital getting a blood test done showing he's not the Thing.
Behind The Chameleon (HD, 25:26) – Interviews with visual effects artists Peter Kuran and Susan Turner, special make-up effects artist Rob Burman and Brian Wade.  They go through work on the opening titles, the effects.  This features a look at some of the models that are still around as well as behind the scenes footage and unused footage of excised effects scenes in the movie.
Sounds From The Cold (HD, 14:53) – Interviews with supervising sound editor David Lewis Yewdall and special sound effects designer Alan Howarth.  Funny enough, they both wound up getting assigned work on Halloween II while waiting to do The Thing.  Yewdall reveals some of the secrets to his "ahead of its time" sound effects in the film.  Howarth discusses his minimal involvement and how he and Carpenter added to Morricone's score.
Between The Lines (HD, 15:58) – An interview with novelization author Alan Dean Foster.  This plays as a sort of "how to" when it comes to novelizations, crafting them, the how to's and do nots.
Featurettes 
The Art of Mike Ploog (HD, 12:21) – Highlights the work of artist Mike Ploog, who illustrated many of the film's storyboards, and also contributed heavily to the development of the film's creature designs.
Back Into The Cold (HD, 11:16) – Narrated by Todd Cameron, a slide show of photos revists the shooting location of The Thing.
Outtakes (HD, 5:19) 
Vintage Featurettes (HD, 13:20) – Multiple EPKs look at many different aspects of the film, obviouisly produced to run alongside the film's release.  Features interview bits with Carpenter and Russell.
Vintage Product Reel (HD, 19:38) – Contains a promotional condensed version of the film with additional footage not in the film.
Vintage Behind-The-Scenes Footage (HD, 2:02) – Some really brief footage.  Somewhat interesting, but very casual in its vibe.
Annotated Production Archive (HD, 54:12) – Production Art and Storyboards, Location Scouting, Special Make-up Effects, Post Production.  It has some written narration that tells the story of the shoot and talks background on the photos and art before its shown.
More Of The Thing
Network TV Broadcast Version of The Thing (HD, 1:33:45) – 
John Carpenter's The Thing: Terror Takes Shape (HD, 1:24:03) – The documentary everyone wanted pulled over from the DVD edition that Universal left off in the original release.  Features people not on the newer material like Kurt Russell, Rob Bottin, Stan Winston and Dean Cundey (Well, he has that new commentary).
The Making Of A Chilling Tale (HD, 5:14) – A simple little EPK making of, featuring the behind the scenes footage from the other featurette.
The Making Of The Thing (HD, 9:20) – Another kinda basic Making Of.  They're all here!  So if you like one better than the other, worry not, its been ported over.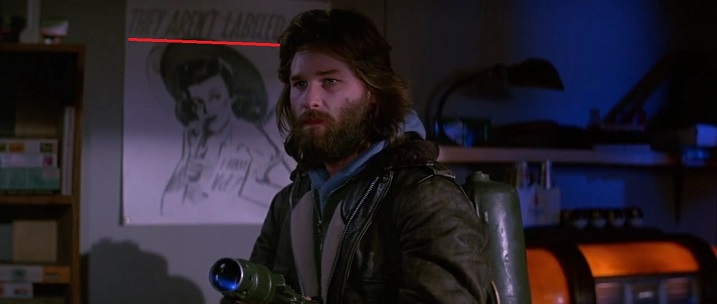 Summary 
There are some releases (Mostly from trusted distributors) that you just know are coming with the 5-star rating tag upon announcement.  Scream Factory doing a 2-disc Collector's Edition of John Carpenter's The Thing is one of those.   And even this release, in all its anticipated glory, still managed to not just meet my expectations, but wander nicely past them.  The film looks beautiful, sounds amazing and will have you thrilled with all the new bonus material as well as revisiting the old.  This isn't a double dip, this is the first REAL, TRUE release of The Thing on Blu-ray.  If you disagree…well, as MacReady would say "Yeah, f*** you, too!"