August 31st, 2021 by Aaron Neuwirth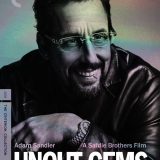 Following the announcement of the Criterion Collection's first set of 4K UHD releases, we now have an update regarding the Safdie' Brother's acclaimed 2019 film, Uncut Gems. The Adam Sandler-starring thriller, which was already set to come out this year, has been upgraded to a 4K release, complete with new artwork as well. The 4k UHD + Blu-ray combo will arrive in stores and online on November 23. Continue on to catch up on all the supplements and more arriving with this release.
–
–
*UPDATES*
NEW COVER, ADDED 4K UHD + BLU-RAY COMBO EDITION,
AND A NEW RELEASE DATE FOR ALL EDITIONS TO 11/23 (PREVIOUSLY 10/26)
presents
UNCUT
GEMS
This jolt of pure cinematic adrenaline affirmed directors Josh and Benny Safdie as heirs to the gritty, heightened realism of Martin Scorsese and John Cassavetes. Adam Sandler delivers an almost maniacally embodied performance as Howard Ratner, a fast-talking New York jeweler and gambler in relentless pursuit of the next big score. When he comes into possession of a rare opal, it seems Howard's ship has finally come in—as long as he can stay one step ahead of a wife (Idina Menzel) who hates him, a mistress (Julia Fox) who can't quit him, and a frenzy of loan sharks and hit men closing in on him. Wrapping a vivid look at the old-school Jewish world of Manhattan's Diamond District within a kinetic thriller, Uncut Gems gives us one of the great characters in modern cinema: a tragic hero of competing compulsions on a shoot-the-moon quest to transcend his destiny.
DIRECTOR-APPROVED SPECIAL EDITION FEATURES
• 4K digital transfer, approved by writer-directors Josh and Benny Safdie, with Dolby Atmos soundtrack on the 4K UHD and Blu-ray editions
• In the 4K UHD edition: One 4K UHD disc of the film presented in Dolby Vision HDR and one Blu-ray with the film and special features
• Audio commentary from 2019 featuring the Safdies, writer and editor Ronald Bronstein, and producer Sebastian Bear-McClard
• New interviews with cinematographer Darius Khondji, costume designer Miyako Bellizzi, production designer Sam Lisenco, and casting director Jennifer Venditti
• Documentaries from 2019 and 2020 on the making of the film and soundtrack
• Screen test featuring actors Adam Sandler and Julia Fox
• Goldman v Silverman, a 2020 short film by the Safdies, featuring Sandler and Benny Safdie
• "Question & Answer," a 2020 short film featuring the Safdies, Sandler, actor Jason Bateman, and comedy writer Megan Amram
• Audition tapes
• Deleted and extended scenes, including a full performance of "The Morning" by The Weeknd
• Trailers
• English subtitles for the deaf and hard of hearing
• PLUS: An essay by film critic J. Hoberman and, for the 4K UHD and Blu-ray editions, a 2020 discussion of the film by the editorial staff of Jewish Currents magazine
2019 • 135 MINUTES • COLOR • DOLBY ATMOS/5.1 SURROUND • 2.39:1 ASPECT RATIO
ABOUT THE CRITERION COLLECTION
Since 1984, the Criterion Collection has been dedicated to publishing important classic and contemporary films from around the world in editions that offer the highest technical quality and award-winning, original supplements. No matter the medium-from laserdisc to DVD and Blu-ray to streaming on the Criterion Channel-Criterion has maintained its pioneering commitment to presenting each film as its maker would want it seen, in state-of-the-art restorations with special features designed to encourage repeated watching and deepen the viewer's appreciation of the art of film.
FOR MORE INFORMATION AND TO JOIN THE CRITERION CHANNEL VISIT HERE