November 21st, 2021 by Aaron Neuwirth
Hey, did director Josh Ruben just sneakily deliver the best video game-to-movie adaptation? Granted, I know little about the VR-based multiplayer game from Ubisoft, but in terms of a launching point for a feature (and the track record of video game movies), Werewolves Within is a clever and often quite funny horror-ish movie delivering on multiple levels. The core mystery may be the driving focus of the film; however, the assemblage of funny people makes for a solid ensemble film with just enough going on in the writing to deliver more than just a terrorizing threat to a community. The film is now available on Blu-ray, but does it pack any additional bite?
–
Film:
Not too long ago, I was writing about Jim Cummings' excellent Wolf of Snow Hollow, so now it's making me wonder if the best way to handle modern werewolf films is by merging mystery with humor, let alone the very concept of whether or not a supernatural threat even exists. Putting an eye towards toxic behavior also seems to be a connective piece for these films as well, which makes a lot of sense given the multiple metaphors that come with the concept of werewolves.
In this film, we follow the residents of the small town of Beaverfield. Sam Richardson stars as Finn, a newly-arrived forest ranger, who quickly finds himself in over his head, as it would appear a mysterious creature is terrorizing the community. With that in mind, is it a creature or one of the town's residents? Due to a proposed gas pipeline that has divided the citizens, among other reasons, almost everyone seems to have some kind of grudge against others.
Again, since the game is pretty thin beyond, "people must work together to discover who the killer really is," the script by Mishna Wolff is quite clever. It establishes several broad personalities, many red herrings, and a whole attitude that rides the line of how far to lean with the tone. While Ruben's well-reviewed Scare Me from 2020 was primarily set in a single-location with a limited cast, Werewolves Within finds solid footing for different comedic areas and characters to explore, in addition to building off the idea of isolation, a theme also found in that previous film.
It's one thing to simply put a bunch of funny people together, but it speaks more to a film that understands what it has when the hilarious lines of dialogue are backed by a strong core. For Werewolves Within, much of the time is spent establishing a motive behind sudden acts of violence. In doing that, following this set of characters means coming to understand who they are, and I was surprised to find myself appreciating a lot of the nuance found in an ensemble who all clearly have personal reasons for being sequestered to a sleepy, snowy town in Vermont.
In addition to Richardson, who does well with being an unironic nice guy and an unconventional hero, the cast also includes a winning Milana Vayntrub as a witty postal worker who is immediately game to help out Finn. As the two leads of the film, their chemistry is instant, while the film finds intriguing ways of highlighting what sets them apart (black lead in a horror film; a woman not content with poor male behavior around her).
The rest of the cast includes plenty of familiar faces, including Michael Chernus, Michael Watkins, Cheyenne Jackson, Harvey Guillén, Sarah Burns, George Basil, and Glenn Fleshler. The roles range from busybodies, to survivalists, to, well…idiots. One can see how films such as Clue had an influence, as much of the humor extends from a commitment to character, especially once the film ends up locking most of the cast within a single location. Standouts will vary, but that's also part of the point. Much like a game, picking your favorite character means spending time finding the humor where it's most enjoyable.
On the other end of things, Werewolves Within is a horror film to a degree. There's a level of carnage to experience, along with many attempts at raising the level of tension. While not working to completely frighten the audience, I did appreciate just how much time was spent establishing a level of stakes and not letting the comedy overwhelm the mystery. Whether or not there is a werewolf, the film has fun in allowing many wacky characters to attempt to get themselves out of harm's way, with jokes coming along at a good enough pace.
It is seeing how the film finds its moments for big jokes that ultimately works when considering some of the greater messaging. Mr. Rogers is quoted at the start of the film, and while random at first, there is a strong through-line about the essence of goodness. It comes into play, especially when learning more about certain characters. For a film rooted in some silly concepts, I was, again, impressed with a script clever enough to have certain character interactions contain more bite when looking back on them. This is a very modern film in terms of social sensibilities, and decent horror often works when it considers the attitudes of the time.
Looking beyond what Werewolves Within represents as a social experiment, there's still plenty of fun to be had. A hilarious lineup of talent is game for making fools of themselves, adding to the comic joy coming out of this spooky farce. Even the look of the film adds to its strength. The wintery shots of the town have a way of presenting both the sunnier side of things and the ominous. For a movie bent on messing with the audience by amping up the comedy and horror at various times, there's plenty of good takeaways overall and just enough going on to keep an audience thinking about it after the fact.
Video:
Encoding: MPEG -4 AVC
Resolution: 1080p
Aspect Ratio: 2.39:1
Clarity/Detail:  The transfer does a fine job of highlighting the various members of the cast by way of providing a sufficient amount detail when it comes to their costumes. The same can be said for the various lodgings, where the clarity in the production design allows for a more well-rounded picture. Plus – snow! As we know, I always enjoy seeing snow in high depth, and the clarity here is quite strong.
Depth: Depth is fine. The character spacing registers as well as it needs to, which is helpful for an ensemble cast.
Black Levels: Black levels do enough to add to the atmosphere, with no sign of significant crushing.
Color Reproduction: As easy as it is to highlight the quirky cast, Werewolves Within does boast colorful cinematography that's a benefit to the future. This video transfer does a great job of bringing out the different color tones seen throughout the film, depending on the setting. Cool blues are deployed in low-lit and outdoor scenes, while a real sense of warmth comes through indoors and near fireplaces.
Flesh Tones: There's a fine level of facial detail to be found as the film focuses more on panicked faces.
Noise/Artifacts: Clean.
Audio: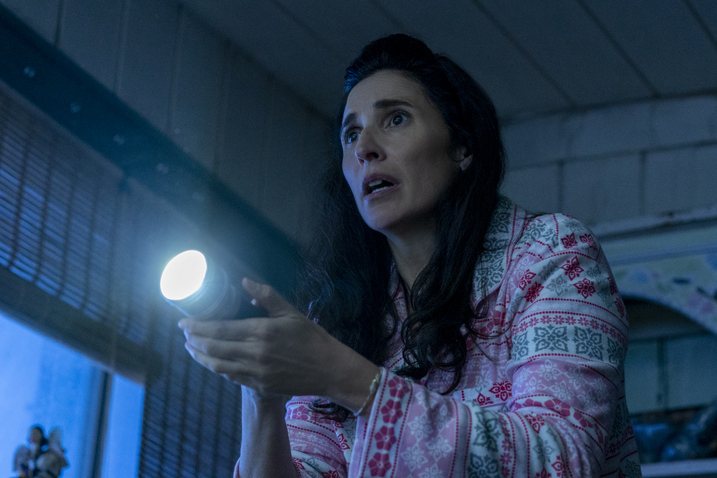 Audio Format(s): English DTS-HD MA 5.1
Subtitles: English SDH, Spanish, French
Dynamics: The Blu-ray comes equipped with one lossless audio track and it is as good as it needs to be. While not the most elaborate production, the use of sound design plays its role in maximizing the tension required for a horror-comedy.
Low-Frequency Extension: With a couple of moments that rely on going big, the LFE channel delivers a little extra when needed.
Surround Sound Presentation: Areas set outdoors allow more of the film's audio elements and its score to take over, but the rear channels are never fully engaged.
Dialogue Reproduction: Everyone is heard loud and clear.
Extras:
Not a damn thing, and that's a shame, given the potential to get some fun commentaries from this cast.
Summary:
There's a perfectly enjoyable film here. Werewolves Within makes great use of its cast, while providing just enough style and tension to give it a distinct tone. Not bad at all for a video game movie. The Blu-ray release is fine on a technical level, but the lack of any extras is a disappointment. Certainly worth a look, but don't expect too much more from this physical release.
Order Your Copy Here:

Paid Advertising Link