March 8th, 2022 by Brandon Peters
While not making the box office dent one may have hoped for, Steven Spielberg's new adaptation of the stage play for West Side Story still released to critical raves and has been nominated for 7 Academy Awards. Most importantly, it won the heart of this reviewer, as I was over the moon for this movie from the first shot. This is easily my favorite of his efforts since Munich. I've used the word "magical" to describe it and I don't feel that it is an exaggeration. While its currently streaming on Disney+ and HBO Max, its even more exciting that it is coming to 4K Ultra-HD Blu-ray on March 15th. Included with the best picture quality available and a Dolby Atmos track is a feature length documentary, the ability to watch the song numbers standalone and a redeemable digital code for the film. Get your preorder in to own a copy of  Steven Spielberg's take on West Side Story using the paid Amazon Associates link that follows the review.

Film
Directed by Academy Award® Steven Spielberg, from a screenplay by Pulitzer Prize and Tony Award® winner Tony Kushner, "West Side Story" tells the classic tale of fierce rivalries and young love in 1957 New York City. This reimagining of the beloved musical stars Ansel Elgort (Tony); Ariana DeBose (Anita); David Alvarez (Bernardo); Mike Faist (Riff); Brian d'Arcy James (Officer Krupke); Corey Stoll (Lieutenant Schrank); Josh Andrés Rivera (Chino); with Rita Moreno (as Valentina, who owns the corner store in which Tony works); and introducing Rachel Zegler (Maria.) Moreno – one of only three artists to be honored with Academy®, Emmy®, GRAMMY®, Tony® and Peabody Awards – also serves as one of the film's executive producers.
From the moment 2021's new adaptation of West Side Story opens, Spielberg's strive for perfection grasps you and doesn't let go until the final credit rolls. His film wows with an impressive shot that leans into a look, a palette and a feel that sweeps you off right into another place, another time, another world. I confidently feel like this is the kind of film that brings the word "magic" back into the world of filmmaking. A magic that doesn't crutch on digital help or fixing it later. No, a "magic" that feels like the payoff of incredible preparation and calculation to even the most miniscule moments figuring out how to perfectly present themselves.
This film plays like it comes from a hungry young director exploding with talent and determination to prove to the world that they are going to light it on fire. Instead, its a master at work, showing he's still that hungry kid that made the shark movie and flourishing in a project he's been passionate about bringing to life his whole career. Yes, there are a lot of talented performers on display here in West Side Story (Ariana DeBose is an incredible breakout revelation, Rita Moreno shows she's still got the goods), but the MVP and star of the film is Spielberg and his technical craft, as big and as marvelous as ever. I hate to sound like a complete dweeb, but this sort of filmmaking on display honestly moved me in a way and reminded me exactly why I love movies so much and can still find myself swept away and transported into one despite how numbed to them I can over the years.
When I call it "magic", I'm not using it lightly. Its that sort of feeling of seeing the impossible happen. Watching a film that I can't believe they pulled off. I'm wanting to know and see how they did it, because I'm never going to be that talented and I know its an answer deeper than post production computer labs. When the curtain is pulled back, you find so much talent and brain power, precision, execution, repetition and more. Collaboration in the highest order. People from all different paths uniting for the most harmonious of results that just wows.
West Side Story, yes, Spielberg pulled it off and then some and then some more. A choice to make which was questioned and doubted and ultimately he responded with "you really shouldn't do that when it comes to me." And here we are. Its a film of the highest order, working and impressing on screens both large and small. Every year I make a list, I pick ten films that are my favorite. But in 2021, from the moment the movie started I knew what it would be and it was the easiest choice I can remember making with said lists and might be my favorite of the favorites. I'm absolutely over the moon for this new West Side Story.
Video
Disclaimer: Screen captures used in the review are taken from the standard Blu-ray disc, not the 4K UHD Blu-ray disc.
Encoding: HEVC / H.265
Resolution: 4K (2160p)
Aspect Ratio: 2.39:1
Layers: BD-66
Clarity/Detail: West Side Story arrives on 4K Ultra-HD Blu-ray a native 4K title that really pops and flourishes. While I wish it'd been a BD-100 disc, this still looks pretty impressive. Its a crisp and sharp image, keeping a nice grain structure intact. Details are very strong, down to some of the most miniscule touches. There may be some nit picks from the hardcore collectors (No Dolby Vision), but for a lot of the home theater junkies and collectors as well as those casuals, this is going to impress and work wonderfully.
Depth: Spielberg's film is wholly 3 dimensional with great pushback on display in every scene and environment. Characters are free to roam and frolic with ease. This film has wickedly active camera and this transfer holds it down with supreme confidence. No issues occur with any motion distortion or blur coming from some of the more rapid sequences.
Black Levels: Blacks are deep and completely natural with it having that "is the TV off?" appearance to them. There's outstanding shading, shadow, tints and more on display. No information is hidden as textures, patterns and fine information like hair follicles are easily discernible. No crushing witnessed.
Color Reproduction: The color palette on display in this film is absolutely gorgeous. Even your boring grays and browns have character and pop to them. Many of the fabrics on suits and dresses really sizzle in this transfer. HDR glows and looms wonderfully in neon signs, lights and other kinds of radiancy.
Flesh Tones: Skin tones are natural and carry a consistent appearance from start to finish of the film. And impressive amount of facial detail and texture stands out in the vein of stubble, make-up brush strokes, paint, bruises, cuts, wrinkles, moles, freckles and more and is clear as day from any given distance in the frame.
Noise/Artifacts: Clean.
Audio
Audio Format(s): English Dolby Atmos, English 2.0 Descriptive Audio, French 5.1 Dolby Digital, Spanish 7.1 Dolby Digital Plus
Subtitles: English SDH, French, Spanish
Dynamics: I was worried about this one with 20th Century Studios being under the Disney banner, but I was pleasantly surprised with how the Atmos track turned out. It certainly delivers in all of the big musical numbers, being plenty loud, intricate and vibrant. Its not 100% perfection, but this one more than gets the job done and is immersive as any of these Atmouse ones can be. I don't want to jump the gun, but there's a bit of a different in these 20th Century Studio Atmos presentations as opposed to the straight Disney/Pixar/Marvel releases.
Height: There are a lot of neat touches put toward the ceiling channels in this mix. Some of the vocals make an appearance up top (Maria on the fire escape), birds fly overhead, construction wrecking balls swoop by, characters jumping or dancing over the camera…its captured rather neatly and has effective volume placement. This one finds a good balance between accuracy and having some fun.
Low Frequency Extension: Yes, there could be a bit more boom here, but it does strike with good impact as you would expect in moments of the score's bass and drum hits. There are also natural environment sound effects (Punches, engines, doors slamming, etc) that deliver as well.
Surround Sound Presentation: This is a carousel around your room with great music and movement. It bops and weaves throughout all the channels, side to side, front to back, up and down. This lively mix has the challenge of keeping up with Spielberg's swooping and dashing camera and does so in spades. Every little corner of the frame onscreen and off finds itself accounted for, bringing every environment to life and making every action scene felt.
Dialogue Reproduction: Vocals are clear, crisp and at a forefront when they need to be. Transition from spoken dialogue to singing is rather seamless and natural and doesn't feel like some said "hit it" or changed over to a soundtrack recording.
Extras
West Side Story comes with the standard Blu-ray edition and a redeemable digital code. All extras are found on the standard Blu-ray disc.
The Stories Of West Side Story (HD, 1:36:53) – While its split into parts, its essentially a feature length documentary on making the film. Spielberg notes that one of the first albums he ever remembers hearing was the soundtrack to West Side Story without ever having seen the musical. Its mentioned that Spielberg had to do a lot of convincing to be able to be given the right to make the film. There are a couple repeated notes, but this is a full on detailed look at the film. This goes from conception through the shoot, scene by scene, number by number and every aspect that went into it. Includes interviews with everyone involved (Including the late Stephen Sondheim) as well as rehearsal footage, Spielberg directing, scoring sessions, vocal recording booth sessions and more.
The Songs – Plays any of the songs in the movie directly.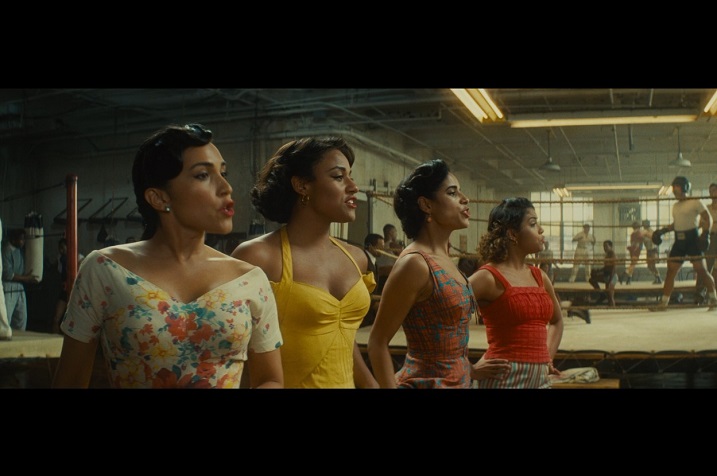 Summary
West Side Story was easily my favorite film of the year and hands down one of the most breathtaking things I've seen in the theater in years (And this same year included Dune). Spielberg's master craft looks and sounds marvelous on 4K Ultra-HD Blu-ray. The full length documentary is a great trip through the making of the film with Spielberg's typical person touches and inviting atmosphere to come watch the cooks in the kitchen. If that's going to be the sole featurette, they truly made it count. The release is a solid one, but the movie alone is worth a spot in everyone's collection. A must have!
This is a paid Amazon Associates link