December 2nd, 2019 by Brandon Peters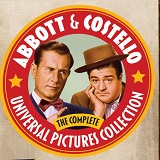 One of Shout! Factory's more impressive releases this holiday season is definitely the Abbott & Costello: The Complete Universal Pictures Collection. This truly is an all-timer set, collecting 28 of the legendary comedy duos' films. Bud Abbott and Lou Costello did 36 feature films altogether, so you're getting pretty much everything here. Yes, that does mean if you're a Classic Monsters fan, you're getting Abbott & Costello Meet Frankenstein for the bazillionth time (As well as the other monster films for the ga-jillionth time). Given the enormity of this box set and the fact that we do things right over here at Why So Blu, its going to take a while to plow through these 28 films and accompanying bonus material spread out over 15 discs. We'll be taking a disc-by-disc approach (2 Films each disc, Disc 15 is all bonus material) culminating in a "Full" review of the entire set featuring links to quickly navigate from film-to-film/disc-to-disc. This review focuses on Disc 2, featuring In The Navy (1941) and Hold That Ghost (1941).
In The Navy (1941)
Two sailors (Bud Abbott, Lou Costello) help a famous singer (Dick Powell) who joins the Navy to escape female fans. With the Andrews Sisters.
In The Navy is a classic, but almost feels super easy for this time. Yes, it has Abbott & Costello, and I'm not sure on my history here (Please forgive my ignorance), it may have been the genesis of those films. There were movies like this a dime a dozen back in the day. As much as the western was a dominant genre, so was the "Hanging out at the base" war film, both on stage and on screen. Sadly, that WAS life back then, but there's just so much throwaway and overdone material in those genres. Heck, its the second film four films into this set that has this setting (The other being Buck Privates on disc 1) and it won't be the last one.
Overall, there are some nice bits with the duo and I don't know perceived fan wisdom of the A&C canon as to where this places, but to me it didn't really stand out. I like moments, I like bits, but overall it feels like an also ran. And that is the potential danger here in a box set, as I just watched Buck Privates not too far away from this one.
Hold That Ghost (1941)
Two nightclub waiters (Bud Abbott, Lou Costello) inherit a haunted roadhouse from a bumped-off gangster.
No, Abbott & Costello's first foray into horror comedy was not the time that they met Frankenstein('s monster). Right here, in Hold That Ghost, you get a sort of prototype for that film as the two fit into a horror setting. Its that classic haunted house that maybe isn't a haunted house movie. Maybe this is the first of that type, it could be. The more popular The House On Haunted Hill with Vincent Price was 18 years away from this.
The movie so far, has been the most enjoyable of the non-monster movies thus far. It features some good comedy and many other interesting character for once that don't force the film to challenge the comedic duo to carry it. These other characters allow for good moments as well. Its also a pretty well made film with effective lighting, set design and direction to go on top of the easy hits to produce from the Abbott & Costello pair. This was a nice fun surprise and an easy go-to.
Video
Encoding: MPEG-4 AVC
Resolution: 1080p
Aspect Ratio: 1.37:1
Layers: BD-50
Clarity/Detail: In the Navy and Hold That Ghost arrive with similar qualities to them. Ghost winds up fairing better, thanks to its low lighting and gorgeous leaning on blacks. In The Navy matches up fine, but its faults are easily showcased in a much more lit film. Both feature good texture and detail, room for improvement, but overall a fine watch.
Depth:  Depth is pretty average as has been on most of these. Character movements are smooth, camera dollies/zooms fluid and no (problematic) motion distortion issues occur.
Black Levels: Blacks are pretty deep, leaning quite natural and carry a hair heavier grain. Its nice for shadow and definition in every scene. No crushing witnessed.
Color Reproduction: N/A
Flesh Tones: Skin tones carry a similar gray/white skin tone as the other discs do. Easy enough, the closer the zoom, the better the detail on the faces to see their texture and individual nuances are.
Noise/Artifacts: Clean.
Audio
Audio Format(s): English 2.0 Mono DTS-HD MA
Subtitles: English SDH
Dynamics: Both films feature quite solid mono tracks that have a very slight analog hiss as a foundation layer. Its mainly heard when things quite or transition to a new scene. The dialogue peaks of course (in the source) when shouting happens. But the effects, score and effects really never step on one another's feet.
Height: N/A
Low Frequency Extension: N/A
Surround Sound Presentation: N/A
Dialogue Reproduction: Vocals are pretty clear and crisp. There's a bit of step in the singing of both movies that sound of a different recording. Overall, much of the hiss, as mentioned, is faint.
Extras
In The Navy
Theatrical Trailer (SD, 2:09) 
Image Gallery (HD, 4:24)
Production Notes (HD, 1:55)
Hold That Ghost
Audio Commentary
With Film Historian Jeff Miller
Theatrical Trailer (SD, 1:41) 
Image Gallery (HD, 5:08)
Production Notes (HD, 1:39)
Summary*
*These discs are not available as an individual release at this time. A Summary rating will be provided in the full set review posting.
In The Navy and Hold That Ghost form a strong pair that showcase the continued breakout of the comedic duo. The picture quality and audio here are very comparable to the first two movies in this set and expectations should be there accordingly. Despite not raving about the picture or score, I need to mention that the films DO look rather nice and one might find them looking better to their eyes than they do my  very own blinkers.