December 2nd, 2019 by Brandon Peters
One day, maybe EVERY John Carpenter film will have a Scream or Shout! Factory release. With a quick glance at their catalog, they make no secret about that being a company goal. There are challenges lying ahead, but with their diving into Paramount material now, Escape From LA seems like it could be right around the corner. But, being more present and around the very next corner (Also a collaboration with actor Kurt Russell) is the action/adventure romp Big Trouble In Little China. Its being dubbed a collector's edition and is loaded with so much new material that its going to take 2 whole Blu-ray discs to cover it all. It includes it seems EVERYONE but Kim Cattrall participating (I'm willing to bet they asked her to). This impressive release comes in MANY MANY different iterations, so study up hard at the variety tray of variables and make your pick accordingly. And make your movie fast, as it arrives on December 3rd. And if you're a basic B, then just click the paid Amazon link below.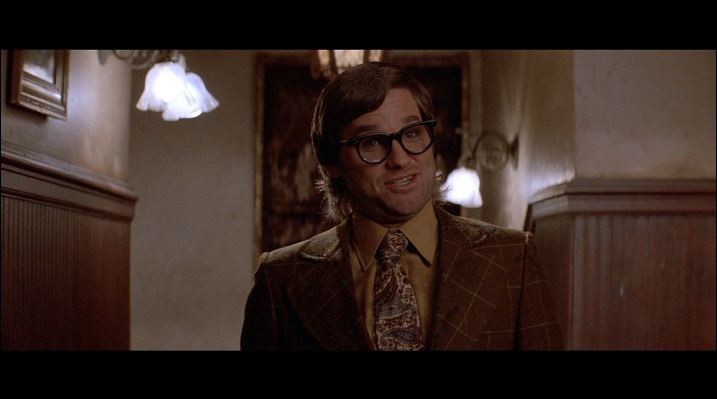 Film
Kurt Russell plays hard-boiled truck driver Jack Burton, who gets caught in a bizarre conflict within, and underneath, San Francisco's Chinatown. An ancient Chinese prince and Chinatown crime lord has kidnapped a beautiful green-eyed woman, who is the fiancee to Jack's best friend. Jack must help his friend rescue the girl before the evil Lo Pan uses her to break the ancient curse that keeps him a fleshless and immortal spirit.
I was first introduced to Big Trouble In Little China as "the movie that was the inspiration for Mortal Kombat". Yeah, it took me til the early 90s to see it. And until the credits started, I didn't know it was by the guy who had directed some of my favorite (And absolute favorite) films. Knowledge wasn't at our fingertips back then. And yeah, one could easily see things like Raiden, Shang Tsung, Liu Kang, Goro and more from the famed fatality arcade game. I mean, how could you not?
BUT, what was most importantly there was that this movie was an outstanding bunch of fun. And what the movie had that none other did; Jack Burton. Kurt Russell absolutely CRUSHES in this movie. His downright parody of an action hero is a big reason as to why we still regard this movie so highly. Most of all, if any of John Carpenter's movies look like everyone was having a blast on set, its this one. Its one of his more upbeat films and looks like a pretty big one to make, but everyone is all smiles and the energy packs right into every frame of this action epic.
While many of Carpenter's films paved the way for imitators or felt ahead of their time, Big Trouble In Little China still feels like an absolutely unique piece on his table. The only thing close to it may be They Live. But even then, the two feel very different. And in terms of the action film, I can't think of many that really utilize another culture like this and also mash in some monster movie aspects as well. This thing is pure action, science fiction, horror and an Indiana Jones-style adventure all in one. Its quite remarkable what this movie achieves even in our modern climate. This is the type of lightning in a bottle that studios DREAM to catch with their tentpoles today.
John Carpenter's run from Assault on Precinct 13 all the way through the 80s is quite remarkable, but its also quite varied. While people will ooh and awe and the string of horror material he put out, there are also gems like Elvis, Starman and Big Trouble In Little China that show he didn't just stick to one thing and excelled at the outliers as well. This would be the last Russell-Carpenter collaboration for over a decade, but its also quite the peak of things as well. In fact this little Starman-Big Trouble-Prince of Darkness run in the middle may be one of his most interesting and experimental of the bunch. And all three (in these eyes) wound up extremely successful, strengthening with every year that passes.
Video
Encoding: MPEG-4 AVC
Resolution: 1080p
Aspect Ratio: 2.35:1
Layers: BD-50
Clarity/Detail: For all I can see, Big Trouble In Little China's Scream Factory Collector's Edition transfer is the same that has been readily available on all previous editions of the movie on Blu-ray. That is to say a straight up HD master. That said, that master looks pretty terrific, with good color saturation, sharpness, strong details and a pretty lively image.
Depth:  Spacing is pretty solid, with a decent pushback showcase a little bit of third dimension at times. Movements are smooth, camera zooms and dollies are fluid and no distracting motion distortions occur.
Black Levels: Blacks are deep and hang more toward the nature end of things with grain sticking out in the more darkened corners. No crushing witnessed.
Color Reproduction: Colors are pretty fun as they are a lot of eye striking popping colors that can appear among the common, normal ones. Lightning, neon lights and flashy costume fabrics all stand out quite well.
Flesh Tones: Facial features and textures come through quite well in most reasonable distances with stubble, makeup lines, wrinkles and more coming through nicely. Skin tones are consistent from start to finish of the film.
Noise/Artifacts: Clean
Audio
Audio Format(s): English 5.1 DTS-HD MA, English 2.0 Dolby Surround
Subtitles: English
Dynamics: Big Trouble in Little China features the all too familiar 5.1 track that has accompanied all the releases of the film. I find that to be quite a good thing as this is a pretty immersive experience. This is a track that really enhances and brings even more of the fun factor to the movie. Its pretty intricate and loud, with great sound travel and good layering. Every atmosphere feels full realized in this wonderfully balanced mix.
Height: N/A
Low Frequency Extension: Guns, explosions, lightning bolts, truck engines and more keep roaring along and get a nice bump from the subwoofer.
Surround Sound Presentation: For as far back as this audio was done, its impressive how full and immersive it is in utilizing the room. Sound travels and the ambiance in the film is pretty full and realized.
Dialogue Reproduction: Vocals are clear and crisp, able to handle themselves amidst and degree of loud action.
Extras
Big Trouble In Little China – Collector's Edition is a 2 Blu-ray Disc set featuring reversible cover art showcasing the original poster. The film appears on Disc 1 and majority of the bonus features on Disc 2.
Disc 1
Audio Commentary
With Producer Larry Franco
With Special Effects Artist Steve Johnson, moderated by filmmaker Anthony C. Ferrante
With Director John Carpenter and actor Kurt Russell
Isolated Score 5.1 DTS-HD MA
Theatrical Trailers (SD, 7:06)
TV Spots (SD, 3:09)
Vintage Audio Interview With John Carpenter (HD, 5:49) – A brief kinda basic interview, obviously done prior to the movie coming out. Talks about the plot, working with Kurt Russell, the effects, etc.
Electronic Press Kit (SD, 27:26) – The full on thing. Has interviews and such, including the only Kim Cattrall interview on this release.
Gag Reel (SD, 2:56)
Music Video (SD, 3:28) – THE COUPE DE VILLES!!! One of the best things on the release!
Deleted Scenes (SD) – 8 total. 3 of them allow you to choose the source of Work Print or Video Tape to see it.
Extended Ending (SD, 3:17) – Presented in work print form.
Photo Galleries (HD) – Movie Stills, Posters and Lobby Cards, Behind-The-Scenes
Disc 2
You're The Hero (HD, 14:14) – An interview with actor Dennis Dun. The actor goes through a lot of his work in early filmmaking that got him to Big Trouble and goes through working with Carpenter, Russell and the overall experience and legacy of the film.
The Soul of Lo Pan (HD, 23:57) – An interview with actor James Hong.  The actor, who looks amazing still, talks about his childhood in Minneapolis, his early career ("I could play ten roles a year"), and gets into detail on the "low budget, only 25 million" film that was Big Trouble In Little China which he does recall quite distinctly his experience.
Able to Be Myself (HD, 18:29) – An interview with actor Donald Li. He opens with his inspiration and desire to learn acting all from being taken with DeNiro in Taxi Driver before he dives into his experience on Big Trouble In Little China.
The Tao of Thunder (HD, 25:47) – An interview with actor Carter Wong. Wong speaks English pretty well, but is subtitled in case its tough for some. He opens with fighting technique discussion, talks martial arts and how they are utilized in movies being different than real life and of course the ins and outs of Big Trouble in Little China.
The Tao of Rain (HD, 28:34) – An interview with actor Peter Kwong. The star of Never Too Young To Die discusses being inspired by dance,
The Hatchet Man Speaks (HD, 6:32) – An interview with actor Al Leong. Sporting a Big Trouble In Little China t-shirt, the legendary actor talks about moving to LA, training in martial arts, the trials of filmmaking and working on Big Trouble In Little China.
Damn Wilie Prescott and the Horse He Rode In on (HD, 20:31) – An interview with writer WD Richter. The director of Buckaroo Banzai goes mostly through following up that movie and the ins and outs of the characters of the film and even puts in bits on how the actors molded to them.
It Was a Western Ghost Story (HD, 27:50) – An interview with writer Gary Goldman. He goes over some of his earlier ideas, scripts and inner workings. Goldman knows the "precise moment" that he got the seed for Big Trouble and goes into plenty of intricate details on his selling the script, workings of it, thoughts on the film and more.
The Poetry of Motion (HD, 35:01) – An interview with arts choreographer James Lew.  His spark to enter the film industry and martial arts came from seeing himself represented onscreen via Bruce Lee. Lew discusses the styles he studied, his work on the film and winning an Emmy award for Luke Cage (The Marvel show).
Into the Mystic Night (HD, 12:35) – An interview with The Coupe De Villes member Nick Castle. We get a nice little interview with The Shape as he discusses musicals being a sort of in for him in film, his time at USC and of course he talks the POWER group The Coup De Villes!
Since We Were Kids (HD, 28:51) – An interview with second unit director/The Coup De Villes Member Tommy Lee Wallace.  In an appropriate start for this interview, the director talks music passion coming before film for him and how he and Carpenter started around The British Invasion. Carpenter helped fuel his movie interest. Wallace goes through career highlights as well as digging into Big Trouble in Little China and of course…THE COUPE DE VILLES and their recording for this movie!
Love and Art (HD, 17:04) – An interview with movie poster artist Drew Struzan.  In addition to his work on the film's poster, we also get a full on story of where he came from ("A family that didn't want me") and his path to becoming an absolute GOD in the pantheon of great movie poster artists.
Return to Little China (HD, 12:14) – Interview with John Carpenter that was featured on the Arrow Video UK only release.
Being Jack Burton (HD, 20:57) – Interview with Kurt Russell that was featured on the Arrow Video UK only release.
Carpenter & I (HD, 15:38) – Interview with Dean Cundey that was featured on the Arrow Video UK only release.
Producing Big Trouble (HD, 15:21) – Interview with Larry Franco that was featured on the Arrow Video UK only release.
Staging Big Trouble (HD, 12:29) – Interview with Jeff Imada that was featured on the Arrow Video UK only release.
Visual Effects Artist Richard Edland (SD, 13:25) – Interview with Richard Edland that was featured on the Arrow Video UK only release.
Vintage Featurette (SD, 7:26)
Summary
Big Trouble In Little China just continues to be an absolute blast like no other. And the bonus material on this Collector's Edition is like no other. This might be the most impressive and exhaustive collection of new interviews EVER put together for a Shout! Factory set for a movie. With the porting over of the Arrow Video material, almost everyone is here and well represented with this fresh, honest and enlightening interviews that not only tell the upbringing of the folks, but allows you to see how that influenced their work. In terms of performance, the transfer and audio seems to be the same as before, but it works quite well. This is possible the most must have release the company has put out this year, in a year of impressive must-have releases.