December 3rd, 2019 by Brandon Peters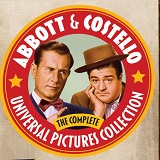 One of Shout! Factory's more impressive releases this holiday season is definitely the Abbott & Costello: The Complete Universal Pictures Collection. This truly is an all-timer set, collecting 28 of the legendary comedy duos' films. Bud Abbott and Lou Costello did 36 feature films altogether, so you're getting pretty much everything here. Yes, that does mean if you're a Classic Monsters fan, you're getting Abbott & Costello Meet Frankenstein for the bazillionth time (As well as the other monster films for the ga-jillionth time). Given the enormity of this box set and the fact that we do things right over here at Why So Blu, its going to take a while to plow through these 28 films and accompanying bonus material spread out over 15 discs. We'll be taking a disc-by-disc approach (2 Films each disc, Disc 15 is all bonus material) culminating in a "Full" review of the entire set featuring links to quickly navigate from film-to-film/disc-to-disc. This review focuses on Disc 3, which I shall dub the " 'em" disc as it includes Keep 'Em Flying (1941) and Ride 'Em Cowboy (1942).
Keep 'em Flying (1941)
Two carnival stooges (Bud Abbott, Lou Costello) join a stunt pilot in Army flight school and meet twin sisters (Martha Raye).
Oh boy, here we go again. Abbott and Costello once again join into or wander into some branch of the military. This one oddly enough was used as a sort of recruiting tool when it came out. While that doesn't hold the duo back from performing some terrific comedy, there is a more attracting and more dynamic approach to their surrounds.  And this one goes for broke with a high flying, action packed and physically comedic belly laugh of a finale.
Ride 'Em Cowboy (1942)
Two peanut vendors (Bud Abbott, Lou Costello) from New York become cowhands on a dude ranch out West.
If I hadn't skipped to disc 9 early on, this would have been a more fresh approach and the first of its kind as the duo FINALLY tackle a different genre. But now the western has decided to enter the game of which genre they take on most with this one. And it works out quite well with their bits fitting nicely into the genre. I couldn't tell if I was enjoying the film a lot more or if I was just refreshed that I wasn't watching the same tired military bits with the same tired side characters again.
Video
Encoding: MPEG-4 AVC
Resolution: 1080p
Aspect Ratio: 1.37:1
Layers: BD-50
Clarity/Detail: Ride 'em Cowboy has a picture quality that is the standard for this set so far, while Keep 'em Flying sees an uptick in quality. It has a more rich flavor to the blacks, whites and grays. The image come across more clean with a hair more attention to the details on clothing and the like.
Depth:  Character movements are smooth, camera dollies/zooms fluid and no (problematic) motion distortion issues occur. Depth is pretty average as has been on most of these.
Black Levels: Blacks are pretty deep, leaning quite natural and carry a hair heavier grain. Its nice for shadow and definition in every scene. No crushing witnessed.
Color Reproduction: N/A
Flesh Tones: Skin tones carry a similar gray/white skin tone as is par for the course with the films in this set. Texture and facial details are best when close up but hold strong in more medium shots.
Noise/Artifacts: Clean.
Audio
Audio Format(s): English 2.0 Mono DTS-HD MA
Subtitles: English SDH
Dynamics: The two films feature a very nice mono track that compliment the vintage viewing rather well. Theses are some nice balanced mixes that are very nice given your expectations of the quality of their age and source. The balancing comes across pretty solid and its lighter on the low end of the spectrum.
Height: N/A
Low Frequency Extension: N/A
Surround Sound Presentation: N/A
Dialogue Reproduction: Vocals are pretty clear and crisp. Sound has a little analog hiss as a backing layer and there is a noticeable difference in clarity with the singing.
Extras
Keep 'em Flying
Audio Commentary
Theatrical Trailer (SD, 9:21)
Image Gallery (HD, 6:56)
Production Notes (HD, 1:37)
Ride 'Em Cowboy
Audio Commentary
By James L. Neibaur
By Scott Allen Nollen
Theatrical Trailer (SD, 2:06)
Image Gallery (HD, 6:21)
Production Notes (HD, 1:25)
Summary*
*These discs are not available as an individual release at this time. A Summary rating will be provided in the full set review posting.
Well, on this disc one film feels tired and another a bit of a breath of fresh air. In the sort of marathon viewing it might not be as drastic a response, but thus is the life of reviewing this set. Both come with similar appearances and audio to the rest of the set, as well as the basic more in tuned to the movies bonus features as the big guns are saved for disc 15.