December 4th, 2019 by Brandon Peters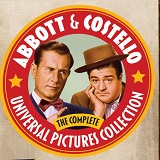 One of Shout! Factory's more impressive releases this holiday season is definitely the Abbott & Costello: The Complete Universal Pictures Collection. This truly is an all-timer set, collecting 28 of the legendary comedy duos' films. Bud Abbott and Lou Costello did 36 feature films altogether, so you're getting pretty much everything here. Yes, that does mean if you're a Classic Monsters fan, you're getting Abbott & Costello Meet Frankenstein for the bazillionth time (As well as the other monster films for the ga-jillionth time). Given the enormity of this box set and the fact that we do things right over here at Why So Blu, its going to take a while to plow through these 28 films and accompanying bonus material spread out over 15 discs. We'll be taking a disc-by-disc approach (2 Films each disc, Disc 15 is all bonus material) culminating in a "Full" review of the entire set featuring links to quickly navigate from film-to-film/disc-to-disc. This review focuses on Disc 5, featuring It Ain't Hay (1943) and Hit the Ice (1943).
It Ain't Hay (1943)
A champion Thoroughbred is mistaken for a lowly cart horse thanks to the machinations of two bumblers.
While It Ain't Hay may not be the funniest of all, it might be one of the smoothest and most entertaining of the whole lot. Being based on a novel might help a thing or two. This one has a nice plot that bounces around with that whole "But then" factor of changing, relaxing and raising stakes. Shemp Howard is notable, appearing in the film. And the comedy often breaks the fourth wall which was a nice change of pace and interesting to see in a film made in the early 1940s. Overall, a nice new direction and solid bit of action for the duo to play in that is able to showcase a more rounded performance.
Hit The Ice (1943)
Two cameramen (Bud Abbott, Lou Costello) chased by gangsters get jobs as waiters at Sun Valley, Idaho.
I can't tell you how relieved I am that Abbott & Costello have not joined the military in a long while. Hit the Ice may skate by as just merely solid, its nice to see the studio really trying for different scenarios and locales for them to chew up scenery and have their bits take place in. This one starts with a rather funny premise and has a nice idea to take them to a snowier avenue. And the film really goes for it in the finale (As these things are finding a regular try and go big finish before the credits) with some snow and ski action. Overall, its not at the top of the recommend list, but shouldn't leave you disappointed either.
Video
Encoding: MPEG-4 AVC
Resolution: 1080p
Aspect Ratio: 1.37:1
Layers: BD-50
Clarity/Detail: It Ain't Hay and Hit the Ice arrive on Blu-ray with transfers akin to the "just above average" club and not the shining stars in the set. Overall, you get some good details and a defined but slightly softer image. The two have prints that are in okay condition with some rougher parts intermittent.
Depth:  Some rather decent depth consistent with the other films in the set so far. Movements are smooth and cinematic with no problematic blurs or jitters with rapid motion.
Black Levels: Blacks are pretty deep and provide plenty of good instances of shadow and assistance in defining the crispness of a character or object on screen. No crushing witnessed.
Color Reproduction: N/A
Flesh Tones: Skin tones carry a similar gray/white skin tone as is par for the course with the films in this set. Texture and facial details are best when close up but hold strong in more medium shots.
Noise/Artifacts: Clean.
Audio
Audio Format(s): English 2.0 Mono DTS-HD MA
Subtitles: English SDH
Dynamics: Both films (I dub this the "A Song of Hay and Ice" disc), come with their mono recording in lossless form. Their very old, analog sourcing provides a hissing sound that's come to be expected with these discs (Moreso the degree of how audible it is may be the gauge). It Ain't Hay is the less pretty of the two, but it does hit a point where it manages to get to the highs of Ice.
Height: N/A
Low Frequency Extension: N/A
Surround Sound Presentation: N/A
Dialogue Reproduction:  Vocals are clear and crisp for the most part with a backing layer of an analog hiss setting foundation (Said hiss is heavier on hit the ice). Both handle the usual peaking with shouting and stuff a little better than other movies have.
Extras
It Ain't Hay
Audio Commentary
Image Gallery (HD, 3:28)
Production Notes (HD, 1:29)
Hit The Ice
Audio Commentary
Theatrical Trailer (SD, 1:57)
Image Gallery (HD, 4:07)
Production Notes (HD, 1:40)
Summary*
*These discs are not available as an individual release at this time. A Summary rating will be provided in the full set review posting.
Oddly, while I don't think the movies on their own warrant being "all time tops" I think this is a strong disc with them together. Both feature quite different scenarios and bits, showcasing somewhat of a range of movie types that could be done. The presentations are a little above average, but the movies themselves are enjoyable enough to be okay with that.