December 4th, 2019 by Brandon Peters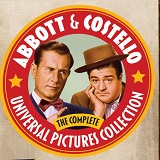 One of Shout! Factory's more impressive releases this holiday season is definitely the Abbott & Costello: The Complete Universal Pictures Collection. This truly is an all-timer set, collecting 28 of the legendary comedy duos' films. Bud Abbott and Lou Costello did 36 feature films altogether, so you're getting pretty much everything here. Yes, that does mean if you're a Classic Monsters fan, you're getting Abbott & Costello Meet Frankenstein for the bazillionth time (As well as the other monster films for the ga-jillionth time). Given the enormity of this box set and the fact that we do things right over here at Why So Blu, its going to take a while to plow through these 28 films and accompanying bonus material spread out over 15 discs. We'll be taking a disc-by-disc approach (2 Films each disc, Disc 15 is all bonus material) culminating in a "Full" review of the entire set featuring links to quickly navigate from film-to-film/disc-to-disc. This review focuses on Disc 11, featuring Abbott and Costello In The Foreign Legion (1950) and Abbott and Costello Meet The Invisible Man (1951).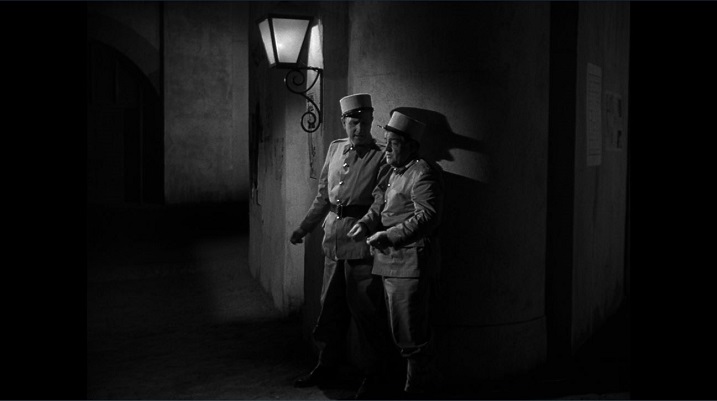 Abbott and Costello In The Foreign Legion (1950)
The bungling duo join the Foreign Legion to escape a misunderstanding in Algiers but find themselves in even deeper trouble.
There are a couple of different Abbott and Costello motifs in making up the plot and narrative of the film at play in The Foreign Legion. First their travelogue continues, going to Algeria. Then we have the opening act feeling like a completely different movie, leading us into a rather sharp right turn into what the movie really is. Lastly we have the case of mistaken identity plot, where Abbott & Costello are supposed to be these heavy hitter type intimidators that we clearly know they aren't. All in all, its some solid bits and a pretty fun little romp despite some dating and cultural appropriation of its time.
Abbott and Costello Meet The Invisible Man (1951)
Two detective-school graduates (Bud Abbott, Lou Costello) help a framed boxer who can make himself disappear.
In the lexicon of the "Abbot and Costello Meet" series, you'd think they all go together, but they don't. There are the monster ones, but even those don't compile properly. One that is proper is the Universal one with their characters that includes Frankenstein('s monster…sorry, I'm that asshole), the Invisible Man, the Mummy and the Keystone Kops. The Invisible Man is the "true" sequel to or follow up to Meet Frankenstein. Though the duo are playing completely different characters, its their chance to play around in the genre for a little bit and revolves around boxing. Its a fun movie, proving to be more than just a victory lap from Frankenstein and ultimately feeling like its own film, standalone from its predecessor.
Video
Encoding: MPEG-4 AVC
Resolution: 1080p
Aspect Ratio: 1.37:1
Layers: BD-50
Clarity/Detail: Given the Invisible Man is has already been on Blu-ray before and the fact its tied to the monster movies, it tends to get a bit more loving treatment and ultimately looks really good. Foreign Legion fares pretty well, too, having that typical softer touch to things, but it has some solid detail and runs among the rest in terms of quality.
Depth:  Spacing is pretty solid to go along with smooth, cinematic movements with no real issues stemming from motion distortions from rapid action.
Black Levels: Blacks run solid, very deep and closer to natural than a light gray. No issues with consuming and there are many terrific shadowed moment in Invisible Man. No crushing witnessed.
Color Reproduction: N/A
Flesh Tones: Skin tones carry a similar gray/white skin tone as is par for the course with the films in this set. Texture and facial details are best when close up but hold strong in more medium shots.
Noise/Artifacts: Clean.
Audio
Audio Format(s): English 2.0 Mono DTS-HD MA
Subtitles: English
Dynamics: Both films feature some nice mono tracks that have a good balance in the multiple aspect of music, vocals and effects. As always when there's a song its clearly its own, more muffly animal. The analog hiss is pretty tame here in this and the overall track seems to be in good condition.
Height: N/A
Low Frequency Extension: N/A
Surround Sound Presentation: N/A
Dialogue Reproduction: Vocals are pretty clear and have a lighter analog hiss as its backing layer. No issues with peaking when it comes to yelling and the like either.
Extras
Abbott and Costello in the Foreign Legion
Image Gallery (HD, 4:59)
Production Notes (HD, 1:39)
Abbott and Costello Meet the Invisible Man
Theatrical Trailer (HD, 1:58)
Image Gallery (HD, 6:21)
Production Notes (HD, 1:43)
Summary*
*These discs are not available as an individual release at this time. A Summary rating will be provided in the full set review posting.
A travelogue and a monster flick for these comedic adventures populate this disc. Or…its the one with boxing and wrestling. I get that these are being done in release order, but its funny when you see the similar things they would do in close proximity. Once again, the films look pretty well here on Blu-ray and sound just fine. This is Foreign Legion's first time on the format and it plays pretty good here, accompanied by a solid classic in Invisible Man.