December 4th, 2019 by Brandon Peters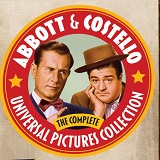 One of Shout! Factory's more impressive releases this holiday season is definitely the Abbott & Costello: The Complete Universal Pictures Collection. This truly is an all-timer set, collecting 28 of the legendary comedy duos' films. Bud Abbott and Lou Costello did 36 feature films altogether, so you're getting pretty much everything here. Yes, that does mean if you're a Classic Monsters fan, you're getting Abbott & Costello Meet Frankenstein for the bazillionth time (As well as the other monster films for the ga-jillionth time). Given the enormity of this box set and the fact that we do things right over here at Why So Blu, its going to take a while to plow through these 28 films and accompanying bonus material spread out over 15 discs. We'll be taking a disc-by-disc approach (2 Films each disc, Disc 15 is all bonus material) culminating in a "Full" review of the entire set featuring links to quickly navigate from film-to-film/disc-to-disc. This review focuses on Disc 12 featuring Comin' Round The Mountain (1951) and Lost in Alaska (1952).
Comin' Round The Mountain (1951)
A singer (Dorothy Shay), a magician (Lou Costello) and their agent (Bud Abbott) enter a Kentucky mountain family feud.
Comin' Round the Mountain has our duo, but the plot is much more focused on the Lou Costello character. And if anything, props don't go enough to the career of Bud Abbott in playing one of the greatest (If not THE greatest) straight man of all time. Lou Costello gets more of the showy roles and the camera loves him because of his physical comedy and the way he can act with just his face. But, Abbott is never phased and keeps to his role and knows his part in making it work. In Comin' Round the Mountain we get another sort of old west story with the hunt for gold, promised marriages and the like. There is also a wild side plot with magic elixirs and voodoo dolls.
Lost In Alaska (1952)
Two greenhorns (Bud Abbott, Lou Costello) on the lam join a gold prospector in the Klondike.
As I mentioned on the last disc, its interesting the pairings of these discs wind up looking somewhat by design, though they are merely following a release order. Between this and Comin' Round the Mountain, the duo did Jack and the Beanstalk, so it wasn't instantly to one another. However, they both oddly feature weird arranged marriage stuff and gold claiming and the like. This also finds the duo having not mistaken identity but mistaken actions as they are wanted for a murder (Of a man still alive) and try their best to clear things. This one also takes place in 1890, making it oddly a neat little period piece as well.
Video
Encoding: MPEG-4 AVC
Resolution: 1080p
Aspect Ratio: 1.37:1
Layers: BD-50
Clarity/Detail: Both films fair pretty much similar to many on this set. Comin' Round the Mountain has a bit of a softer appearance. Details wind up being admirable on both with good clarity. The prints used for the movies are in solid condition. If you've been okay with the films on this set up to this point, you'll be just fine here.
Depth:  Some rather decent depth consistent with the other films in the set so far. Movements are smooth and cinematic with no problematic blurs or jitters with rapid motion.
Black Levels: Blacks are pretty deep and provide plenty of good instances of shadow and assistance in defining the crispness of a character or object on screen. No crushing witnessed.
Color Reproduction: N/A
Flesh Tones: Skin tones carry a similar gray/white skin tone as is par for the course with the films in this set. Texture and facial details are best when close up but hold strong in more medium shots.
Noise/Artifacts: Clean.
Audio
Audio Format(s): English 2.0 Mono DTS-HD MA
Subtitles: English
Dynamics: Both films feature their original theatrical mono presentations that utilize their analog source with a little vinyl-like hiss in the back. These two films feature them being a a little heavier, but it can't keep it from having a nice balance, but like the rest of the movies, the low frequency sounds are a bit of a nonfactor.
Height: N/A
Low Frequency Extension: N/A
Surround Sound Presentation: N/A
Dialogue Reproduction: Vocals are clear, with some nice analog hissing playing a ambient foundational role. Some minor peaking occurs with screaming and such.
Extras
Comin' Round The Mountain
Image Gallery (HD, 3:49)
Production Notes (HD, 1:47)
Lost In Alaska
Theatrical Trailer (SD, 2:14)
Image Gallery (HD, 5:16)
Production Notes (HD, 1:27)
Summary*
*These discs are not available as an individual release at this time. A Summary rating will be provided in the full set review posting.
The twelfth disc in this set features some more westernized entries, though not straight traditional ones in the hardcore genre nuts sense. Both feature a decent presentation that feels right up to par with the rest of the set. Its light on the extras, though for films this old, an image gallery, production notes and (if you can get one) trailer are pretty sufficient.