December 4th, 2019 by Brandon Peters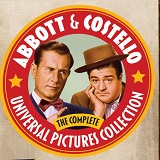 One of Shout! Factory's more impressive releases this holiday season is definitely the Abbott & Costello: The Complete Universal Pictures Collection. This truly is an all-timer set, collecting 28 of the legendary comedy duos' films. Bud Abbott and Lou Costello did 36 feature films altogether, so you're getting pretty much everything here. Yes, that does mean if you're a Classic Monsters fan, you're getting Abbott & Costello Meet Frankenstein for the bazillionth time (As well as the other monster films for the ga-jillionth time). Given the enormity of this box set and the fact that we do things right over here at Why So Blu, its going to take a while to plow through these 28 films and accompanying bonus material spread out over 15 discs. We'll be taking a disc-by-disc approach (2 Films each disc, Disc 15 is all bonus material) culminating in a "Full" review of the entire set featuring links to quickly navigate from film-to-film/disc-to-disc. This review focuses on Disc 13, featuring Abbott & Costello Go To Mars (1953) and Abbott & Costello Meet Dr. Jekyll & Mr. Hyde (1953).
Abbott & Costello Go To Mars (1953)
Bud and Lou find themselves hurtling through space with an escaped gangster, eventually landing on a strange planet.
You know how people like to complain about "inaccurate movie titles" like it matters or something. You know, like Jason Takes Manhattan. How come nobody is talking about Abbott and Costello Go To Mars? Ah, yeah, cuz its not on Netflix and was made when there was no color and before 1999. Anyway, yeah, they go to Venus in this movie. But, no matter, its 1950s goofy sci fi. And while I can acknowledge this is probably a lower point to many with Abbott and Costello, I have a geeky nostalgia and apologist mindset with this stuff as I just relish in the sets, costumes and ideas of what "futuristic and spacey" was once to a generation. Overall, its fun enough and works on at least a core level of their comedy for me.
Abbott & Costello Meet Dr Jekyll and Mr Hyde (1953)
Policemen Slim (Bud Abbott) and Tubby (Lou Costello) go to London and meet a doctor (Boris Karloff) and his evil alter ego.
Remember those "Meet the Monsters" movies that "don't count". Well, here's one of those bunch. Oddly it brings back Boris Karloff who was in another monster meeting that didn't count (And had his name in the title). This film basically follows the Robert Louis Stevenson book, adding Abbott and Costello to be characters in this mix. And in what seems like low hanging fruit, but not commonly used at all for their names reflecting their appearance, they play characters called Slim and Tubby (Sigh). A fun factoid is that this movie was originally given an X rating just for the mere ferocity of Mr Hyde's look. They would faint if they saw what got by today. Though, they'd probably laugh that smoking gets you a harsher rating nowadays, so its all even.
Video
Encoding: MPEG-4 AVC
Resolution: 1080p
Aspect Ratio: 1.37:1
Layers: BD-50
Clarity/Detail: Abbott and Costello Meet Dr Jekyll and Mr Hyde, Go To Mars and transfer to Blu-ray with a solid appearance and pretty good overall with nice details and crispness abound. The prints do have their softer moments to them and can have some noticeable aging, but overall I found these, even moreso Jekyll and Hyde, to be of the best of the bunch when it comes to this set.
Depth:  There's a solid little depth of field on display with good spacing on characters and backgrounds. Movements are smooth and cinematic with no problematic blurs or jitters with rapid motion.
Black Levels: Blacks are pretty rich and in the case of Jekyll and Hyde they really feel their own character of enrichening the picture. Mars tends to have a brighter look, but with some good sharper images thanks to how they appear. No crushing witnessed.
Color Reproduction: N/A
Flesh Tones: Skin tones carry a similar gray/white skin tone as is par for the course with the films in this set. Texture and facial details are best when close up but hold strong in more medium shots.
Noise/Artifacts: Clean.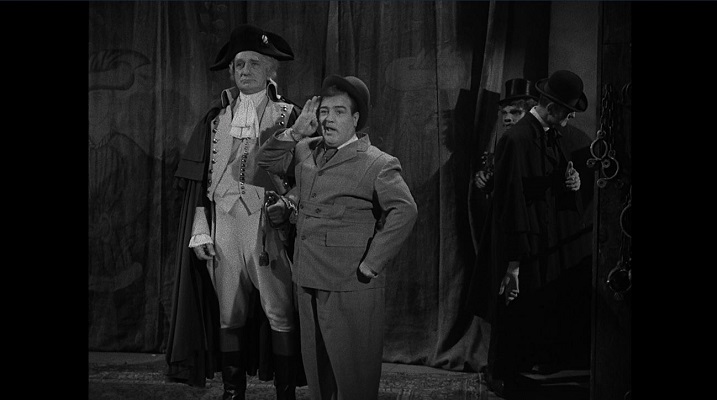 Audio
Audio Format(s): English 2.0 Mono DTS-HD MA
Subtitles: English
Dynamics: These are on both sides of the spectrum when it comes to their quality in regards to their relation to the rest of the films in this set. Jekyll features heavier hiss, though its perfectly fine and watchable. They are balanced pretty good and do fare well with their bits of peaking, but this is your typical experience I've written about over and over with these films.
Height: N/A
Low Frequency Extension: N/A
Surround Sound Presentation: N/A
Dialogue Reproduction: Vocals are plenty audible with solid clarity given their age and source.
Extras
Abbott & Costello Go To Mars
Theatrical Trailer (HD, :53)
Image Gallery (HD, 5:08)
Production Notes (HD, 1:33) 
Abbott & Costello Meet Dr Jekyll and Mr Hyde
Audio Commentary
With film historians Tom Weaver and Richard Scrivani
Theatrical Trailer (SD, 1:27)
Image Gallery (HD, 5:59)
Production Notes (HD, 1:35)
Summary*
*These discs are not available as an individual release at this time. A Summary rating will be provided in the full set review posting.
Overall, this is a really fun disc. I'm one who likes Go To Mars, warts and all, which might be an unpopular opinion. And the Dr Jekyll and Mr Hyde story is quite a lot of fun and nice spin on the old tale. The quality here is a bit of the back and forth of the typical transfers and audio you see here with Hyde having the better performance overall. Extras find a commentary here so it has a leg up.