December 4th, 2019 by Brandon Peters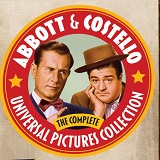 One of Shout! Factory's more impressive releases this holiday season is definitely the Abbott & Costello: The Complete Universal Pictures Collection. This truly is an all-timer set, collecting 28 of the legendary comedy duos' films. Bud Abbott and Lou Costello did 36 feature films altogether, so you're getting pretty much everything here. Yes, that does mean if you're a Classic Monsters fan, you're getting Abbott & Costello Meet Frankenstein for the bazillionth time (As well as the other monster films for the ga-jillionth time). Given the enormity of this box set and the fact that we do things right over here at Why So Blu, its going to take a while to plow through these 28 films and accompanying bonus material spread out over 15 discs. We'll be taking a disc-by-disc approach (2 Films each disc, Disc 15 is all bonus material) culminating in a "Full" review of the entire set featuring links to quickly navigate from film-to-film/disc-to-disc. This review focuses on Disc 14, featuring Abbott & Costello Meet the Keystone Kops (1955) and Abbott & Costello Meet The Mummy (1955).
Abbott & Costello Meet the Keystone Kops (1955)
Two suckers (Bud Abbott, Lou Costello) follow a con man (Fred Clark) to 1912 Hollywood, where they get even as stuntmen.
Turns out they ARE somewhat the titular characters they are meeting in the movie. This one plays the whole game of movies about people who make movies. There is also a bit of Abbott and Costello being conned into the plot of this movie as well as them having a bit of a case of mistaken identity. In Keystone Kops they happen to wander into the stuntman business. As a matter of fact, Universal almost had them change the title of the film to be "Meet the Stuntmen" as they felt Keystone Kops weren't too big of a thing anymore. Anyway, the film is solid, has some good slapstick bits and the duo fits some decent routines in the mix.
Abbott & Costello Meet the Mummy (1955)
The bumbling comedians try to make a buck guarding a valuable mummy, before they're drawn into a plot by cult worshippers to steal a cursed medallion.
Closing out the set out, fittingly, is Abbott and Costello Meet the Mummy. Its the final film in the "Meets the" series, the final film in their classic monster run ins and the final film the duo made with Universal Pictures. For Abbott and Costello, its the penultimate motion picture for them as they'd only make one more film together before Lou Costello's death in 1959 (Consequently, that film Dance With Me, Henry was Bud Abbott's final screen role in movie or television). This take on the classic Mummy tale has its warts, bells, whistles to show they know the genre at hand, but it all feels a hair tired at this point (And probably was before this). Though, its no slouch on the sets and costumes used in the film as they are pretty spectacular.
Video
Encoding: MPEG-4 AVC
Resolution: 1080p
Aspect Ratio: 1.85:1
Layers: BD-50
Clarity/Detail: Hey, hey, hello 1955 and your widescreen picture. More Abbott. More Costello. More space! These both have rather handsome and very cinematic looking images. They have good definition, crispness and detail running around through them. Also they have a nice layer of grain left intact to allow all of that.
Depth:  Depth of field is the best of the bunch here as the grain left intact allows a nice pushback and distance in the image. Motion is smooth, natural and finds no distortions of any kind.
Black Levels: Blacks are pretty deep and provide plenty of good instances of shadow and assistance in defining the crispness of a character or object on screen. No crushing witnessed.
Color Reproduction: N/A
Flesh Tones: Skin tones carry a similar gray/white skin tone as is par for the course with the films in this set. Texture and facial details are best when close up but hold strong in more medium shots.
Noise/Artifacts: Clean.
Audio
Audio Format(s): English 2.0 Mono DTS-HD MA
Subtitles: English
Dynamics: Keystone Kops and The Mummy both have pretty similar and very adequate audio presentations. These feel a little more pristine in a sense and I don't know if its just the quality of the source getting better or the shape they were kept in. There is a good balance and focus in this mix that finds vocals, effects and music wandering in and out of play with a fine sense of where they belong in the field of action.
Height: N/A
Low Frequency Extension: N/A
Surround Sound Presentation: N/A
Dialogue Reproduction: Vocals are pretty clear, with a very faint hiss on the backdrop.
Extras
Abbott & Costello Meet the Keystone Kops
Image Gallery (HD, 4:37)
Production Notes (HD, 1:37) 
Abbott & Costello Meet the Mummy
Audio Commentary
Theatrical Trailer (SD, 2:09)
Image Gallery (HD, 5:51)
Production Notes (HD, 1:51)
Summary*
*These discs are not available as an individual release at this time. A Summary rating will be provided in the full set review posting.
Welp, we've reached the end. Keystone Kops and The Mummy certainly feel like things have run their course a hair. Though out of context and not in marathon viewing or living in the era, they are likely more enjoyable. Their presentations might be the most impressive of the lot here, but most of the Meets The movies seem to have the best care given to them anyway. Man, it feels so long since these 2 joined the military by force or accident and I am still relieved.