December 4th, 2019 by Brandon Peters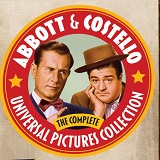 One of Shout! Factory's more impressive releases this holiday season is definitely the Abbott & Costello: The Complete Universal Pictures Collection. This truly is an all-timer set, collecting 28 of the legendary comedy duos' films. Bud Abbott and Lou Costello did 36 feature films altogether, so you're getting pretty much everything here. Yes, that does mean if you're a Classic Monsters fan, you're getting Abbott & Costello Meet Frankenstein for the bazillionth time (As well as the other monster films for the ga-jillionth time). Given the enormity of this box set and the fact that we do things right over here at Why So Blu, its going to take a while to plow through these 28 films and accompanying bonus material spread out over 15 discs. We'll be taking a disc-by-disc approach (2 Films each disc, Disc 15 is all bonus material) culminating in a "Full" review of the entire set featuring links to quickly navigate from film-to-film/disc-to-disc. This review focuses on Disc 6 featuring In Society (1944) and Here Come The Co-eds (1945).
In Society (1944)
Two zany plumbers and a female cabbie attend a high-society party, but no one knows they weren't on the guest list.
All righty, this is a pretty darn funny movie. You get Abbott and Costello Meet The 1% of the 1940s pretty much. They play around and poke fun at the upper class quite well. The film also houses a few of their famous routines within its narrative. They actually weave in neatly and don't stop the film dead in its tracks just to pull it off. I would probably argue in favor of In Society being one of the very best in this set as it really stands alone in terms of sticking out among a 28 film set (That sees LOTS of repetition, honestly). When tracking through this set, In Society was a nice rejuvenator in terms of plugging on to get through.
Here Come The Co-eds (1945)
Caretakers (Bud Abbott, Lou Costello) stage a concert, wrestling match and basketball game to save a women's college.
If this was 1985 and not 1945, you'd probably enter a movie called Here Come the Co-eds expecting to see lots of boobs and here some of the douchiest jokes possible. Instead, here's ABBOTT AND COSTELLO! And the title was probably innocent in its day until constant riffing on stuff like that in the 80s made one's mind lead there. This basically sums up to Abbott and Costello Save The Girls' School. Its fun, has some nice character and works decently. Its in the shadow of recently watching In Society which is no fault of its own. They do use this film to put some of their bits into it, even refurbishing one from their first movie.
Video
Encoding: MPEG-4 AVC
Resolution: 1080p
Aspect Ratio: 1.37:1
Layers: BD-50
Clarity/Detail: In Society and Here Come the Co-eds don't produce the strongest of images in this set when it comes to their transfers.  Their images are more than passable, and there are some impressive details to be found (Some of the men's jackets showcase some impressive texture and patter in static shots). There is a brighter look to them here but shading and darkness does saturate well and looks more natural. If you're paying attention on the set these both look up to snuff for it, but may be on the weaker end for the overall ranking of transfers.
Depth:  Some decent, slightly above average space and freeness throughout the frame to make-up the depth of field in the image. Motion is cinematic, natural and no distortions found in the more rapid action moments.
Black Levels: Blacks are pretty solid and on the natural end for both films, providing good shadow and definition for the image. No crushing witnessed.
Color Reproduction: N/A
Flesh Tones: Skin tones carry a similar gray/white skin tone as is par for the course with the films in this set. Texture and facial details are best when close up but hold strong in more medium shots.
Noise/Artifacts: Clean.
Audio
Audio Format(s): English 2.0 Mono DTS-HD MA
Subtitles: English
Dynamics: Both Here Come the Co-eds and In Society arrive with their original theatrical mixes. Unfortunately the sourcing and aging of both are pretty opposite. Its not terrible, but Co-eds definitely showcases a more analog hiss heavy film with it much more present throughout and even more on the back half. In Society has a much crisper, clearer and spacier sound to it, being in possible better shape or just a better put together production.
Height: N/A
Low Frequency Extension: N/A
Surround Sound Presentation: N/A
Dialogue Reproduction: Vocals are pretty clear, with a very faint hiss on the backdrop in terms of Society, Co-eds not as much.
Extras
In Society
Theatrical Trailer (SD, 1:51)
Image Gallery (HD, 4:50) 
Production Notes (HD, 1:51) 
Here Come The Co-eds
Theatrical Trailer (SD, 1:48)
Image Gallery (HD, 3:54) 
Production Notes (HD, 1:33)
Summary*
*These discs are not available as an individual release at this time. A Summary rating will be provided in the full set review posting.
In Society is one of my favorite films in the set so far and Here Come The Co-eds is another film in this set that I've watched. Of the discs so far, this one features a bit weaker end of the transfers and the audio, but they are still perfectly watchable and passable on the scale, coming in above average with ease.