December 4th, 2019 by Brandon Peters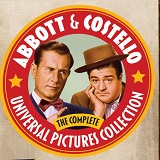 One of Shout! Factory's more impressive releases this holiday season is definitely the Abbott & Costello: The Complete Universal Pictures Collection. This truly is an all-timer set, collecting 28 of the legendary comedy duos' films. Bud Abbott and Lou Costello did 36 feature films altogether, so you're getting pretty much everything here. Yes, that does mean if you're a Classic Monsters fan, you're getting Abbott & Costello Meet Frankenstein for the bazillionth time (As well as the other monster films for the ga-jillionth time). Given the enormity of this box set and the fact that we do things right over here at Why So Blu, its going to take a while to plow through these 28 films and accompanying bonus material spread out over 15 discs. We'll be taking a disc-by-disc approach (2 Films each disc, Disc 15 is all bonus material) culminating in a "Full" review of the entire set featuring links to quickly navigate from film-to-film/disc-to-disc. This review focuses on Disc 7 featuring The Naughty Nineties (1945) and Little Giant (1946).
The Naughty Nineties (1945)
Two guys (Bud Abbott, Lou Costello) help a showboat captain outsmart gamblers. Includes the "Who's on first?" routine.
Okay, so we'll get this right out of the way. THIS is the "Who's On First?" Movie. Yes, it had been used in the One Night in the Tropics movie before. This film contains the full on version and the one that always is referred to, played in clips shows…basically THE go to Who's On First. The film is full of some of the best Abbott and Costello routines, reusing some and debuting others to celluloid. And the film is a pretty solid gut buster too. Siting at the top of the heap with Abbott and Costello Meet Frankenstein, this is probably one to argue as the best movie in this set (And all-time for the duo).
Little Giant (1946)
A city slicker (Bud Abbott) hires a country bumpkin (Lou Costello) to sell vacuum cleaners.
With Little Giant we get a unique circumstance and a bit of a nice breather. Abbott and Costello don't work as a duo in this film and have rather separate roles. It makes for a completely unique film up to this point and plenty more enjoyable as it adds a bit of unpredictability. Its not like they aren't ever together in this film, but the separation was more due to offscreen issues rather than a change in direction. The two didn't much like each other at the time and would break up not too long after, having some bitter animosity. Sucks, but we wound up with a pretty solid film out of it in Little Giant.
Video
Encoding: MPEG-4 AVC
Resolution: 1080p
Aspect Ratio: 1.37:1
Layers: BD-50
Clarity/Detail: Naughty Nineties is on the lower end of the spectrum for these transfers, with lighter details and a softer picture overall. Whereas Little Giant is one of the best looking in the whole set with plenty of textures visible in the frame from an reasonable camera shot distance. Nineties plays just fine, mind you, but it does flounder in comparison to Little Giant.  Both prints used for this disc are in pretty good shape with some ticks here and there.
Depth:  
Black Levels: Blacks are deep, natural and retain a heavier side of the grain. No detail is sucked away problematically and no crushing was witnessed on this viewing.
Color Reproduction: N/A
Flesh Tones: Skin tones carry a similar gray/white skin tone as is par for the course with the films in this set. Texture and facial details are best when close up but hold strong in more medium shots.
Noise/Artifacts: Clean.
Audio
Audio Format(s): English 2.0 Mono DTS-HD MA
Subtitles: English
Dynamics: And now in the case of audio, Little Giant takes the lead, being a nice, loud, clear and more intricate presentation with its mono mix. Naughty Nineties finds more of an analog hiss and some slight peaking coming from the source when people yell or things in the action get rather loud. Overall, its fine, just funny that these presentations are kind of opposites of one another.
Height: N/A
Low Frequency Extension: N/A
Surround Sound Presentation: N/A
Dialogue Reproduction: Vocals are plenty clear and audible.
Extras
The Naughty Nineties
Audio Commentary
Image Gallery (HD, 4:33)
Production Notes (HD, 1:35)
Little Giant
Audio Commentary
Theatrical Trailer (SD, 2:07)
Image Gallery (HD, 4:37)
Production Notes (HD, 1:31)
Summary*
*These discs are not available as an individual release at this time. A Summary rating will be provided in the full set review posting.
The Naughty Nineties is flat out one of the best films on the disc and Little Giant is up there, too, making this one a strong contender for disc of the set. Both come with transfers and audio that one is clearly better than the other at, but not top notch at both. Its kind of funny, but overall they are more than suitable for solid Blu-ray viewing.