December 5th, 2019 by Brandon Peters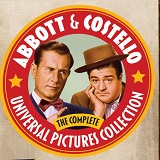 One of Shout! Factory's more impressive releases this holiday season is definitely the Abbott & Costello: The Complete Universal Pictures Collection. This truly is an all-timer set, collecting 28 of the legendary comedy duos' films. Bud Abbott and Lou Costello did 36 feature films altogether, so you're getting pretty much everything here. Yes, that does mean if you're a Classic Monsters fan, you're getting Abbott & Costello Meet Frankenstein for the bazillionth time (As well as the other monster films for the ga-jillionth time). Given the enormity of this box set and the fact that we do things right over here at Why So Blu, its going to take a while to plow through these 28 films and accompanying bonus material spread out over 15 discs. We'll be taking a disc-by-disc approach (2 Films each disc, Disc 15 is all bonus material) culminating in a "Full" review of the entire set featuring links to quickly navigate from film-to-film/disc-to-disc. This review focuses on Disc 8 featuring The Time of Their Lives (1946) and Buck Privates Come Home (1947).
The Time of Their Lives (1946)
A psychiatrist (Bud Abbott) stays in a mansion haunted by prankish ghosts (Lou Costello, Marjorie Reynolds) from the Revolutionary War.
As mentioned on the previous film on the previous disc, the duo was having a spat during this time. They appear as just roles in the cast in this film and only share an exchange during the opening of the film. Other than that, this film features no real routines and is pretty straightforward. Its a period piece, heavy on some ghost-horror effects of the time. Its also not having a goal of being a complete comedy through and through In a set like this, its a welcome change of pace to catch your breath On its on at a standalone time, it might set a false expectation as it has the Who's On First guys in it, but getting past that, its just a pretty solid film.
Buck Privates Come Home (1947)
Returning from World War II, two bumbling veterans (Bud Abbott, Lou Costello) try to find a home for an orphan (Beverly Simmons).
And now Buck Privates Come Home marks a return of Abbott and Costello as a comedic duo on celluloid. This followed a breakup of the pair over some agitation with one another. In a clever move, they've dug back to the well of their breakout hit to announce that they were back in (funny) business. For me, that means they were headed back to the military. But its okay, I've had a long string of films and discs without that MO. And for this movie, it didn't really copy those accidental service adventures. And the film played through some of their routines and I actually found it quite fun and not as tiresome as I had felt on these early on in my journey through this set.
Video
Encoding: MPEG-4 AVC
Resolution: 1080p
Aspect Ratio: 1.37:1
Layers: BD-50
Clarity/Detail: Buck Privates Come Home is the star of this double disc over The Time of Their Lives. It has a nice crisp image with easy to visually navigate through levels of detail showcasing. That primarily has to do with its technique and the source just offering a bright picture with a more grounded production. There are a lot of ghost effects on display in The Time of Their Lives and that can add a softer touch and a little bit more smothered/blurry detail. Overall its plenty passable and solid watch, but those things need to be noted.
Depth:  Solid depth work here on both as grain is pretty much kept intact, able to give distance a better feel. No issues occur with rapid movements and The Time of Their Lives already has a soft picture so motion isn't causing anything you would see there.
Black Levels: Blacks are deep, natural and retain a heavier side of the grain. No detail is sucked away problematically and no crushing was witnessed on this viewing.
Color Reproduction: N/A
Flesh Tones: Skin tones carry a similar gray/white skin tone as is par for the course with the films in this set. Texture and facial details are best when close up but hold strong in more medium shots.
Noise/Artifacts: Clean.
Audio
Audio Format(s): English 2.0 Mono DTS-HD MA
Subtitles: English
Dynamics: Both The Time Of Their Lives and Buck Privates Come Home feature some the best audio presentations found on this release. The clarity of them is quite remarkable and they both feel pretty free and loose, with a good balance of the effects, vocals and music doing their part and not stepping on one another's toes. The analog hissing is only very slight on the two movies, making for a nice, more modern touch to them.
Height: N/A
Low Frequency Extension: N/A
Surround Sound Presentation: N/A
Dialogue Reproduction: Vocals are plenty clear and crisp with no real peaking or hissing source issues taking away from any good conversation led scenes.
Extras
The Time Of Their Lives
Audio Commentary
By film historian Frank Thompson
Theatrical Trailer (SD, 2:30)
Image Gallery (HD, 4:24)
Production Notes (HD, 1:59) 
Buck Privates Come Home
Theatrical Trailer (SD, 2:14)
Image Gallery (HD, 4:07) 
Production Notes (HD, 1:27)
Summary*
*These discs are not available as an individual release at this time. A Summary rating will be provided in the full set review posting.
Another disc with a solid pair of movies, one offering a rather different approach and type of film than you'll find on much of this box set. Buck Privates Come Home both looks and sounds of the best this release can offer and is a standout in terms of the set. Extras again are pretty much a commentary, images and notes. But don't you worry, there is plenty on the 15th disc.