December 5th, 2019 by Brandon Peters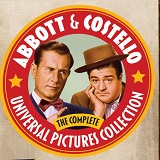 One of Shout! Factory's more impressive releases this holiday season is definitely the Abbott & Costello: The Complete Universal Pictures Collection. This truly is an all-timer set, collecting 28 of the legendary comedy duos' films. Bud Abbott and Lou Costello did 36 feature films altogether, so you're getting pretty much everything here. Yes, that does mean if you're a Classic Monsters fan, you're getting Abbott & Costello Meet Frankenstein for the bazillionth time (As well as the other monster films for the ga-jillionth time). Given the enormity of this box set and the fact that we do things right over here at Why So Blu, its going to take a while to plow through these 28 films and accompanying bonus material spread out over 15 discs. We'll be taking a disc-by-disc approach (2 Films each disc, Disc 15 is all bonus material) culminating in a "Full" review of the entire set featuring links to quickly navigate from film-to-film/disc-to-disc. This review focuses on Disc 10 featuring Mexican Hayride (1948) and Abbott and Costello Meet The Killer, Boris Karloff (1950).
Mexican Hayride (1948)
A con man (Bud Abbott) finds a fall guy (Lou Costello) for a stock swindle and a mine scam.
According to history, Abbott and Costello both didn't want to make this film. They cited some different details with their interests and were suspended for being against it. No matter, this movie took from a musical, but used and performed zero songs for it. Instead, there are Abbott and Costello routines that have been worked into. I don't know if they are in place of the songs or not, but they are a different addition for it. They also do their "Who's On First" routine again, dressed up in a costume so as for you to not quite tell its the same joke. If you're keeping track, that's three times they've done it in this set. Overall, this one wasn't much to shake for me, and I found the mine stuff to be similar to the old west hunt for gold kind of plot ideology we've seen a couple times already, at least in setting and feel for myself for the most part.
Abbott and Costello Meet The Killer, Boris Karloff (1950)
The comic duo star as hotel bellhops embroiled in a murder mystery with a sinister con artist played by horror icon Boris Karloff. Typical high-spirited buffoonery.
I don't think Meet The Killer, Boris Karloff is a bad film per se, but young me rented this for a whole slew of reasons, but damnit it was Karloff's name in the title that I couldn't wait to see Abbott and Costello spar off with. Spoiler alert, he's not in much of this movie at all. Yes, he's awesome when he shows up, but Karloff was a late addition to the film and the title. This was a Bob Hope vehicle, retrofitted for Abbott and Costello and using just "killer" or "killers" in the title. Karloff's role was for a woman gyspsy. Once he took the role and they refit it for him, they then got so excited they popped his name in the title. Its nice and all, but isn't at all what the film really is with this change. And coming off the heat that is Meets Frankenstein, you can directly see this cheap ass marketing tactic with the title now and shake your head in disapproval.
Video
Encoding: MPEG-4 AVC
Resolution: 1080p
Aspect Ratio: 1.37:1
Layers: BD-50
Clarity/Detail: The Boris Karloff feature fares better in just a little over Mexican Hayride. The Hayride has a source that just a little more aged, keeping it from flourishing with lots of detail. But, this like the rest of the set so far is merely fine. I think the Karloff feature does showcase some good detail and really lovely shadow. When its on, its on pretty good, but most of all, its the very example of just above average for this set.
Depth:  Depth is okay, just hanging out around average. There is nothing to wow, but the camera and characters move clean and fluidly and it features no motion distortions of any kind.
Black Levels: Blacks are deep, natural and retain a heavier side of the grain. No detail is sucked away problematically and no crushing was witnessed on this viewing.
Color Reproduction: N/A
Flesh Tones: Skin tones carry a similar gray/white skin tone as is par for the course with the films in this set. Texture and facial details are best when close up but hold strong in more medium shots.
Noise/Artifacts: Clean.
Audio
Audio Format(s): English 2.0 Mono DTS-HD MA
Subtitles: English
Dynamics: Both features, Karloff and Hayride (Karloff's Hayride?) feature a gets the job done and just a little flash kind of audio tracks. There's a light analog hiss at the base and it clearly excels more in the dialogue exchanges than it does with the action. Everything features a good balance and space to breathe within the analog hiss.
Height: N/A
Low Frequency Extension: N/A
Surround Sound Presentation: N/A
Dialogue Reproduction: Vocals are plenty clear and audible, being as effective as they can given their age.
Extras
Mexican Hayride
Audio Commentary
Theatrical Trailer (SD, 2:14)
Image Gallery (HD, 4:50)
Production Notes (HD, 1:35) 
Abbott & Costello Meet The Killer, Boris Karloff
Audio Commentary
By film historian Troy Howarth
Image Gallery (HD, 5:59)
Production Notes (HD, 1:51)
Summary*
*These discs are not available as an individual release at this time. A Summary rating will be provided in the full set review posting.
Welp, this is a disc that sounds a lot better than it is. Both films coast on by, kind of forgettable in the way of everything else in this set. Karloff himself would even star in a better Meets The monster movie down the road. In terms of transfers and audio, the disc is a pretty solid ho hum and isn't going to wow anyone but holds up with the rest of the set be it for better or for worse.