December 5th, 2019 by Brandon Peters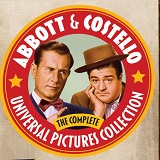 One of Shout! Factory's more impressive releases this holiday season is definitely the Abbott & Costello: The Complete Universal Pictures Collection. This truly is an all-timer set, collecting 28 of the legendary comedy duos' films. Bud Abbott and Lou Costello did 36 feature films altogether, so you're getting pretty much everything here. Yes, that does mean if you're a Classic Monsters fan, you're getting Abbott & Costello Meet Frankenstein for the bazillionth time (As well as the other monster films for the ga-jillionth time). Given the enormity of this box set and the fact that we do things right over here at Why So Blu, it took a little while to plow through these 28 films and accompanying bonus material spread out over 15 discs. This review began by taking a disc-by-disc approach (2 Films each disc, Disc 15 is all bonus material). This final or "general" version of the review is here to collect links to all of the reviews for the 15 discs to have them in one place for easier navigation. If you enjoyed these reviews and are interested in picking up this set, please think about using our paid Amazon link below. Any time you do, it is very much appreciated.
Films
Here is a complete list of films featured in this set.
Video/Audio
This time around, my film reviews were rather on the brief end, due to the enormity of the set. But the following are links to all of the reviews for the films/discs and their performances.
Extras
Each disc contains at the very least an image gallery and production notes for each movie. There are many trailers and commentaries scatter throughout as well. As for the meatier, featurette based extras as well as packaging extras, they are found on disc 15 and covered in this review.
Summary
Shout! Factory's Abbott and Costello set is an enormous bundle and impossible not to recommend to a hardcore fan. It doesn't feature the world's greatest batch of fresh new transfers, but most of these do more than get the job done. You gotta face it that they are very old films and the work to be done on them to full restore probably doesn't warrant the cost for what the return sales would be. Regardless, the bonus disc impresses as well, making up where archival material there is not. Overall, if you're wanting to spend the money on the set, you're pretty much getting your money's worth. And if you break the cost down by movie, you're definitely getting it there.