June 22nd, 2022 by Brandon Peters
Eddie Murphy's 1992 romantic dramedy film Boomerang is one I've been eagerly awaiting a Blu-ray debut for over the years. Its pretty star studded and one of his best "I'm kind of the straight man now, no longer the goofball" movies of his that he would go on to do throughout the 90s. Paramount is finally putting the film (along with the Richard Pryor team up Harlem Nights) on Blu-ray on June 28th. The film will come with some deleted scenes and a commentary form its director. You can pre-order yourself a copy of the flick, which is super cheap for day one pricing, by using the paid Amazon Associates link that follows this very review. Boomerang is a film I hope people take to revisiting with its 30th anniversary approaching and maybe they (or you) can do so with this brand new Blu-ray edition.
.

Film
A cocky ad executive, Marcus (Eddie Murphy) has a reputation as a ladies' man. However, Marcus gets a taste of his own medicine when a merger finds him working under the beautiful Jacqueline (Robin Givens), who has a similarly cavalier attitude about romance. Marcus and Jacqueline become involved, but he is put off by her noncommittal approach to their relationship. Meanwhile, Marcus also begins to develop feelings for the pretty Angela (Halle Berry), who is more thoughtful than Jacqueline.
Boomerang is probably one of Eddie Murphy's best "straight man" in a comedy turns. This is him dipping into the romantic comedy field and it perfectly encapsulates his skills as both a comedic and dramatic force within the same role and film. His charm lifts off and just showcases why he's been one of the biggest stars of our time and was top of the world for a few decades. Murphy takes on this with style, sexiness, silliness and an endearing nature that helps lift it off the ground.
Eddie Murphy supported by a rather all-star cast that digs right into the material too. Robin Givens chews up the scenery from the moment she flashes onto the frame. There's lots for her to play around with, too. Halle Berry continues her march to superstardom with a really nice, compelling turn here. Early supporting turns for comedic powerhouses like David Alan Grier, Martin Lawrence and Chris Rock really come in handy to fill in where Eddie is looking for much more smooth avenues. And not to be forgotten, Geoffrey Holder, Eartha Kitt, John Witherspoon and Grace Jones all still every little moment they are given in the film and truly look like they are having a time getting to be over the top and play around in this film.
Eddie Murphy's 1992 film turns 30 in July and it held its own against 2 juggernauts at the box office that summer of release; both Batman Returns and A League of Their Own. Complete with a great cast, good adult drama, stars and a killer soundtrack, its quite easy to see why this movie was a big deal. Back then everyone went to see whatever Murphy was putting out, but this is quite possible is best output for more straightforward adult fare. Hopefully people will revisit this gem and check it out as it seems to maybe have fallen off the pop culture awareness map. Its definitely a more interesting movie, one that gives you laughs, but also somewhat challenges as our lead character isn't too perfect. What I'm trying to say is, I'm really hoping Boomerang comes back around.
Video
Encoding: MPEG-4 AVC
Resolution: 1080p
Aspect Ratio: 1.78:1
Layers: BD-50
Clarity/Detail:  Boomerang's debut on Blu-ray is one I've been waiting for, but comes off rather slightly disappointing. Its a nice image full of some good details, but it feels like so much more could have been done. They've cropped the image from 1.85:1 to 1.78:1 (Likely cuz that fits better with streaming services) and at times it feels like its an upconvert from DVD. Nonetheless, it is a nice improvement over DVD, just not the big jump one would be hoping for.
Depth:  Depth of field is different and just a little above average. Some of the more open interiors fairing better with some good scale and pushback. Movements and smooth and filmic with no issues regarding any sort of distortions from rapid moving characters or cameras.
Black Levels: Black levels are deep and bring a bit heavier, more noticeable grain in darker or nighttime scenes. Information still comes through to showcase textures and patterns on darker surfaces. No crushing witnessed.
Color Reproduction: Colors are pretty fun here and kept to a more natural appearance. Solid saturation and contrast really lets some of the more reds, greens, blues, violets and the like pop out.
Flesh Tones: Skin tones are natural and consistent from start to finish of the film. Facial features and textures are plenty discernible from close ups and most medium shots.
Noise/Artifacts: None
Audio
Audio Format(s): English 5.1 DTS-HD MA, German 2.0 Dolby Digital, French 2.0 Dolby Digital, Japanese 2.0 Dolby Digital
Subtitles: English, English SDH, German, French, Japanese
Dynamics: Boomerang features a rather bumping and kicking 5.1 track. The music tends to take over, but in a good way that never covers up any of the vocals or effects. Its mostly through the bass. This features some accurate sound travel to it as well as a nice, layered mix with good depth.
Height: N/A
Low Frequency Extension: As mentioned above, the music really brings the thunder and almost to a degree where some of the more notable deep sound effects pale in comparison to it.
Surround Sound Presentation: This is a more front heavy track, with the rear channels pumping music and mainly building ambiance. Volume placement and sound travel is pretty accurate to screen. Not too playful a mix, but one that gets right what it is supposed to for appropriate enhancement of viewing.
Dialogue Reproduction: Vocals are clear and crisp.
Extras
Boomerang comes with a redeemable digital code.
Audio Commentary
By Director Reginald Hudlin
Extended And Deleted Scenes with Optional Director's Commentary (SD, 4:51)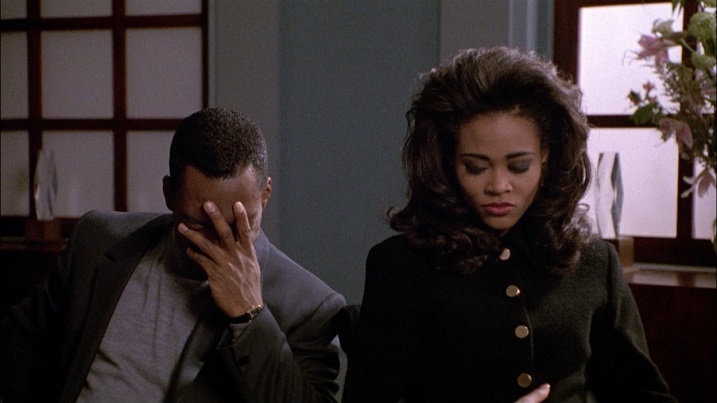 Summary
Boomerang is one of Eddie Murphy's top efforts but maybe his 2nd best movie of the 90s after Bowfinger. Paramount delivers the film on Blu-ray finally but with a rather average video presentation to go with a kickin' surround track. Its rather nice to have a feature commentary and some deleted scenes to accompany it. And its already at a price that is easy to recommend picking up.
This is a paid Amazon Associates link