June 23rd, 2022 by Brandon Peters
The Bad Guys has been a series with me for a few years, having younger ones. My son has been into it for quite a while and when it came to the movie coming out I got to be a "I know what this is" asset to my film friends who had no idea where this animated flick was coming from. And it release to solid reviews which, knowing the source material, didn't surprise me as it had them. Now its come home to 4K Ultra-HD Blu-ray where it can continue to find audience. They are touting this as a Collector's Edition primarily based on the fact it includes a brand new short as a bonus feature. The disc was released on June 21st, so you can order it now as you see fit. You can use the paid Amazon Associates link that follows the review if you'd like as well.
.

Film
After a lifetime of legendary heists, notorious criminals Mr. Wolf, Mr. Snake, Mr. Piranha, Mr. Shark and Ms. Tarantula are finally caught. To avoid a prison sentence, the animal outlaws must pull off their most challenging con yet — becoming model citizens. Under the tutelage of their mentor, Professor Marmalade, the dubious gang sets out to fool the world that they're turning good.
The Bad Guys is something newer and fresher in terms of kids animated movies that deliver a newer IP, kinda unique animating style and doesn't sit and crutch on pop culture references and pop songs to get you through the film.  Its not coasting, its purely delivering on bringing the characters and books to life and being its own brand through and through. The source material is trusted to do the job and the film itself is rewarding for having that confidence in moving forward and delivering.
It was fun to watch my son engage in the film, as its a property that is purely of his generation and getting to se it adapted into a movie. He was getting excited when story threads and character turns from the books were being incorporated and then showing appreciation for the adaptations changes made for the movie. Overall, he found himself very excited and satisfied by it. Not him, but my wife observed that this feels like an animated movie where animals and humans actively live and communicate with one another equally and I can't recall one that fully goes there.
As an adult, this film had all the fun of a heist movie. There were some well staged and executed set pieces, funny characters that all fit the puzzle, twists and turns…all the goods. The humor genuinely works too, and in more than just a wise-crack fashion. When it comes down to it, The Bad Guys isn't just a good pick for the kids or for the family, if you're just flat out looking for a fun new movie to watch, you should strongly consider it!
Video
Disclaimer: Screen captures used in the review are taken from the standard Blu-ray disc, not the 4K UHD Blu-ray disc.
Encoding: HEVC / H.265
Resolution: 4K (2160p)
Aspect Ratio: 2.39:1
Layers: BD-66
Clarity/Detail:  The Bad Guys appears to be a 4K upscale and not native 4K title. However, it still shows a nice bit of improvement over the standard Blu-ray disc. Saturation and contrast is definitely more noticeable and impressive. The image is more crisp, sharp and details/textures/patterns are a bit more apparent. While not a big "jump" from one format to another, if you're picking it up to own, this is the clear winner and best one to have.
Depth: Being a computer animated film, the work lends itself nicely to a 3 dimensional feel with good pushback and solid scale work. Motion is natural and smooth with no distortion issues from rapid camera work or character movement.
Black Levels: Blacks are deep and natural. They really do a good job of shadowing and contrasting to let the colors pop out. Nice outlines, textures and details come through. No crushing witnessed.
Color Reproduction: Colors really have a nice saturation and up their game from the standard Blu-ray. There's a good balance and contrast between restrained colors and ones that pop nicely. The guinea pig blue possessed eyes look really awesome and glow nicely here thanks to the HDR.
Flesh Tones: N/A
Noise/Artifacts: Clean.
Audio
Audio Format(s): English Dolby Atmos, Spanish 7.1 Dolby Digital, French 5.1 Dolby Digital
Subtitles: English SDH, Spanish, French
Dynamics: The Bad Guys blasts through with a really nicely done Dolby Atmos tracks. Its has a good mixtures of heightened accuracy to go with some moments of playfulness. Mixing is balanced with good volume placement, layering and depth to really give this animated world a nice feel. A rambunctious film with good impact and boom to it for a terrific experience.
Height: From above you get debris, animal sounds and pretty much anything that flies over the camera or from front to back or vice versa. Volume is plenty good and makes the ceiling contributions quite present and noticeable.
Low Frequency Extension: Engines roaring, things crashing, marching, bumping and musical bass and drums really bounce the subwoofer to calculated degrees of intensity throughout.
Surround Sound Presentation: Being an animated film lends itself to swirling around the room and having some playful fun. But, this track has a nice sense of restraint and doesn't quite always give into the urge. There's a nice felt rolling sound at play too. Overall, you're surrounded by the film and given good sense of every environment present in it.
Dialogue Reproduction: Vocals are clear and crisp.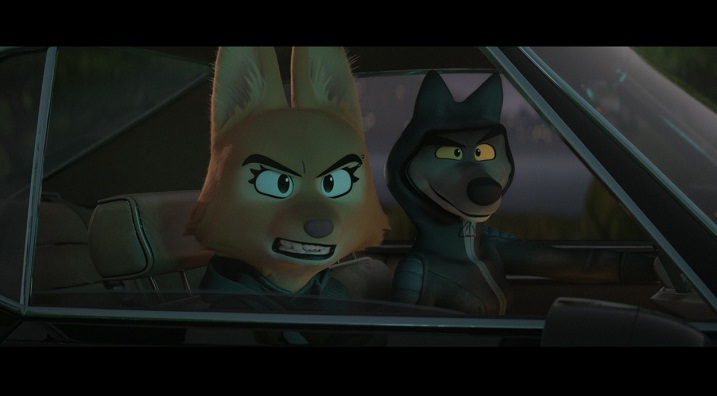 Extras
The Bad Guys – Collector's Edition comes with the standard Blu-ray edition and a redeemable digital code.
Audio Commentary
With Director Pierre Perifel, Producer Damon Ross, Head of Story Nelson Yokota, Head of Character Animation JP Sans and Production Designer Luc Desmarchelier
Maraschino Ruby (4K, 3:50) – A short touted as an "exclusive" for this release.
Deleted Scenes (4K, 10:52)
Devise The Plan: Making The Bad Guys (4K, 6:56) – A very quick run through about the books, making the movie, the actors, the animation…you know the drill.
Assemble The Crew (4K, 6:46) – This featurette is about the characters in the film and the actors who voice them.
It's Showtime: Cast Table Read (4K, 5:51) – A brief montage of the cast's virtual table read.
Snake's Frozen Pop Shop – A little bit of fun with show how to make a treat featured in the movie and have some extra fun with it.
Frozen Popsicle Recipes (4K, 3:33)
How To Disguise Your Frozen Pop (4K, 3:26)
From the Drawing Room – A tutorial on how to draw the characters from the film
How To Storyboard (4K, 4:32)
How To Draw (4K, 11:44)
Summary
The Bad Guys is one of the most fun and fresh animated films coming along not from the Disney/Pixar wheelhouse and another score for Dreamworks. The 4K version is decent upgrade in video quality and features a solid Atmos track. There are plenty of cool extras that allow for some insight into making it to go with your kids film extras that provide activities beyond the film. If you're going to pick up The Bad Guys, this 4K Collector's Edition is the way to go.
This is a paid Amazon Associates link