November 9th, 2021 by Brandon Peters
Disney is back at it in turning their rides into blockbuster films with Jungle Cruise, starring Emily Blunt and Dwayne Johnson. The film brings to life the jungle adventure while getting fed rapid dad jokes boat excursion from their theme park. It wound up being one of the biggest global hits of the summer and appears to be getting a sequel even. The film will be hitting the 4K Ultra-HD Blu-ray format on November 16th. You'll be able to enjoy it with Atmos sound and a host of extras that take you behind the scenes and also give you a load of deleted scenes. It comes with the standard Blu-ray version as well as a redeemable code for the digital version to watch on Movies Anywhere and other places. There's an off and on paid Amazon Associates pre-order link below if you wish to snag your site a copy to have hopefully for release day.
.

Film
Seeking an ancient tree with healing abilities, Dr. Lily Houghton (Emily Blunt) and wisecracking skipper Frank Wolff (Dwayne Johnson) team up for the adventure of a lifetime on Disney's Jungle Cruise, a rollicking ride down the Amazon. Amidst danger and supernatural forces lurking in the jungle, secrets of the lost tree unfold as their fate – and mankind's – hangs in the balance.
Jungle Cruise seeks adventure in the vein of films like 1999's The Mummy and another Disney ride to turned movie Pirates of the Caribbean: The Curse of the Black Pearl. It has that lighthearted, throwback style of the adventure films of the 1930s and 1940s. Characters are done with that type in mind and a modern spin added to them for a fun take. While like the two films I mentioned, Jungle Cruise oddly borrows some story cues from that series in parts and feels at times like a jigsaw puzzle of other films instead of charting its own course.
Buffing up the film is the absolutely knock out star power of the two leads. Emily Blunt is one of the finest leading actors in the business and its nice to see her finally headlining successful blockbusters or ones with big aspirations like this, A Quiet Place and Mary Poppins Returns after years of films that weren't quite getting there. She's dynamite again here and plays wonderfully off her co-starts. Dwayne Johnson of course gives you what you ask of him and its certainly adds an angle to the film. I personally enjoyed that they keep with the spirit of the ride and have him deliver nonstop "dad jokes" throughout the movie. As an appreciator of the fine arts of puns, especially the eye rolling ones, it kept me entertained.
Somewhere along the line in the plotting, Jungle Cruise hits a fast start and then slogs its way through to its third act. There's a lot of stop offs and mythology that bog down the film. Much of it we are told is important but never feels that way. Edgar Ramirez has a part in the movie that you'd think would be much more because he's cast, but unfortunately it comes off as only some fancy decoration for the supernatural side of villainy. The human side of the coin has Jesse Plemmons hamming it up, which is fine. But it almost feels like there is too much going on in this adventure in terms of adversity for our heroes that keeps this from being more fun and swift. Perhaps there is too much, perhaps its how they juggle it. But from just the sheer challenges of rickety boat and the jungle, Paul Giamatti's gangster, the Germans, the tree people, indigenous tribes…and probably more I'm forgetting…its a lot for one little blockbuster to handle.
 There's surely a lot of family fun to be had in Jungle Cruise, one just wishes it was a little neater and tighter. There's some bloat in the boat that does threaten to sink it. Its luckily balanced out by the charm of its stars as well as some rather fun swashbuckling action sequence. I did forget to mention there is a weird (obviously) CGI tiger in here, too.  At the end of the day, the film proves fun enough for one time time getaway on the trip, but doesn't quite hit the heights to be a modern adventure classic like many probably hoped going in.
Video
Disclaimer: Screen captures used in the review are taken from the standard Blu-ray disc, not the 4K UHD Blu-ray disc.
Encoding: HEVC / H.265
Resolution: 4K (2160p)
Aspect Ratio: 2.39:1
Layers: BD-66
Clarity/Detail: Jungle Cruise arrives on 4K Ultra-HD Blu-ray as a natural 4K title from what I am able to gather from technical materials available. As expected, its a nice, crisp and sharp picture rife with detail and texture. It moves very wonderfully with plenty of depth. The standard Blu-ray proves pretty impressive, but this is able to cosmetically improve it to a good enough degree, though some may find it negligible.
Depth:  The film's scale shows of quite well in this 4K image. The camera movements come across confident in the transfer and allows the viewer to see the spacing and pushback on display. Movements are smooth and natural with no motion distortions.
Black Levels: Blacks are deep and natural able to see an increase over the standard blu-ray with much more saturation and nuance. Information is fine even in the darkest corners of the frame. No crushing witnessed.
Color Reproduction: Color is pretty vivid here with a lot of pop. The skies in this movie are beautiful and the film's climactic action sequence really bursts with a nice HDR glow on it. Many of the clothing outfits and such feature good strong color and the rustic colors like browns and grays even have some nice dimension and strength to them.
Flesh Tones: Skin tones are natural and consistent from start to finish of the film. Facial features and textures are pretty radiant and you get clean, sharp detail in any given frame.
Noise/Artifacts: Clean.
Audio
Audio Format(s): English Dolby Atmos, English 2.0 Descriptive Audio, French 5.1 Dolby Digital, Spanish 7.1 Dolby Digital Plus, Japanese 7.1 Dolby Digital Plus
Subtitles: English SDH, French, Spanish, Japanese
Dynamics: Jungle Cruise arrives on 4K Ultra-HD Blu-ray with Disney's rather standard approach to Dolby Atmos. While this isn't terrible, there's always the quiet nature with which these are mixed holding it back. There is good variation and balance, but some of the action and effects you'll want to hit better. So as per usually, roll up your volume a little higher, see if you can't increase your subs intensity and then sit back and enjoy Jungle Cruise.
Height: There's a lot that happens in this movie that comes from above and the speakers do a great job of translating that action and traveling it around or dropping it down.
Low Frequency Extension: There could be a bit more boom, but the subwoofer does do an adequate job with rumbling engines, bursts of magic, punches, gunfire, roaring waters, splashes, explosions and more.
Surround Sound Presentation: Sounds are well thought out and full around the room. Many of the big sequences see all channels coming together in concert to toss around the room and play with your senses here and there.
Dialogue Reproduction: Vocals are clear and crisp.
Extras
Jungle Cruise comes with the standard Blu-ray edition and a redeemable digital code. All extras are found on the standard Blu-ray disc.
It's A Jungle Out There: Making Jungle Cruise (HD, 12:58) –
Dwayne and Emily: Undoubtedly Funny (HD, 5:10) –
Creating the Amazon (HD, 15:14) –
Once A Skip, Always A Skip (HD, 14:00) –
Deleted Scenes (HD, 15:56)
Outtakes (HD, 2:25)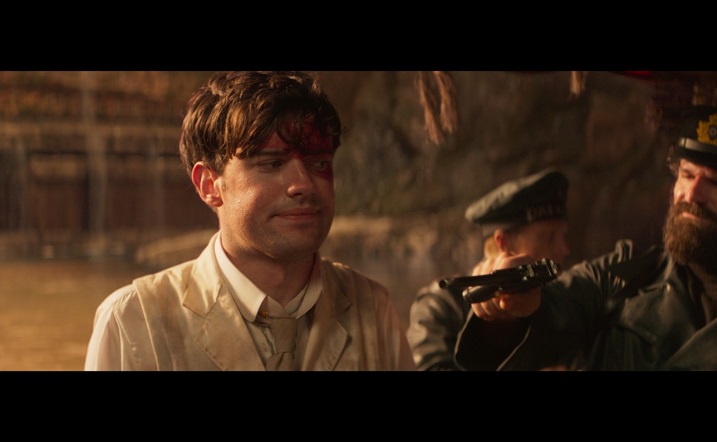 Summary
Jungle Cruise has all the ingredients for a new adventure classic but sorta falls just shy. Disney's 4K Ultra-HD Blu-ray release for the film features a pretty solid presentation that could be nit picked at, but its rather fine. The extras here a bit fluffy and by the numbers but manage to inform and entertain. If you're looking for the best edition to own of the film, than this disc is easily the answer.
This is a paid Amazon Associates link