November 9th, 2021 by Brandon Peters
DC's Legends of Tomorrow has been through space and time for six seasons now and counting. Figuring itself out after its second season, then thriving for a few years as the best Arrowverse show, Legends has sort of found its comfort zone in being able to sleepwalk through some of its best stuff while still putting out a quality program. Its seventh season is currently airing but you can pick up the Sixth season on Blu-ray now (Was released on November 9th) which features 5.1 audio and a nice array of extras made up of deleted scenes and featurettes. You can order it from the paid Amazon Associates link below.
.
.

Season
Having spent last season trying to track down the Loom of Fate, the Legends must now save history from a foe like none they've encountered in the past or future. The timeship Waverider's crew have dealt with monsters, time anomalies, and most recently, villains from Hell, but this season they will face something even more challenging and bizarre … space aliens!
While we are clearly past its peak, I still enjoy Legends of Tomorrow in its most basic of fashions. Even when its going through the motions, I'm pretty okay with it compared to the other DC shows on the CW. Legends is the one that has always been wacky and aware of how silly things can be. That means, even in its latter years as things have been around for quite some time, they are still going to try new things and pull from left field at most turns. That and having a time travel, multidimensional aspect that demands the outrageous, help it carry that weight over its other counterparts on the network.
One of my quibbles with the past couple of seasons of Legends have been their distancing Sarah Lance from the main group for various stretches. She's clearly the best leader on the Waverider and honestly, probably all of the CW Arrowverse shows. Caity Lotz has been the best character to come out of the Arrowverse and its been a bummer to see her sidelined for good chunks of two seasons now. Lotz has done good stuff in front of and behind the camera for this show, and one of her strengths is sharing the screen with her teammates.
Six seasons in, Legends of Tomorrow has been to a lot of times and dimensions and had lots of crew come and go and take on different identities. Its been around the block a few times. Luckily, at even its most middling, the show is still plenty fun and enjoyable whereas a lot of other CW shows have struggled. I'm always rooting for this show, and perhaps it'll have a bounce back or comeback season to hit its heights again once more before it eventually leaves the air.
Episodes
Ground Control To Sarah Lance
Meat: The Legends
The Ex-Factor
Bay of Squids
The Satanist's Apprentice
Bishop's Gambit
Back To The Finale: Part II
Stressed Western
This Is Gus
Bad Blood
The Final Frame
Bored on Board Onboard
Silence of the Sonograms
There Will Be Brood
The Fungus Amongus
Video
Encoding: MPEG-4 AVC
Resolution: 1080p
Aspect Ratio: 1.78:1
Layers: BD-50
Clarity/Detail: Over the years with these DC shows, the presentation of them comes around like clockwork and they all pretty much line up to their previous seasons' audio and visual standards. Legends of Tomorrow has had a nice cross of vibrancy and is darker in its look being a hybrid of some of the DC shows.  Fitting as its a blend of all of them.  The image is nice, sharp and full of cool details like costuming ticks and and territorial textures.  This is a nice uptick from the the TV broadcast picture and manages to hold onto keeping the CG looking solid.
Depth:  This is a very nice, loose, free and spacey image.  Movements are natural and smooth.  There are some great action scenes that give a real 3 dimensional vibe to the whole ordeal.  Maybe the best of all the DC shows in this regard.
Black Levels:  Blacks are deep and rich.  No crushing witnesses.  Shading, darker lit scenes and the shadows are strong suit and look pretty good.
Color Reproduction:  Coloring is rich and bold, with good reds, yellows and blues among the many.  White actually carries a strong palette and looks nice.
Flesh Tones:  Skin tones are natural and maintain consistency throughout the season.  Some scenarios, flashbacks and places can change the tones to fit color timing, but overall, the natural state of things is solid.  Facial details like freckles, dimples, wrinkles, stubble and cuts and scrapes all come through crystal clear.
Noise/Artifacts: Clean
Audio
Audio Format(s): English 5.1 DTS-HD MA
Subtitles: English SDH
Dynamics: Over the years with these DC shows, the presentation of them comes around like clockwork and they all pretty much line up to their previous seasons' audio and visual standards. Legends of Tomorrow sounds beautiful here in this 5.1 mix.  It might be the most action packed of the group of DC shows.  There are scenes with a lot going on and this track manages to capture it all and rapt the viewer up in the middle of it.  Effects are well layered with good distinction.  A nice healthy balance of the mix of score, vocals and effects carry this over nicely.
Height: N/A
Low Frequency Extension:  Explosions, gun blasts, giants stomping and a lot of sci-fi noises (lol) fill the subwoofer with many different twists and turns and beats and bumps.
Surround Sound Presentation:  Legends of Tomorrow provides a lively 5 channel performance.  Many full on battle scenes take an edge to give some buffer to the rear speakers while building an awesome back and forth up in the front.
Dialogue Reproduction:  Dialogue is crisp, set to a great volume and plenty clear.  All diction comes intact.
Extras
Legends of Tomorrow: The Complete Sixth Season is a 3-Disc set that comes with a digital copy of every episode in the season.
Disc 1
Deleted Scenes (HD, 7:07)
Disc 2
Never Alone: Heroes and Allies (HD, 20:48) – The showrunners of the respective CW DC television shows discuss their casts and characters, sidekicks and what they project, how they play out and how they fit with the history of DC Comics.
Deleted Scenes (HD, 4:20)
Disc 3
Gag Reel (HD, 6:42)
VFX Creature Feature (HD, 4:41) – A montage that shows the various stages of visual effects work for the monsters from select episodes.
Animation Split Screen (HD, 5:33) – Side by side storyboard/animatics and the actual episode play concurrent from the animated episode.
Actors Split Screen (HD, 1:46) – Shows a window of the actors in soundbooths voicing the speaking items.
Deleted Scenes (HD, 16:52)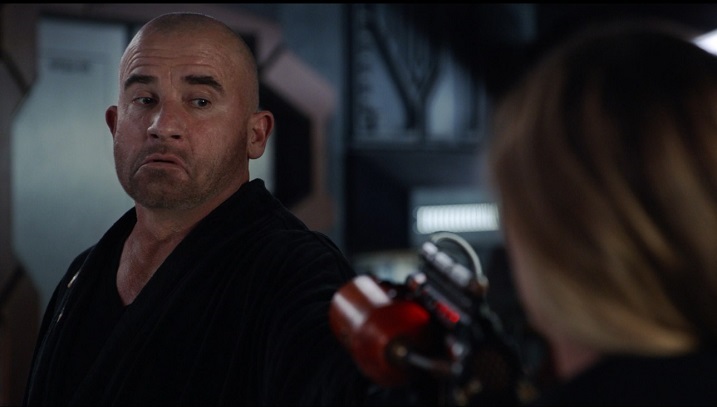 Summary
Legends of Tomorrow is likely past its prime and aside from Sarah Lance, the ship has had a complete overhaul since it started. But, its still decently enjoyable. Warner Bros brings its sixth season to Blu-ray with your standard audio and video quality and decent set of extras to provide a solid little pick up for those of us that collect these shows.
This is a paid Amazon Associates link