November 20th, 2022 by Aaron Neuwirth
Director Spike Lee has an impressive body of work, considering the number of excellent films delivered over the past five decades. With that in mind, the prolific director has at least two defining films that came pretty early in his career. There's the landmark comedy-drama Do the Right Thing and Malcolm X, the epic biographical drama depicting the life of the famous Black activist. While having received two Oscar nominations (Best Actor for Denzel Washington and Best Costume Design for Ruth E. Carter), I look at Malcolm X as being one of the most important films to not be nominated for Best Picture. Of course, that hasn't stopped its legacy from building over time. Now, for its 30th anniversary, the Criterion Collection has seen fit to release the film in a deluxe 4K UHD Blu-ray package, complete with new extras and a fantastic new transfer.
–
Film:
Based largely on Alex Haley's 1965 book, The Autobiography of Malcolm X, Lee's film is a chronicle of Malcolm's (Washington) life, delving into his early years, his time as a criminal, the conversion to Islam and participation in the Nation of Islam, the eventual falling out, his pilgrimage to Mecca, his relationship with Betty Shabazz (Angela Bassett), his evolution as an activist, and his eventual assassination. Relying on numerous film styles to tell this story, Lee delivers the all-encompassing biopic that so many others have failed to fully realize, resulting in an electrifying feature led by a career-best performance from Washington.
A key to this film's success is watching it understand how to balance its fiery approach to the drama at hand with a sense of entertainment. This is very much an emotional drama that relies heavily on honest performances, but Lee knows how to make a movie very watchable. An incendiary opening credits sequence and a look at Malcolm's rough early life regarding the status of his parents is matched with the colorful joy of him and his best friend Shorty (Lee) living in Boston and strutting in zoot suits. This leads to Malcolm's days working under "West Indian" Archie (Delroy Lindo), and we're suddenly in the middle of a gangster movie.
The continued shifts forward allow us to see where Malcolm's views come from. It's one thing to have a particular idea of who Malcolm X was, but Lee never loses sight of showing the impact events of his life had on his outlook regarding those around him, specifically what he found as a separation between Blacks and people of color, and the white man. Other films see fit to hit specific points in various figures' lives as a means of checking them off the list. Malcolm X wants to offer meaning in the man's decision to join the Nation of Islam. This film takes its time to not only introduce Malcolm to Betty but find him preaching to large crowds.
A major importance is how the film divides up the segments of time most important in understanding Malcolm's life. While so many would prefer to merely address Malcolm X as the extremist counter to Martin Luther King, Jr., this film does the work to detail his falling out with Elijah Muhammad (Al Freeman Jr.) and the Nation of Islam, along with his pilgrimage to Mecca. That late-in-life evolution of Malcolm's character is fascinating. Even with various restrictions, Lee finds a way to show how Malcolm would go from promoting racial separation to tolerance.
And still, through all of this, there's a massively entertaining feature film at play. Much of this comes from Washington, whose natural charisma and powerful demeaner make him a clear choice for this all-encompassing portrayal. There are plenty of scenes where Washington recreates Malcolm's performative nature when delivering speeches. Quieter moments that show Malcolm's power among the people or his vulnerability are captured just as well. His interactions with the rest of the cast similarly show what he's willing to give to help others look good. It's just tremendous work.
Going down the cast list would just emphasize the terrific work put in by all. Still, Bassett, Lindo, Freeman Jr., Albert Hall, and many others all seem to have realized the challenge in front of them and came with their best. Additionally, it didn't stop this film crew from nailing the aesthetic for a production that needed a lot of help to secure funding. Earnest Dickerson's cinematography, using color and black & white sequences, provides so much in the way of atmosphere that shifts over a couple decades. The production design and Carter's costumes add plenty to emphasize the times and provide subtle stylization. And then there's Terrence Blanchard's outstanding, melody-filled score that makes it clear what audiences are getting into and appropriately fills in when needed to further add to the drama on display.
I hate the notion of only having so much to say about a film that hasn't been said already, but so much of what's been accomplished by Malcolm X has been recognized to the point of the film being added to the National Film Registry by the Library of Congress, due to its significance. I can only hope that the newer generations are not intimidated by the length of this film and dive into what I would consider one of the best biographical dramas focused on a single figure. A towering performance leads this film all the way through, and an incredible supporting cast balances it out. Lee is also at the top of his game here, bringing that spark he knows he can use as a means of using a familiar framework, yet still making it all his own. Even with various limitations, complications, and random controversies that got in Lee's way, Malcolm X proved to be one of his masterworks well worth the praise it received.
Video:
Encoding: HEVC / H.265
Resolution: 2160p
Aspect Ratio: 1.85:1
HDR: Dolby Vision, HDR10
Layers: BD-100
Details:  This new digital transfer was created in 4K 16-bit resolution on a Lasergraphics film scanner from the 35 mm original camera negative.
Clarity/Detail:  While Warner Bros. has treated Malcolm X well over the years, Criterion's 4K transfer is pretty spectacular. The level of detail is incredible, especially given the way this film shifts in mood, from the softer and more saturated days of Malcolm's Boston living to the colder period of his time behind bars to a warmer yet more natural take on the final portion of his life. Seeing the strength of the production design and costumes is also a treat, given how much Lee wants us to be able to take in through such an epic feature. And then consider the HDR of it all. Thanks to Dolby Vision, one can get a true sense of why Lee is such a masterful filmmaker. He understands the visual language of film in a way where everyone onscreen matters, and whether it comes down to the lighting or images lingering in the background, knowing clarity will reveal so much, it's all accounted for in this transfer, which the film has served well.
Depth: Look at the scenes featuring huge crowds around Malcolm. There's a great sense of how much the spacing and dimensionality of the film works that's captured well on this disc.
Black Levels: A proper 4K transfer wins again when considering the strength in the black levels. They remain faithful to the film, a true improvement on the old Blu-ray, with further emphasis on how shadows look, along with certain interiors. Plus, segments using black & white footage look great here, with no sign of crushing.
Color Reproduction: While characters shift in their expression, it doesn't take away from a brilliant use of color, from the earlier days featuring vibrant suits to the looks characters held onto in the 60s. This is a film that does not settle for muted moments; as a result, there's so much to enjoy in how this transfer represents the use of the different colors on display.
Flesh Tones: We see many faces that create a vast range of skin tones and textures to do justice for, and this disc does not disappoint.
Noise/Artifacts: The film looks nice and clean, with no issues in sight.
Audio:
Audio Format(s): English DTS-HD Master Audio 5.1
Subtitles: English SDH
Details: The original 5.1 surround soundtrack was remastered from the 35 mm magnetic track
Dynamics: While not an elaborate new mix created for this disc, it's not as though it's of a lesser quality than expected. Hearing Malcolm's words come through nicely and clearly is key, but there's plenty to take in when listening to the crowds he's speaking to, let alone the music featured throughout.
Low-Frequency Extension: There are a few areas where the subwoofer can shine, thanks to some of the action on display and more musically-driven moments.
Surround Sound Presentation: There are a lot of areas where the spread of the sound is essential, given the environment s these characters are in. The various channels work the way they need to in order to build the mood. Even while mostly front-driven, the atmosphere of crowded streets and rooms allows this presentation to shine.
Dialogue Reproduction: Everyone is heard loud and clear.
Extras: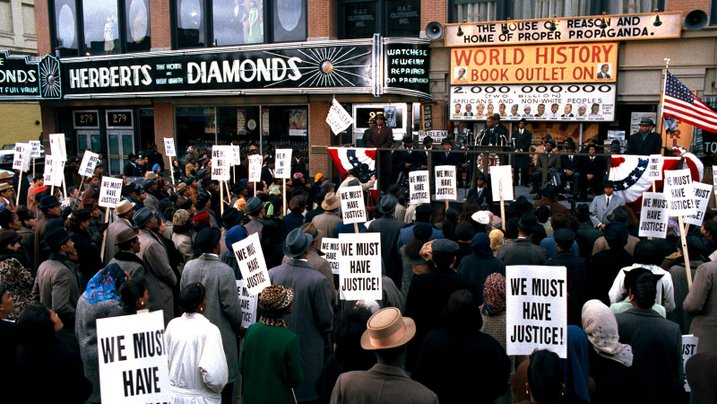 Aside from the commentary, the supplements here are all featured on the second Blu-ray featured in this package. It's an excellent collection of old and new features, including a new interview with Lee and the 1972 Malcolm X documentary that came with the previous releases of this film. Practically everything one would want to know about this film can be found within these extras, save for more from Washington, who continues to hold back from detailing his process in retrospective form.
Commentary from 2005 with Director Spike Lee, Cinematographer Earnest Dickerson, Editor Barry Alexander Brown, and Costume Designer Ruth E. Carter (available on the 4K and Blu-ray disc) – Despite being recorded separately, each participant has plenty of insight to offer over the course of this epic biopic.
Spike Lee in Conversation (HD, 25:49) – A newly recorded interview between Lee and journalist Barry Michael Cooper. This is a wonderful chat between two people with plenty of history. It covers the film, of course, and other aspects of Lee's career.
Actor Delroy Lindo (HD, 16:42) – Another newly recorded interview, with Lindo (looking exactly the same as he did 30 years ago) discussing his connection to Malcolm X's story, his own heritage, what the film meant to him, and more.
Terence Blanchard (HD, 18:43) – In this newly recorded interview, Blanchard covers his origins in working with Lee (Malcolm X was only the second film he ever produced a score for) and what he has seen in Lee's films since. There's a lot of great insight here, which is especially neat considering how we see Blanchard talk about the collaboration process.
By Any Means Necessary: The Making of Malcolm X (HD, 30:27) – A 2005 look at the film, featuring interviews with the cast and crew talking about the production and more.
Deleted Scenes (HD, 20:41)
Malcolm X 1972 Documentary (HD, 91:41) – A well-made documentary from Arnold Pearl that provides another look at the famed activist.
Trailer (HD, 2:47)
PLUS – An essay by Barry Michael Cooper, excerpts by Lee and Washington from the 1992 book By Any Means Necessary: The Trials and Tribulation of the Making of 'Malcolm X,' and Ossie Davis' 1965 eulogy for Malcolm X
Summary:
Malcolm X is a magnificent feature, with Denzel Washington at his absolute best. Spike Lee has gone on to make more excellent films, but this could indeed be seen as his magnum opus. Featuring his own hallmarks as a filmmaker and a variety of techniques that have served this genre well, there's so much movie packed in this movie when considering what audiences can ideally take away from an experience that can be powerful, educational, and entertaining. Criterion's 4K release is superb in bringing together a new transfer making this the best way to view the film at home, and it also offers some worthwhile new supplements to go with it. A fantastic package.
Order Your Copy Here:

This is a paid Amazon Associates link