November 24th, 2020 by Brandon Peters
Whether its movies or the TV series, I consider myself a Mission: Impossible fan. Its one of the best contributions we had from the spy fantasy entertainment phenomenon that took the 1960s by storm. With the breath of life and determination of one Tom Cruise, the series has maintained a pop culture staple for 54 years and counting. We have two more films still on the horizon from the current movie run. Paramount has left the television series absent from Blu-ray until now. On December 1st, they will be releasing every episode from the original 7 season run of the show on Blu-ray for the first time. Despite the massive 46 disc boxed effort, unfortunately no bonus features new or old are coming with it. That's a damn shame, considering some already do exist. However, at this juncture I suppose we need to be grateful they have restored them and keep them living to die another day in a different format. Pre-orders are available now via the paid Amazon Associates link at the bottom of the review.

Series
Starring Golden Globe®️ and Emmy Award®️ winner Peter Graves, the thrills and adventures of Mission Impossible: The Original TV Series follows the Impossible Missions Forces (IMF) is a government agency of extraordinary spies assigned to do the most dangerous espionage missions. Each episode starts with the famous tape-recorded message detailing the upcoming, exciting mission, from overthrowing corrupt leaders to exploiting dangerous crime lords. The IMF crew consists of the leader, first Daniel Briggs then later Jim Phelps, and spies with different areas of expertise, from disguise experts to electronics technician.
I'm not old enough to have caught Mission: Impossible on its original airing. For me it was catching it on reruns for whatever cable or local network was funneling in the many episodes of the show's 7 episode run. My memory of the entire series from back then, quite hazy. As is my recollection of when it returned in 1988. But, when the big screen version came in 1996, I'm not sure there was a blockbuster movie I was more excited for that year. And I loved that one from the jump (And still wonder how people were "sooooooo confused").
The old show was great fun and worked the spy procedural format like gangbusters. Returning to the show now, you can see the limitations of a studio shot spy show that I'd never noticed in my youth. It features many similar sets; lots of military bases, prisons and hotels. All of these get redressed a lot. Its quite fun and on the actors to sell it. And this marvelous bunch do quite a hell of a job. Martin Landau, Barbara Bain and Greg Morris are quite significant standouts from the original team. Later on, the seasons do pull off more elaborate expensive settings, but still sometimes have to resort to repetitive sets.
As much as people want to say the new films are "all action", that's largely untrue. The foundation of the original series is espionage, double cross, false identity, schemes and suspense. Things that make Mission: Impossible, Mission: Impossible. And that has certain carried to the films for the most part. And funny enough, Mission: Impossible is one of the few cinematic and television properties that still remain in its original continuity. Despite the Jim Phelps actor swap, the 1996 film is meant to pick up from the events of the original TV show and the 1988 pick up. For all intents and purposes, what starts in this box set is STILL going. And hats off to that, that's amazing the show has been able to pull that off!
Episodes
Mission: Impossible: The Original TV Series contains every episode from the show's original 7 season run.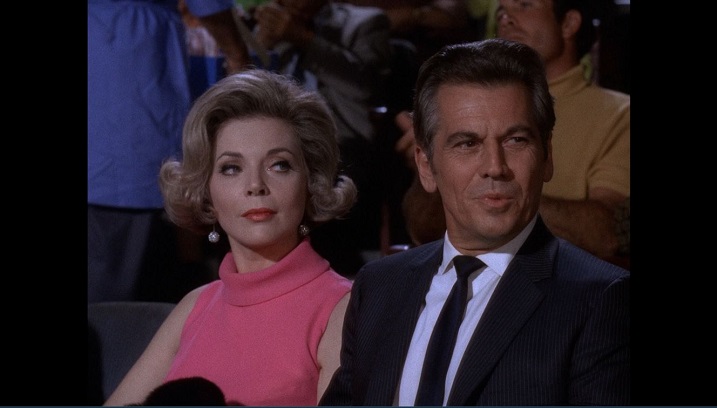 Video
Encoding: MPEG-4 AVC
Resolution: 1080p
Aspect Ratio: 1.33:1
Layers: BD-50
Clarity/Detail:  Mission: Impossible: The Original TV Series comes to Blu-ray for the first time with some pretty beautiful cinematic looking transfers.  Its film look terrific and the its crips with great texture and details that are quite discernible from any given distance. I've sample a few episodes from what is on Amazon Prime in the past and these look that they may have come from those versions, but I think this even give those a slight uptick. Regardless, its more than satisfying and another great restoration of a TV series by the fine folks over at Paramount.
Depth:  The show really does space out and breath and the frames make the sets look pretty spacious. Movements are very cinematic in nature. Confident camera movements lead the way and no distortions are present.
Black Levels: Blacks are deep and quite close to a natural look. Hair follicles, surface textures and more come through with no issues or information being hidden. No crushing witnessed.
Color Reproduction:  Colors hang around the normalcy range for a lot of things with a lot of military bases being the sets. But given the opportunity, be it something Barbara Bain is wearing or a extravagant casino set, the color can really pop. The image does feature really terrific saturation and contrast.
Flesh Tones: Skin tones are natural and consistent from start to finish of each episode. The amount of visible facial feature/texture detail from any given distance is quite impressive. From brush strokes and definition of Barbara Bain's makeup to stubble, scars and sweat/face grease, everything is quite clear to the touch.
Noise/Artifacts: Clean.
Audio
Audio Format(s): English 5.1 DTS-HD MA, German 2.0 Mono Dolby Digital, French 2.0 Mono Dolby Digital
Subtitles: English, German, French
Dynamics:  Mission: Impossible comes with a pretty respectable 5.1 track. Unfortunately, the original mono audio is not available on this release. This 5.1 mix provides an impressive level of deeper tones and gives a pretty full theatrical experience. Sound effects have good layering and depth to them with a touch of realness. There's a good balance between those, vocals and the music.
Height: N/A
Low Frequency Extension: Drums hit pretty good as do crashes, gunfire, explosions and any other little deep touches the subs want to boom on.
Surround Sound Presentation: This mix does play a lot up front. The back and forth and placement of the audio among the 3 speakers is quite fun and accurate. The rear channels are more reserved for ambiance but they do provide some moments from time to time.
Dialogue Reproduction: Vocals are clear and crisp and feels quite genuine and find no issues with any sort of analog distortions. These are fresh and clean sounding conversations.
Extras
Mission: Impossible: The Original TV Series is a…ahem…46 disc set and comes with absolute NO bonus features. Supplemental features do exist, but have no been ported over from the DVD releases. In the video below, you can take a look at the packaging (Skip to 05:15).
Summary
One of the best shows of all time to just pick a random episode jump in and have a complete blast is definitely Mission: Impossible. Espionage, thrills, deception and suspense. Every single time. Paramount releases the original series with impressive restorations on every episode as well as quite an adequate 5.1 mix. Unfortunately the original mono mix has been left out which I'm sure is quite possibly a deal breaker for some. Even more deal breaking, the lack of any sort of a bonus feature on a 46 disc set. I'm sure there's "reasons". But if you're in it for the show looking the best it ever has, then this set has done the trick.
This is a paid Amazon Associates link