November 24th, 2020 by Brandon Peters
One of the many odd titles never on Blu-ray before was Robert Altman's contribution to the comic book movie lexicon in 1980's Popeye. Sure, the film isn't perfect, but its had a legacy of being remembered and stars the late and great screen legend Robin Williams in its titular role. Turning 40 years old, Paramount has now given it the green light for Blu-ray. Surprisingly, this would seem fit for the Paramount Presents label having never been released before and getting new supplemental features, but alas its getting regular release. Kindly enough, its debut price is of the most generous variety – $9.99 at the time of this review. Popeye: 40th Anniversary Edition will arrive (maybe) on shelves and in online stores December 1st.
.

Film
Looking for the father (Ray Walston) who deserted him as a baby, a sailor named Popeye (Robin Williams) journeys to the port town of Sweethaven. Popeye befriends an assortment of eccentrics and falls in love with Olive Oyl (Shelley Duvall), who already has a suitor, the bully Bluto (Paul L. Smith). Popeye also discovers an abandoned baby, Swee'Pea, whom he raises as his own. But when the spurned Bluto kidnaps Olive and the child, Popeye takes action, with the help of his magic spinach.
Robert Altman's live action take on the Popeye comic strip and cartoon is equal parts interesting and uninteresting. Seeing all the characters brought to life really does pop as you first see it. Oddly, the world they fit in is a bit too real and lacking the fun they have from a visual standpoint. And many of the supporting players/chorus members don't fit that motif either, so the likes of a Popeye, Olive Oyl and Wimpy stick out. Probably intentional, but it feels mismatched in an unfun kind of way.
Popeye looks like a film that planned for a stage musical and shot itself on a theme park frontier land time area for the set. The town is accurate but phony at the same time. Much of the interiors are a bit too open and grand to fit a "real" kind of setting it feels the film is going for. In shorter terms, something is constantly off about the film and it just can't fully welcome itself in proclaiming to confidently be something.
Luckily, its players are quite strong. Robin Williams is dynamite as Popeye. That would have been to be expected then as it is now. Shelley Duvall is equally perfect as Olive Oyl. Its quite a shock to find out that the studio didn't want her and wanted Gilda Radner for the part instead. All due respect to Gilda, but how could they not see perfection in Shelley Duvall for this part? I'll also note that Paul Dooley is plenty terrific as Wimpy.
Altman's film is a rather odd push and pull between constantly enjoying a little thing and then being bored by the same thing. The film is a bit of a long, bloated and slow roll of almost 2 hours. That's the ultimate killer of Popeye. Had this been a swift 80-90 minutes, which it easily could have been, it still would have had its problems, but could have been a much more enjoyably breezy imperfect film. But as it stands, its one to maybe have a nostalgia for aspects, but ultimately feel of "Eh, I don't think I have the time" when it comes to a revisit.
Video
Encoding: MPEG-4 AVC
Resolution: 1080p
Aspect Ratio: 2.39:1
Layers: BD-50
Clarity/Detail:  No details are provided regarding the transfer for this new release of Popeye, but it appears to be a standard HD master from the looks of things. And that's rather okay. Its got a pretty sharp, crisp picture that lends itself to showcasing plenty of details and finds itself in fine cinematic form for its appearance.
Depth:  Popeye features some terrific depth of field and this image really showcases the scale of the sets in the film and makes it feel big and grand. Movements are smooth and natural with no issues regarding motion distortion.
Black Levels: Blacks are pretty deep and without any dangers of hiding information. They do well in keeping some nice shadows as well as being plenty textured.  No crushing witnessed.
Color Reproduction: Colors in the film find a lot of browns and boring "real" colors present, but they are plenty full and bold. Reds really pop out most of all and are typically used in a more rich fashion.
Flesh Tones:  Skin tones are natural and consistent start to finish of the film. Facial features and textures come through pretty cleanly in medium and close up shots.
Noise/Artifacts: Clean.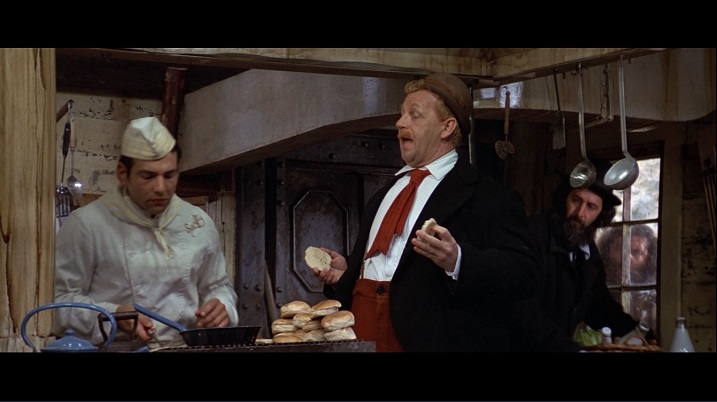 Audio
Audio Format(s): English 5.1 Dolby TrueHD, English 2.0 Dolby Digital
Subtitles: English, English SDH, French
Dynamics:  Popeye finds itself with a pretty solid Dolby TrueHD track. Its not the most immersive of 5.1 experiences, but it rather gets the job done moreso than just being average. The song and dance numbers come off pretty beautiful and the action moments showcase some good depth and balance. Overall, this'll more than do the trick.
Height: N/A
Low Frequency Extension:  The subwoofer really helps the deep tones of the music but also comes in and does the jump with punches, bouncing, horns, crashing and more.
Surround Sound Presentation: Rear channels bring up some ambiance and off screen actions here and there as well as filtering in some of the chorus members with the song numbers. This isn't a big engagement in terms of 360 degree use, but its a pretty admirable attempt and being active.
Dialogue Reproduction:  Vocals are clear and crisp. There's a little noticeable jump in source when going from dialogue to song, but that's to be expected.
Extras
Popeye: 40th Anniversary Edition comes with a redeemable digital code.
Return To Sweethaven: A Look Back With Robin And The Altmans (HD, 13:29) – The story of making the film told in interviews with Robert Altman from 1999, Robin Williams from 2014 and a new one with Stephen Altman.
The Popeye Company Players (HD, 9:34) – Includes the interviews with Robert Altman from 1999, Robin Williams from 2014 and a new one with Stephen Altman to tell the story of making Popeye through some little asides and such about the actors in the film..
Popeye's Premiere (HD, 2:40) – A photo gallery slideshow of the film's 1980 premiere.
The Sailor Man Medleys (HD, 35:24) – Direct access to all the musical numbers in the film with the option to just PLAY ALL.
Theatrical Trailer (HD, 1:53)
Summary
Popeye has a lot to respect about it, I think it may just not be tight enough and run too long to have it be subpar but completely enjoyable. Paramount has put together a really nice release for it, though. The picture and audio quality on this are pretty terrific and the new bonus features are pretty good given what they could do. And the biggest kicker, this thing is only ten buck brand new as a Day 1 release. I mean, just for collector sake, that's a grab it now price.
This is a paid Amazon Associates link