April 13th, 2022 by Brandon Peters
Last year saw the classic winning combination of director Pedro Almodóvar and actor Penélope Cruz reunite for Parallel Mothers. The film has landed Cruz yet another Best Actress nomination at the Academy Awards. Composer Alberto Iglesias was also been recognized by the Academy for his score for the film. It arrived Blu-ray on April 5th from Sony. You can order the film now from the paid Amazon Associates link below to have to own on or around the release date. Unfortunately this is a bare bones release. Hopefully a more substantial release could be around the corner. But if you purely want the film in physical ownership, this is really it for now. And the film really is good enough to stand on purchasing alone.
.

Film
Two women, Janis and Ana, coincide in a hospital room where they are going to give birth. Both are single and become pregnant by accident. Janis, middle-aged, doesn't regret it and she is exultant. The other, Ana, an adolescent, is scared, repentant and traumatized. Janis tries to encourage her while they move like sleepwalkers along hospital corridors. The few words they exchange in these hours will create a very close link between the two, which by chance develops and complicates, and changes their lives in a decisive way.
Parallel Mothers is a fascinating experience put on by Pedro Almodóvar that really feels unique unto itself. Upon a slight description, you'd think this would be some sort of standard drama. But that's not how this director works. There's twisting and turning and a feeling while watching it that puts it in a realm without simple description. You could call it X movie or say its Y type of movie, but the truth of the matter is, its really not either of those types.
A particular aspect that gives a big assist to pulling off this unique feature is the Academy Award nominated score by Alberto Iglesias. Overall a solid brush stroke start to finish, but it contains some huge, powerhouse moments that help evoke and inform the viewer. His score takes this film to feeling that of a Hitchcock movie, when as I said before, its really not that kind of movie. But what it truly does is get you in the headspace and emotion of the lead character of Janis in a way that is right for the moment and adds some incredible stakes to what someone else might have utilized as a standard drama.
Penelope Cruz is the other side of making this thing tick like this. Some of her career best work is with Almodóvar, and this is another notch there. She anchors this film and really provides a fully functioning and relatable character. Even if you don't agree with the decisions she's making, you understand them. Cruz does this with body and facial language as she has many scenes on her one when the film takes its interesting turn. Only certain performers can captivate and draw you in like this without words and maybe having you not on their side, and Cruz is one of the finest at doing so working today.
Parallel Mothers is best seen on a recommend or only seeing the trailer. They smartly kept what this movie really is about out of all the synopsis and marketing. I'm not saying its a necessary "mystery box", but they smartly went about selling and promoting this movie, only to really hit you with something special you had no idea was coming. Its one of 2021's finest films and while highly regarded, probably should have been even more highly regarded.
Video
Encoding: MPEG-4 AVC
Resolution: 1080p
Aspect Ratio: 1.85:1
Layers: BD-50
Clarity/Detail: Parallel Mothers was shot in 4K and finished with a 4K digital intermediate. Thus, its looks quite wonderful here on Blu-ray. Its a very prominently lit film which offers a razor sharp, crisp image full of details and textures that just look simply natural. There's a look and a feel with this film that is an enhanced naturalism that works wonders for your display.
Depth: Pretty strong depth of field here. The photography mainly keeps both the foreground and background in focus which adds for a loose, free roaming image. Movements are natural and smooth with no distortion instance coming from rapid motions.
Black Levels: Blacks are deep and close they can get to natural. They provide for some really good contrast in this very vivid looking image. There was a little bit of crush in a scene that zooms in on some coffee water brewing, but aside from that its pretty fairly untainted by those instances.
Color Reproduction: Colors are quite luscious and really pop off the screen here. Even your browns, whites and more basic colors get their time in the sun. They are well saturated and the contrast really helps to bolden the image and make everything much more solid to the touch.
Flesh Tones: Skin tones are natural and consistent from start to finish of the film. With how bright and bursting this is, facial features radiate with detail and texture like make-up strokes, lip texture, facial grease, sweat, wrinkles, moles, freckles and more.
Noise/Artifacts: None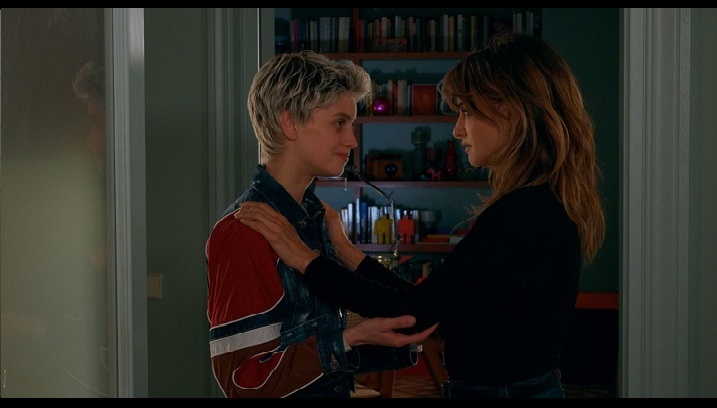 Audio
Audio Format(s): Spanish 5.1 DTS-HD MA, English 5.1 Audio Description Dolby Digital
Subtitles: English, English SDH, French, Spanish
Dynamics: Parallel Mothers comes with a pretty sweeping 5.1 track. It handles effects and vocals swimmingly with good degrees of impact and lifelike nature. The score is where it hits the acceleration button as it hits, gets under your skin and full encompasses as it appears to be intended. Overall, a nice, louder, balanced mix here.
Height: N/A
Low Frequency Extension: The movie doesn't really rely on big booms, but the more natural things are accurately displayed with plenty an adequate and slightly embellished impact. The score sinks low and has a nice rumble to it as well.
Surround Sound Presentation: This is a more front focused film, but the mix never forgets what's off screen and what ambiance can be added to rear channels to enhance the environment/room audio scape sound building. Sound travel is accurate and comes with some solid force when necessary.
Dialogue Reproduction: Vocals are clear and crisp.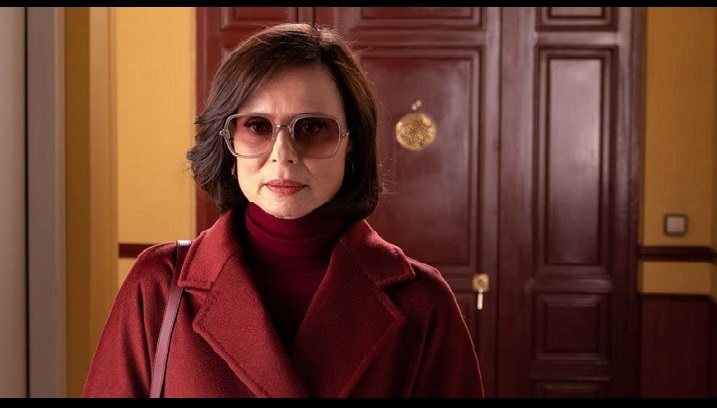 Extras
Parallel Mothers / Madres Paralelas is 1-disc Blu-ray set and does not come with a redeemable digital code.
Theatrical Trailer (HD, 1:32)
Summary
Parallel Mothers is a fantastic film and an experience almost like no other. Sony gives it a Blu-ray with a terrific presentation, but one that is lacking any insight following the viewing. A simple commentary would have been magnificent, but all we are left with is a trailer. Perhaps a boffo boutique label release comes down the road. But for now, if you love the film, then its day 1 or wait for a price drop to put it into your collection.
This is a paid Amazon Associates link