April 13th, 2022 by Brandon Peters
The Scream series has a rather interesting fanbase. Some love it all, some love only the original, some love the original plus one sequel (maybe two). Scream 4 crashed and burned, yet found a social media fondness afterward. With Twitter/Geek friendly properties in the past not translating into big turnouts, one would be right to question if a fifth Scream 4's internet buzz would translate to people actually showing up at the theater. And delightfully so, they did AND we would up with a pretty rock solid, fun entry in the series. The cleverly titled (Trust me, see the movie, it brilliant) Scream is now on 4K Ultra-HD Blu-ray where you can enjoy it with some new extras that included deleted scenes, 3 featurettes and a commentary. You can order yourself a copy below, following the review, from the paid Amazon Associates link. Hopefully Scream 2-4 aren't far behind on the 4K train!
.

Film
Twenty-five years after a streak of brutal murders shocked the quiet town of Woodsboro, a terrifying new killer resurrects the Ghostface mask. As the deaths mount, Woodsboro's new targets must seek help from the survivors of the original Ghostface attacks. Now, only Sidney Prescott (Neve Campbell), former sheriff Dewey Riley (David Arquette), and reporter Gale Weathers (Courteney Cox) can find a way to stop the killer when everyone is a suspect.
I have lightly salted and buttered the crow I'm eating. While I do adore and appreciate the Scream movies, my desire to need or have more of them really wasn't there after 3 & 4. And the trailers for the fifth entry didn't really help to convince me otherwise. But, I was happily wrong on opening night of the film when I found myself pretty joyfully returning to Woodsboro. Its not a perfect film, but the people behind it really seemed to have a good handle on what they were doing and were cleverly playing with conventions of the needless legacy sequels we are loaded with today. Something truly key to making a good Scream film.
Perhaps the most important aspect of the film is that they really allowed this to be the new young cast's film. While is draped in nostalgia, its from their perspective and they lead the charge. To my surprise, the "legacy characters" aren't brought in until later (They actually cut scenes with Dewey earlier in the film to push off his entrance), and aren't in many scenes once they are. They allow Melissa Barrerra, Jack Quaid, Jenna Ortega and company to lead the charge here in their own little whodunit. Said character shine with some great turns from ones we've seen before and breakouts from people who audiences may not yet be familiar with.
The kills, the characters, the humor are all on point here. But so are the directors. They've made a film that feels in step with Craven's direction and technical prowess (even more than Scream 4). Its also a film that was careful to hold strong upon repeat viewings. They've thought some things out that even the previous entry (or entries) may not have been caring about. There are aspects that impressed me upon a second viewing, knowing how it turned out, that were staged both smartly and properly to work once the cat was out of the bag.
I'm going to give Kyle Gallner his own paragraph here. He's only in a couple scenes of this movie, but he was absolutely wonderful. His character is both ridiculous and fully realized. Gallner eats up the scenery and had me truly rolling in my seat with his deliveries and interactions. He's given sort of an odd character we haven't really seen in these moves before, and normally its a sort of "ugh" type thing, but he breathes such wonderful life into what is typically a trashy, throwaway role in other horror films. It was honestly one of my favorite characters, parts, performances in the whole film. Bravo to you, sir!
2022's Scream lived up to the tough echelon set by the original 2 films. But it just plain out had fun and honored the old thing while taking it in new directions and introducing a potentially good future for the franchise. I'm actually open to this sixth entry now. My only thing is that I want it to be specifically for this new cast. Its time for the veterans to get their sunset and "pass the baton". I'd very much look forward to a Scream with this new cast and the possibilities being both unknown and anything.
Video
Disclaimer: Screen captures used in the review are not taken from the 4K UHD Blu-ray disc.
Encoding: HEVC / H.265
Resolution: 4K (2160p)
Aspect Ratio: 2.39:1
Layers: BD-66
Clarity/Detail: Scream (2022) lands on 4K Ultra-HD Blu-ray as a native 4K title. While its not the cream of the crop, it does look quite lovely with a crisp, sharp image. It has some nice contrast that gives it a bold image while cleanly dishing out details and textures in any given lighting scenario. Fans should be plenty happy with how this translated from big screen to small screen.
Depth: Depth of field is terrific, especially in handling the camera dollies and swings that showcase spacing and pushback. Interiors shine when you can see doorways and beyond. Movements are natural and smooth with no issues regarding any blur or jitter distortions during some of the more rapid action moments.
Black Levels: Blacks are truly the start of this transfer. They come in at natural levels and are saturated quite well but the amount of details and textures still picked up in some of the deepest moments is quite lovely. No crushing witnessed.
Color Reproduction: This isn't a colorful little movie, but fabrics and upholstery are able to shine. And the blood runs deliciously deep red. HDR comes through with neon lighting, displays and such.
Flesh Tones: Skin tones are natural and consistent from start to finish of the film. Anything from make-up brush strokes to dried blood/cuts/bruising come through quite clear and looks natural. Great, easily visible textures and information all throughout.
Noise/Artifacts: None
Audio
Audio Format(s): English 7.1 DTS-HD MA, English Audio Description, German 5.1 Dolby Digital, Spanish (Spain) 5.1 Dolby Digital, Spain (Latin America) 5.1 Dolby Digital, French 5.1 Dolby Digital, Italian 5.1 Dolby Digital, Japanese 5.1 Dolby Digital, Russian 5.1 Dolby Digital
Subtitles: English, English SDH, Cantonese, German, Spanish (Spain), Spanish (Latin America), French, French (Canada), Italian, Japanese, Korean, Dutch, Russian, Thai
Dynamics: Oddly enough, Scream (2022) was mixed for Dolby Atmos theatrically, but Paramount has chosen to put a 7.1 track on the 4K Ultra-HD release. Nonetheless, its a terrific mix that pulsates through every channel. There's nice depth and layering to the effects. The balance is good and the volume placement is set for capitalizing on jumps and intense action beats.
Height: N/A
Low Frequency Extension: Good punching coming from the subwoofer on glass shattering, slicing, punching, gunshots, crashes and more. It also beats plenty heavy on scoring hits as well.
Surround Sound Presentation: There are plenty of tricks around every channel in this mix. There are interesting contributions to bait and some to just build environment, when talking the rear and side channels. Motion across the room is strong and impactful. This mix does have some fun and we as the viewer easily benefit from it.
Dialogue Reproduction: Vocals are clear and crisp.
Extras
Scream (2022) comes with a redeemable digital code.
Audio Commentary
Deleted Scenes (HD, 2:57)
New Blood (HD, 7:33) – This feels very similar to the featurette found on the 4K release of the original film. Here everyone old and new reflect on the original Scream, its importance, inspiration and yada yada.
Bloodlines (HD, 8:33) – They refer to this movie as a "A baton pass". Basically talking about introducing a new generation to the series and welcoming in the young actors and continuing with the veterans. There's a neat spot here where the costuming designer points out some touches and tributes she threw in that you may have not realized.
In The Shadow Of The Master (HD, 7:22) – Everyone pays tribute and reflects on the career of Wes Craven, what he brought to the Scream films and how they tried to honor him with this latest film.
Scream 1996 Trailer (HD, 1:31) – Trailer for the 4K Ultra-HD release of the film, not a theatrical trailer.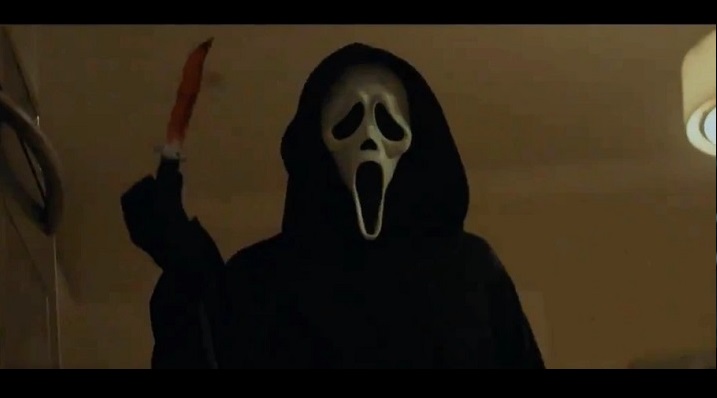 Summary
Scream (2022) was the most fun check in on Sidney Prescott and company since the original sequel 25 years ago. The 4K release gives a pretty terrific presentation in both audio and video. There's a nice little array of extras included, but aside from a couple cool trivia bits, the featurettes feel like repetitive fluff over the the 3 of them. If you're wanting some better material, flip on that commentary track. Definitely a nice pick up, hopefully the 3 sequels in between this and the original get their time on 4K here in the near future.
This is a paid Amazon Associates link