May 28th, 2020 by Brandon Peters
CBS has decided that its going all in with the Star Trek game when it comes to their streaming channel CBS All Access. The streaming platform launched with the debut of Star Trek: Discovery (Which is heading into its third season) and then added Star Trek: Picard the following year. We will soon see even more series with The Lower Decks and the recently announced Strange New Worlds. For Discovery, in between the seasons and such, they've had this little short films or interludes that tie in and act as little excursions called Short Treks. They follow characters in the series or sometimes not, just relative to places or events going on. They've been plenty fun and pretty well regarded. Short Treks has been an exclusive to CBS All Access until now, as Star Trek fans want to collect, so they are bringing brought to Blu-ray (Shame, no 4K, but this keeps in line with the Discovery releases). You can pre-order to have when it arrives June 2nd!
Series
Star Trek: Short Treks is an anthology series primarily set within the world of Star Trek: Discovery. These are standalone short films revolving around either a character, place or event from that series. Sometimes expanding upon something touched upon in an episode prior or at times setting up something to come. The first series of shorts released between the first and second seasons of Discovery. Season 2 was aired between Discovery's second season ending and Star Trek: Picard's first season's start. It should be noted that the episode that air prior to the premiere of Star Trek: Picard, Children of Mars, is not included with this release.
Runaway is the first short and focuses on a little story with Ensign Tilly as she encounters a unique stowaway aboard the ship. It focuses on some humorous stuff, but really allows Tilly to showcase her strengths and value as a crew member. The tone and communications very much are in the vein of that character and would have been welcome as a B-plot to an episode.
Calypso is a very contained story, fitting of the anthology format. It features the relationship of a soldier left among an abandoned ship and the system interface that has nursed him back into health. Its a charming, deep story with a lot of feeling that comes off almost as the Star Trek versions of Spike Jonze's 2013 film Her. This one also feels like a nice showcase and spotlight for actor Aldis Hodge who carries it (Along with the vocals of Annabelle Wallis) with such grace and range.
The Brightest Star is simply a prequel to Discovery, giving more background on Saru and his Kelpian people. Its pretty much exactly how he came to Starfleet. Little interesting as it may be, but it does feature some beautiful scale and cinematography in some moments and anything that gives Doug Jones the spotlight is A-okay with me.
The Escape Artist rounds off the first season and is quite a bit of fun, covering the scoundrel Harry Mudd as played (And directed) by Rainn Wilson. Like Calypso, its a nice true anthology tale that doesn't have the weight of the series or season on it and doesn't plug or inform it, just a side/other adventure of one of its side/villain characters. And its filled with some good suspense, comedy and a twist.
Q&A introduces us to our new Spock, played by Ethan Peck as well as Captain Pike's Number One played by Rebecca Romijn. Its a nice character building exercise, especially showcasing some absolute fun and radiating charisma from Romijn. This stuck in an elevator story is primarily a big lead up to showing us the lovely bridge of the Enterprise and its Captain, Christopher Pike. All of which would be integral pieces the the second season of Discovery.
The Trouble With Edward is the unavoidable Tribble story with Star Trek and sorta gives their reproductive origins. It features some terrific work by the always wonderful H. Jon Benjamin, in a role that allows him to harness his talents into a more devious teeth sinking role. This is another fun, more anthology centric entry that stands alone and has a Twilight Zone kind of feel, but most importantly really does well in crafting and delivering an interesting character in that of Captain Lynne Lucero played by Rosa Salazar.
Ask Not is a doozy when it comes to a short story and gives us the full force and display of Anson Mount as Captain Pike. This is a quick, intense and thoughtful entry. You know from the start how this is going to play out, but its well done and has you possibly questioning if you're right. Predictability aside, this is just a well directed and acted piece.
Ephraim & Dot focuses on a little creature from Season 1 of Discovery and where it "boldy goes". However, this is one of the wild places the Short Treks brands can go. Its an animated adventure which lends itself to different angles and new possibilities. Fun enough it has fun traveling through the history of the original Star Trek series, including archive vocals from "Space Seed" with the likes of William Shatner, Ricardo Montalban and George Takei. Interestingly enough, its directed by composer Michael Giacchino.
The Girl Who Made The Stars is another animated effort, a sort of bedtime story. It features more modern 3D CGI animation and is a nice attempt at a more kids-centric Star Trek tale. It expands upon a myth referenced earlier on in the Discovery series. The animation does feature some really cool designs and ideas with beautiful colors to accompany it. A sweet little tale, but pretty soft compared to some of the others in terms of impact.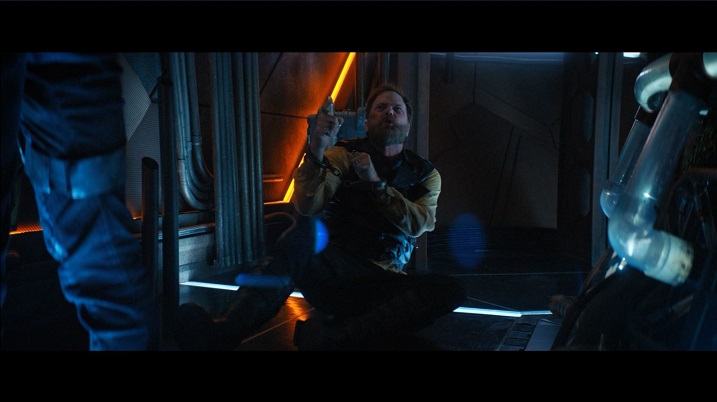 Episodes
Star Trek: Short Treks does not include the episode Children of Mars, like being held for a Star Trek: Picard Blu-ray release as it tied into the events of that program and not Star Trek: Discovery.
Season 1
Runaway
Calypso
The Brightest Star
The Escape Artist
Season 2
Q&A
The Trouble With Edward
Ask Not
Ephraim And Dot
The Girl Who Made The Stars
Video
Encoding: MPEG-4 AVC
Resolution: 1080p
Aspect Ratio: 2.39:1
Layers: BD-50
Clarity/Detail: Star Trek: Short Treks comes to Blu-ray with a vivid transfer that resembles much of what the show looks like. Its crisp, sharp and detailed, but not without some little faults here and there. Detail is very strong, with good textures visible from really any distance or angle. Overall, its a pretty polished, popping image as is per the usual with the Bad Robot material.
Depth:  Depth of field is plenty strong with good spacing helped out by confident camera dollies and fluid character movements throughout. No real issues from motion distortion are about.
Black Levels:  Blacks are pretty deep, flirting with levels of natural darkness. It does struggle with shadow and light emanating under cheek bones and on some faces result into some crush and blocking issues.
Color Reproduction:  Colors are pretty striking at most corners, with Starfleet uniforms and display lights from the ship on display most of the time. Beams, glows, lights, stars and the like give a lot of impressive pop with good frequency.
Flesh Tones:  Skin tones are natural and consistent from start to finish. Facial features, textures and make-up design on aliens and creature holds up with the ability to see the intricacies of their design.
Noise/Artifacts: Clean.
Audio
Format(s): English 5.1 DTS-HD MA
Subtitles: English SDH
Dynamics: Star Trek: Short Treks has a nice pretty dynamic and loud 5.1 mix with which to tell their tales. The stories may be of smaller scale, but the sound is quite large. The score sounds lovingly through the channels and the special effects hit with great impact. Its all well balanced here in the mix with every aspect playing its part, getting to shine and not waltzing over one another.
Height: N/A
Low-Frequency Extension:  The subwoofer provides some good and impacting boom with some of the more chaotic moments while also provided some ranginess when it comes to the more standard fare like doors shutting or heavier things being set down and the like.
Surround Sound Presentation: The action floats around the room quite easily with loud and accurate sound travel. Ambiance is the most impressive strength it offers, allowing you the feel of just sitting in the middle of a Starship.
Dialogue Reproduction: Vocals are clear and crisp with good attention to character inflection and always feeling plenty audible while part of the action no matter the chaos on screen.
Extras
Audio Commentary
Runaway – With Alex Kurtzman and Jenny Lumet
Ask Not – With Anson Mount
The Making Of Short Treks (HD, 4:25) – Alex Kurtzman, along with the writers and producers of these shorts, talk about the purpose and hope with each one. Kurtzman mentioned that they brought help to allow time for the actual seasons to have the visual effects completed the way they wanted.
Behind The Scenes/Making Of – Each Short Trek comes equipped with a making of featuring interviews with Alex Kurtzman along with cast and crew. They appear below the given episode on the episode selection page. The only episode without one is Ask Not, but it does have a commentary track.
Coming of Age (HD, 7:30) – Runaway
Shall We Dance (HD, 8:51) – Calypso
First Contact: Kaminar (HD, 5:09) – The Brightest Star
Covered In Mudd (HD, 4:52) – The Escape Artist
Ensign Spock's First Day (HD, 10:16) – Q&A
Here Comes Tribble (HD, 3:43) – The Trouble With Edward
Score! (HD, 6:09) – Ephraim & Dot
Bedtime Stories (HD, 7:45) – The Girl Who Made The Stars
Summary
Star Trek: Short Treks is a fun bit or little galactical jaunts through the universe of Star Trek: Discovery. Some of the better ones tend to not be as strongly tied to the show or "origin story" based in my personal preference. Its second season wants to set up the Pike, Number One and Spock a little more, but still does a great job in making it its own. Short Treks is actually closer to the vision of what Bryan Fuller had for Discovery to be before he left it. And there's a great curiosity of how strong (And possibly better) it could be when taking Star Trek on the anthology route. This Blu-ray comes with a strong enough performance in video and audio and has a pretty solid set of extras. This is pretty much the full package for it on Blu-ray and collectors will be pretty happy with it on their shelf.
This is a paid Amazon Associates link